Best 10 Must-Have Professional Sans-Serif Fonts
We all all have our favorite set of fonts. At some point, we all have chosen a typeface or font such as when we write email or when we type in a Word processing program. We usually choose the font that looks good and feels good. Indeed, your font is a fashion statement for the web. This post features the best commercially available sans serif fonts that you may use in your designs.
In my early days as a designer, I would always use Verdana for my websites and Myriad for my printed materials. Obviously, I got tired of using these fonts overtime and started looking or researching about what professional designers are using. However, I still use these fonts (Verdana and Myriad), especially if the clients require me to use these typefaces.
Between serifs and sans serifs, I prefer the latter, because for me, they are more readable and legible although many would argue about this! So here's my collection of must-have classic sans serif fonts. By the way, sans serif fonts in typography are those that do not have the small features called "serifs" at the end of strokes. For me, they are the most legible and readable typefaces. These sans serif fonts are also tried and tested true typefaces for text so you can not go wrong with these selection of fonts.
---
BEST SANS SERIF FONTS
These sans serif fonts have been the favorites of professional designers especially for body text or copy because of their crisp, clean and uncluttered lines. To buy or download the fonts that you want or if you want to know more about them, simply click on the preview image and it will take you to a new page where you can find more details.
Helvetica
Especially with the introduction of Helvetica Nueu, this sans serif font has been one of the most popular among designers. Works well not just for body texts but even for billboards.
Gill Sans
This has been my most favorite sans serif font. This sans serif font is highly legible even at 6pts. And since it comes in several weights, you have the option to use Gill Sans both for text and display.
Myriad Pro
An open type face that comes in numerous weights. Aside from being a good text face, Myriad also provides the flexibility for filling display needs in all sizes and mediums.
Optima
A classy option for text and display use. This sans serif font has tapered strokes that are almost like serif faces, but without the serifs.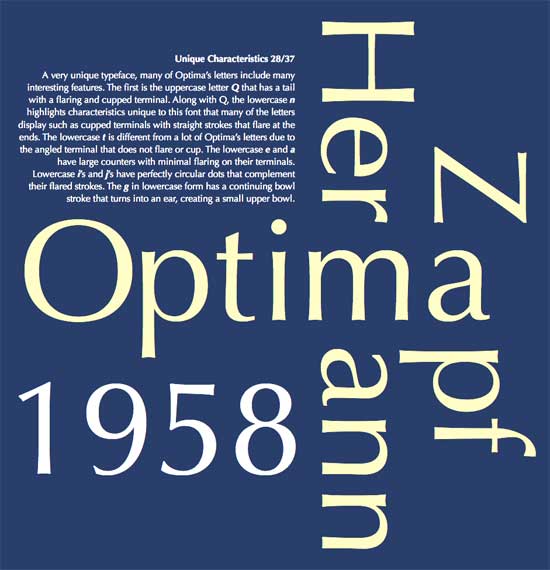 Frutiger
This very legible sans serif font was originally intended for signage. But this also works well for text and display.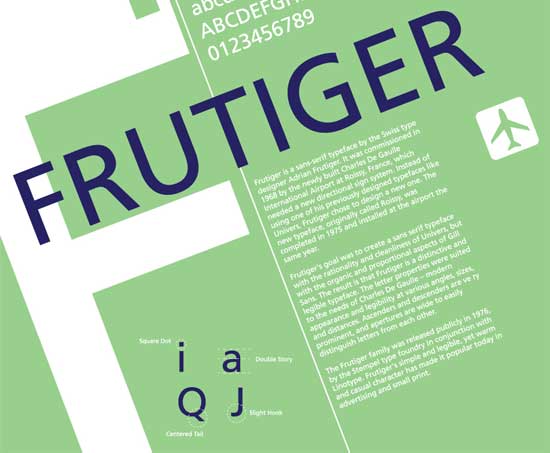 Univers
There are 21 typefaces in the Univers family which makes it a versatile sans serif font choice for both text and display uses.
Calibri
This sans serif font is not classic. Calibri is one of the New Vista Fonts introduced along with the Windows Office 2007. I think this sans serif font has a lot of potential to be as popular as Myriad and Verdana. The subtle rounded stems and corners of Calibri, which are visible at larger sizes, create a warm and soft character for this typeface.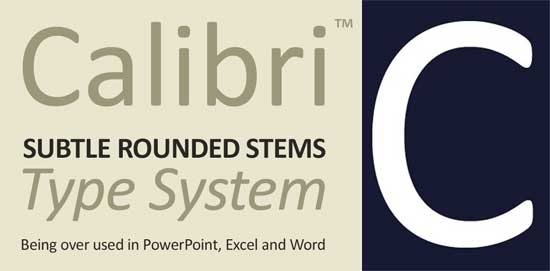 Trebuchet
Microsoft refers to Trebuchet MS as 'a good web design' font, and it is one of their core sans serif fonts for the web. This sans serif font also works well for copies of printed materials.
Futura
This typeface has longer ascenders and descenders than many sans-serif fonts. Its geometric consistency along with the availability in many weights of this sans serif font makes it an elegant choice for text and display use.
Tahoma
Tahoma is very similar to Verdana but with a narrower body and tighter letter spacing. It is actually the slimmer sister of Verdana. Since this sans serif font is designed as a bitmap rather than outlines, the bold weight of this type is heavy. Thus, you ca not go wrong with Tahoma when it comes to headlines or display uses.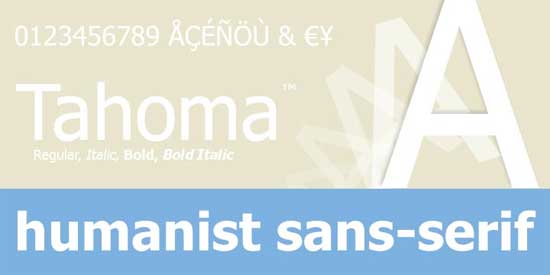 Those are my best sans serif fonts. Please feel free to share your favorite sans serif fonts! Meanwhile, please read the next installment of this typography topic which is about best serif fonts. Until then…
Related Free Design Resources