Journaling and Greeting Cards, Gift Tags in Green for St. Patrick's Day
Today's freebies include a set of scrapbooking cards, greeting cards, and gift tags in green patterns to celebrate St. Patrick's Day. The designs include shamrocks, leprechaun, etc.
We designed these scrapbooking cards, greeting cards, and some matching gift tags to celebrate the Feast of St. Patrick. There are 8 scrapbooking cards in this set featuring patterns in green, white and yellow. The patterns range from geometric designs such as chevrons and zigzags, polka dots, argyle, as well as  popular Irish symbols like shamrocks, leprechaun, pot of gold, beer, etc. In addition to scrapbooking cards, we also added six greeting cards sized 4×6 inches and feature some of the popular Irish blessings.
Celebrated every 17th day of March, St. Patrick's Day is a religious event in Ireland as well as in the Canadian province of Newfoundland and Labrador, and the British Overseas Territory of Montserrat.  However due to movement of people through migration, the feast of St. Patrick is also celebrated in other parts of the world as well such as in Great Britain, Canada, the United States, Argentina, Australia and New Zealand. Green has been the official color of St. Patrick's Day. As a custom, people wear shamrocks and/or green clothing or accessories on this day to attract good luck.
ABOUT OUR FREE SCRAPBOOKING CARDS
The scrapbooking cards are 4 x 3 inches in size, which is perfect for popular journals and scrapbooking system that make use of pocket fillers. All you need to do is to download the file (link below the preview image), extract the PDF file from the archived file, open in your computer, print, and then cut. The layout size is 8.5 x 11 inches, thus it is best to print them on letter paper. It will also fit on A4 size paper without a problem.
For these scrapbooking cards, we made use of the St. Patrick's Day patterns we released last year. If you wish to use these patterns, they are free to download from this site: 12 Free Seamless Green Patterns for St. Patrick's Day.
So, for Irish and non-Irish alike, here is a set of scrapbooking cards in 3 x 4-inch size, as well as greeting cards and gift tags, all in ready-to-print PDF files. To get these files, look for the download button after the preview images.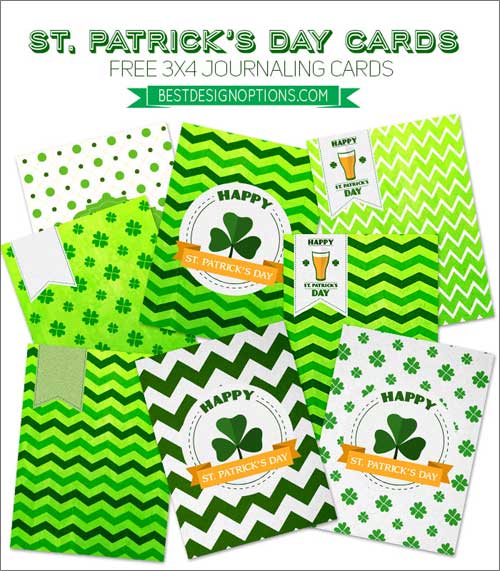 To give you a bigger and better view of the scrapbooking cards, please browse them below. These are not in actual size. Please download the zipped file by clicking on the button below. Let me know if you wish to get the JPEG files of these cards in the comment section below.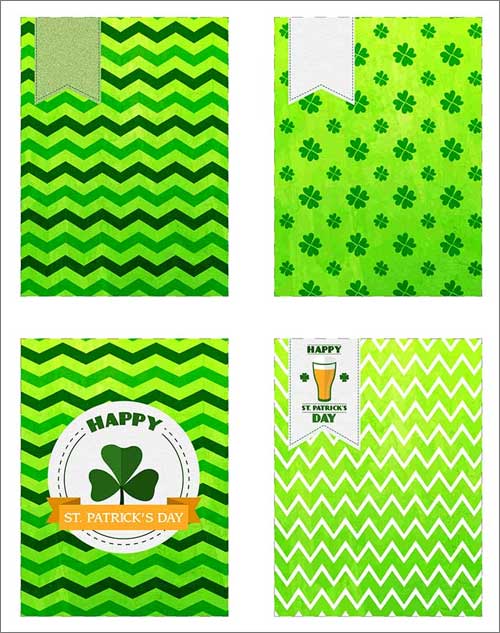 FREE GREETING CARDS FOR ST. PATRICK'S DAY
The next image is a thumbnail preview of the six St. Patrick's Day greeting cards that you will get from this set. Each card is sized 4×6 inches. Both the scrapbooking cards and the greeting cards are contained in a five-page PDF document.
DOWNLOAD CARDS
password: bdo
---
FREE GIFT TAGS FOR ST. PATRICK'S DAY
Lastly, we also came up with a set of nine gift tags sporting the same green patterns used for the cards. As usual, download, extract, print and cut.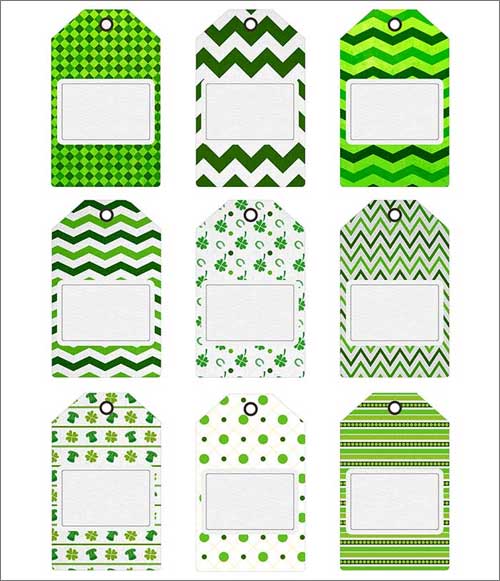 DOWNLOAD
password: bdo
---
TERMS OF USE
You may use these scrapbooking cards  for personal projects only. Please link back to us if you use them. Also, please refrain from making them available for download outside of this site. If you want other people to know about our freebies, please refer them to this post.
IMPORTANT!
The download file is password-protected to prevent hotlinking and discourage people from violating terms of use of our brushes. When prompted for a password, just key in "bdo".
Related Free Design Resources