300+ Free Seamless Paper Patterns and Backgrounds
Adding a texture to a design are much easier to achieve using seamless paper patterns. Seamless patterns are great because they are not resolution-dependent. Since they repeat seamlessly to fill any amount of space, the use for these patterns are endless. Paper textures are popular for greeting cards, invitation cards, posters, as well as for websites as backgrounds or for web banners. Using large background images as website background can take a lot longer to load than seamless background images that repeat seamlessly. Use the seamless paper textures below if you want  paper texture as background for your website.
Below, you will find over 300 seamless paper patterns–some look vintage and grungy while others look crisp and versatile. I am sure these are enough to last you a lifetime as a designer. If you think these are not enough for your design requirements then we recommend that you also browse our post on old paper textures for vintage designs.
---
FREE SEAMLESS PAPER PATTERNS TO DOWNLOAD
Click on the title (in blue text) above each preview image to visit the page where you can download them. Be sure to read carefully the terms of use for each pack. They vary from one author to another, with most pack available only for personal use. But there are some packs that come with a generous usage terms. Enjoy these freebies!
20 SEAMLESS PHOTOSHOP GRID PATTERNS
Grids patterns are so versatile that with a few blending options you can create interesting web backgrounds. These Photoshop patterns (.pat) come in both black and white with a transparent background. Thus, you can apply them to almost any element or color. Also in the download is a set of 20 500px x 500px transparent .pngs – one for each pattern.
18 SEAMLESS PAPER PATTERNS
A free combo pack of large (1024px * 1024px) seamless paper textures in .JPEG format as well as a corresponding Photoshop tileable pattern (.pat) set. The patterns come in three color schemes: blue, yellow, and gray.
FREE SEAMLESS PAPERS
Scanned paper textures in 12 earthy colors for all of your seamless tiling needs.
12 FREE SEAMLESS PAPER PATTERNS
These 12 free seamless paper patterns are great to create website backgrounds, posters, cards, flyers, wallpapers and more.  The download file contains 12 ready-to-use JPEG images as well as Photoshop patterns (.PAT file) that you can  quickly import into Photoshop and use right away.
FREE PAPER SEAMLESS PATTERNS
A set of 10 free paper seamless patterns. You can use them to give texture to your holiday related projects (and not only): from flyers, invitations and brochures to wallpapers and twitter backgrounds. The patterns are compatible with Photoshop CS3 and above. They are free to use for both personal and commercial projects. Attribution is not necessary, but always highly appreciated.
PAPER SEAMLESS PATTERNS VOLUME 2
This second set of paper patterns includes 6 paper seamless backgrounds. You can use them to give texture to all sorts of projects: from flyers, invitations and brochures to website backgrounds and wallpapers.
24 SEAMLESS GRID PATTERNS
A set of 24 cu4cu graph paper grid patterns for Photoshop and Gimp. There are 2 transparent patterns included so you can use them to add your own colors. Images are included so they can be used as a pattern overlay in gimp or other graphic design programs. They may be used for website and blog backgrounds, digital scrapbooking background patterns or design templates and just about anything else design related.
FREE GRUNGE PAPER PATTERNS
This set contains 10 different Photoshop patterns in .pat format. It's a mixed bag with varying image quality.  Some are cardboard or paper bag-ish, some vintage, distressed or just plain grungy.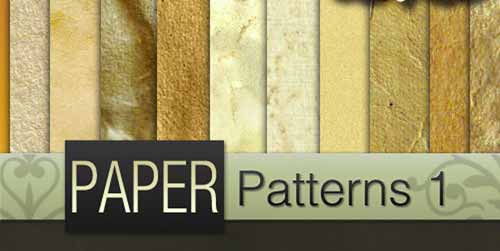 8 FREE TEXTURED SEAMLESS PAPER PATTERNS
A free high res (300 DPI) paper pattern pack for Photoshop and Gimp.  Enclosed are seamless tiles for using as a web background texture or pattern in Gimp. You will also find a .pat file for use in Photoshop.
SEAMLESS CARD STOCK PAPER TEXTURES
Here are 9 free seamless paper patterns of high resolution (1000 x 1000 px at 300 DPI). The download comes with .pat file for Photoshop.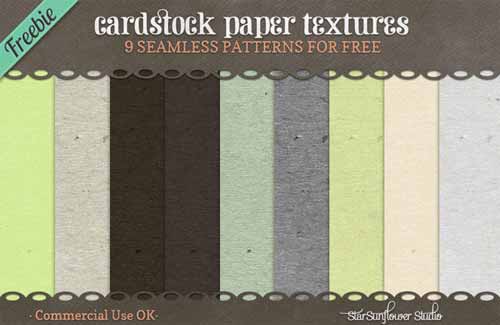 OLD PAPER SEAMLESS TEXTURES
This set includes 14 seamless textures, size 2000×2000 pixels.
NOTEBOOK SEAMLESS PAPER PATTERNS PACK
This is a set containing 12 paper patterns in .PAT and .PNG files for your wide range of use. These are some cool patterns to play that remind you of your school notebooks.
REAL SEAMLESS PAPER PATTERNS
There are 9 repeating patterns in this set composed of paper textures such as brown card boards and lined papers.
HANDMADE SEAMLESS PAPER PATTERN SET
Photoshop pattern set. Includes different shades of handmade textured paper, and they tile seamlessly. The zip file also includes a tiling JPEG for those of you that don't have Photoshop.
ROUGH SEAMLESS PAPER PATTERNS
This pack contains 10 rough paper patterns at resolution 1024 x 1024 pixels at 96 DPI. The zip file includes both the pattern file and images.
LINED PAPER PATTERNS
This set includes nine lined paper patterns for Photoshop (.PAT file). An image pack is also available for those without Photoshop.
CORRUGATED SEAMLESS PAPER PATTERNS
A set of seven corrugated paper patterns in various bright colors. These are free for personal or commercial use.
OLD SEAMLESS PAPER PATTERNS
These are seamless old paper patterns for noncommercial use. Best for 3d, web graphic and photo manipulation. There are 3 file formats PAT, PNG, TGA.
12 GRUNGE PHOTOSHOP PATTERNS
This includes 12 seamless Grunge Patterns. It also includes 1 Photoshop .PAT file to use in your web and application projects.
15 SUBTLE SEAMLESS PAPER PATTERNS
This is a set of 15 seamless subtle paper patterns in one .pat file. This file will ONLY work in Photoshop. All seamless patterns are high quality and sized 1024 pixels x 1024 pixels.
TWO HANDMADE SEAMLESS PAPER PATTERNS
There are two awesome handmade paper patterns in this pack that you can get for free. The download includes both handmade paper patterns as a 1024x1024px tileable RGB + CMYK JPG as well as an RGB + CMYK Photoshop pattern file.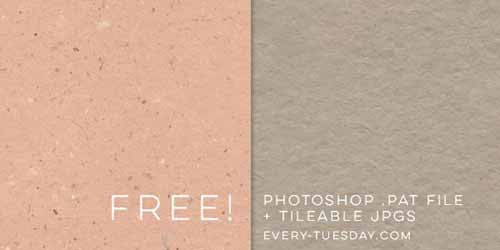 3 RECYCLED SEAMLESS PAPER TEXTURE PATTERNS
The download includes all three textures as a Photoshop 72dpi RGB pattern file, a Photoshop 300 DPI CMYK pattern file, and all three patterns as tileable 300 DPI CMYK JPGs and tileable 72 DPI RGB JPGs. All textures were created 1024px by 1024px.
PAPER SUBTLE PATTERNS
At Subtle Patterns website, you will find more than 10 lovely subtle paper patterns. These are great as background for websites since they are seamless and repeating.  Only a few of the patterns are shown in the preview below.
Related Free Design Resources