1K+ Free Hand-Drawn Sketch Icons
Hand-drawn or sketch icons are becoming more popular as the designers become more interested in creating websites that have natural and organic look. For example, hand-drawn elements  in web designs such as hand-drawn fonts, sketched background graphics are becoming in-demand. This is no surprise since the hand-drawn or sketched look serves as a great counterpoint for the Web 2.0 style which give us a lot of slick glossiness that was almost too perfect.
Hand-drawn design therefore is a perfect contrast to the Web 2.0 design. So, if you're tired of the Web 2.0 style and want to try the hand drawn style, here's a list of 25 sketch icon packs containing over 1,000 icons that you can use for free. You may also use these icons to complement your other hand drawn elements in your design to project a more organic feel or to add a human touch to whatever you are working on.
To download the set of sketch icons that you want, simply click on the link below the preview image.
---
SKETCH ICONS TO DOWNLOAD
Handy: 24 Free Exclusive Vector Icons
'Handy' is a set of 24 free and exclusive vector sketch icons from Web Designer Depot that can be used on websites, logos and more. The icons have a unique hand drawn feeling and look great in either color or black and white. The set also includes icons for  most social media websites, such as Delicious, Digg and many more. These sketch icons are completely free for personal and commercial use.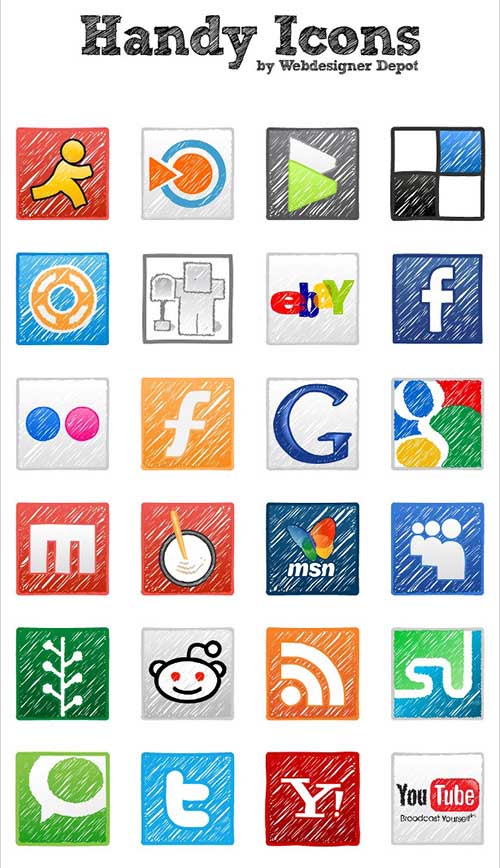 x
[ DOWNLOAD ]
Color Stroked Freehand Icon Set
Includes over 22 sketch icons for your personal needs. You may download and use it as you like. Included in the pack are several social media icons such as Delicious, Digg, Flickr, StumbleUpon, Technorati ,Twitter and Windows Live. Moreover, universally and OS based icons such Tux, Windows, Terminal, Firefox, OppenOffice, Gimp and a lot more are also available in the icon pack.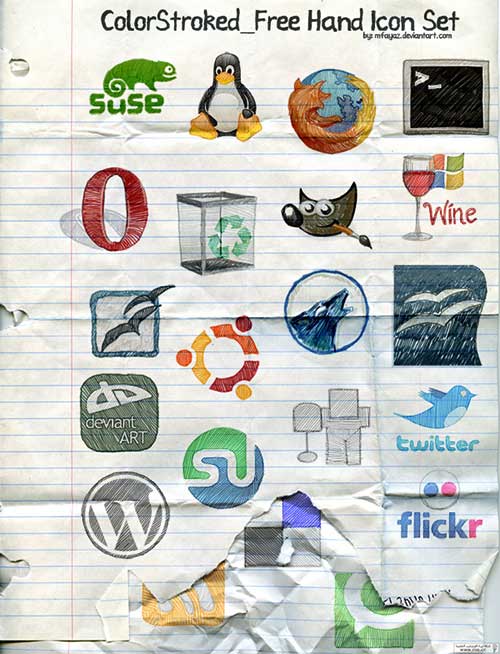 [ DOWNLOAD ]
Purple Lines
Drawn by hand and painted in watercolor, these sketch icons are beautiful in their warmth and organic feeling. A great substitute for the gleaming and shining icons for your  current operating systems out there.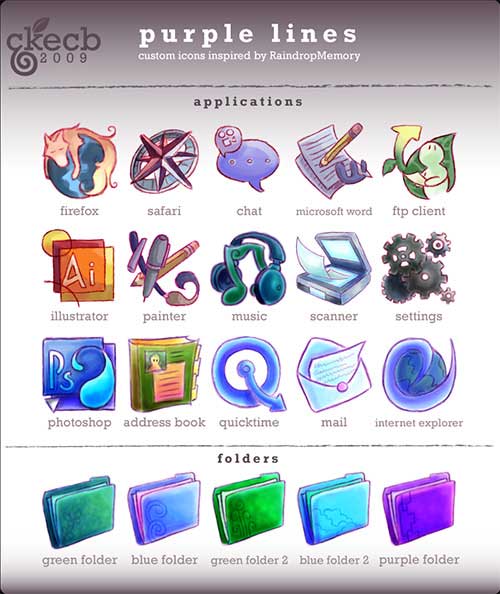 [ DOWNLOAD ]
Handycons: Hand Drawn Social Media Icon Pack
Handycons is a free, hand-drawn social media icon set that contains 12 icons such as r Delicious, Digg, Mixx, DesignBump, StumbleUpon, and a lot more. All icons are available in four sizes: 16×16, 24×24, 32×32 and 48×48 pixels.
[ DOWNLOAD ]
Handycons 2: Another hand drawn social media icon pack
This icon pack contains 20 more sketch icons. This time it is not limited just to social media-related icons. The pack contains icons for Facebook, Blinklist, Feedburner, Flickr, FriendFeed, Furl, Gmail, and a lot more.  All icons come in four sizes: 16×16, 32×32, 64×64 and 12x128px. And they are all free.
[ DOWNLOAD ]
Social Icons hand drawn (Updated)
This is the second version of this icon pack from Deviant Art user The G-Force and includes 18 popular websites, social media and browser icons in PNG format. The sketched icons that are included in this set are: Blip.fm, Digg, Facebook, Firefox, Flickr, Meneame, Myspace, Technorati, among others. Checkout the author's website for the complete list. The icons are available in the following sizes: 24×24, 32×32, 48×48 and 64×64. The use of this set is totally free under a Creative Commons license.
   x
[ DOWNLOAD ]
19 Free hand-drawn sketch icons
These sketched icons were drawn on paper with pen then scanned and cleaned up in Illustrator. Each icon is in JPEG and comes in two sizes: 48×48 and 96×96 pixels. Each is dark greyish on a white background. Ideal for adding some human touch to your design projects.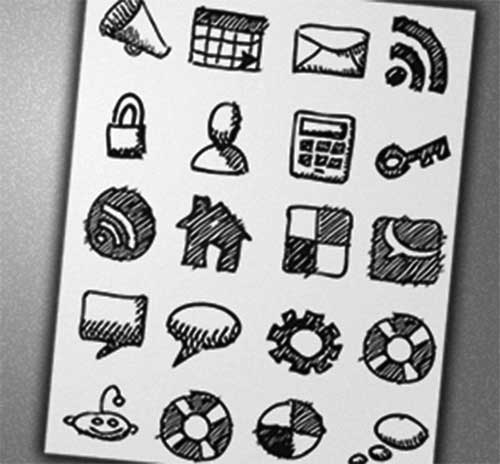 [ DOWNLOAD ]
Red Little Shoes Icons
All icons have  brush paints and watercolor. There are two folders contained in this icon pack: the style 'Omelette'(The yellow one) and 'Red Folder', which is actually designed for released as Mac OSX icons although Windows users can also use them but they just have to tweak it to suit their needs.
[ DOWNLOAD ]
Sketched Up
Sketched Up is a sketchy web icon pack. The pack includes the vector version of the icons. You can use these icons for both personal and commercial purposes under a Creative Commons license.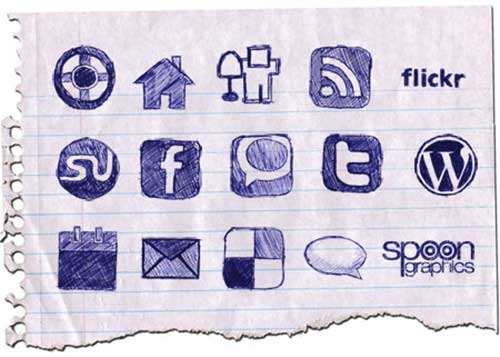 [ DOWNLOAD ]
Free Hand Drawn Doodle Icon Set for Bloggers
This set of free hand drawn doodle icons includes 14 graphics tailored specifically for bloggers. The set includes social media graphics for Delicious, Design Float, Digg, Facebook, StumbleUpon, Technorati and Twitter as well as commonly used icons such as RSS, Home, Comments, Contact and WordPress.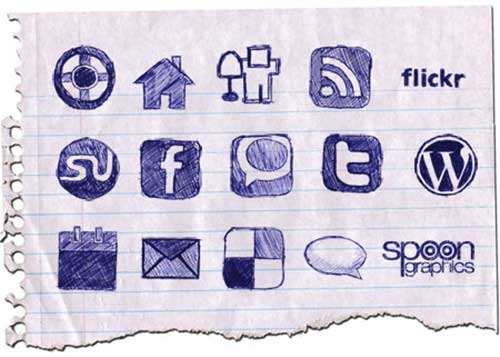 [ DOWNLOAD ]
49 Hand drawn icon set
For a unique and original look, try these sketch icons . The icons are available in 7 different sizes and may be used for free under a Creative Commons License.
x
[ DOWNLOAD ]
Hand Drawn Icon Set
The icons in this icon pack were drawn by hand using pencil on notebook paper, scanned and made into icons. Minimal touch ups were performed such as sharpening, erasing stray marks that were not part of the icon, resizing, etc. The sketched icons are available in various sizes and free to use in your projects.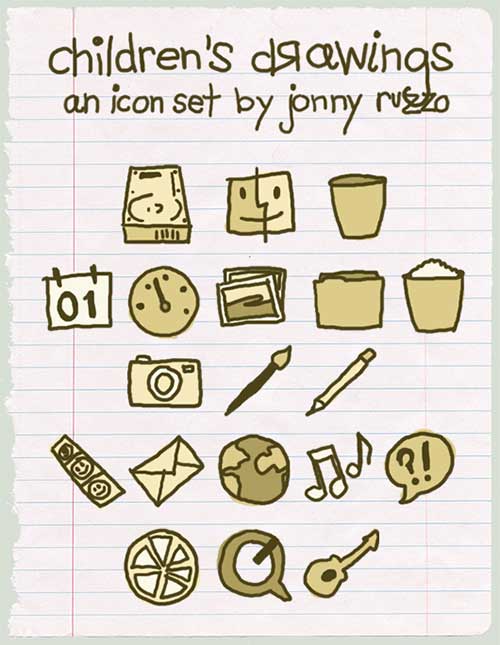 [ DOWNLOAD ]
Handy: 24 Free Exclusive Vector Icons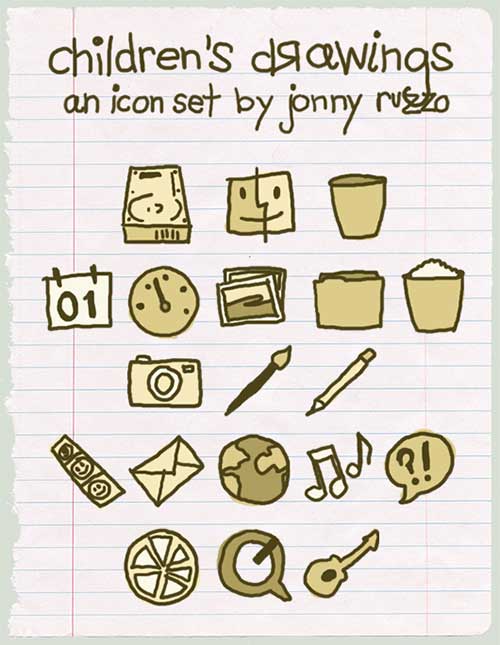 [ DOWNLOAD ]
Natsu Icon Set
[ DOWNLOAD ]
Hand Drawn Vector Icons
[ DOWNLOAD ]
Artistica Icon Set
This set includes 60 hand-sketched icons featuring an organic and color-brushed look. Icons include chat bubbles, the standard RSS symbol, a magnifying glass, and more. These icons are perfect for web-based user interfaces or even for replacing your operating system's icons.
[ DOWNLOAD ]
Skitchy Sketcy Icons
There are 20 sketchy looking icons in this set  all hand drawn with ballpoint pen. All icons come in both 256×256 PNG and 32×32 ICO.
[ DOWNLOAD ]
Watercolor Free Icon Pack
Each hand drawn icon is in .PNG format sized at 256x256px with transparent backgrounds. The 36 different icons have varying opaqueness that allow the background and texture seep through the icons like watercolor on canvas. This is a huge free icon set you can't pass up!
[ DOWNLOAD ]
Hand drawn social media icons
A set of social icons with hand drawn or sketched look. This would surely reinforce the natural or organic look and feel of blogs and websites. All icons have a transparent background and sizes are 32×32, 64×64 and 128×128.
[ DOWNLOAD ]
Hand Drawn Icon Set for Bloggers
[ DOWNLOAD ]
Handy: 24 Free Exclusive vector Icons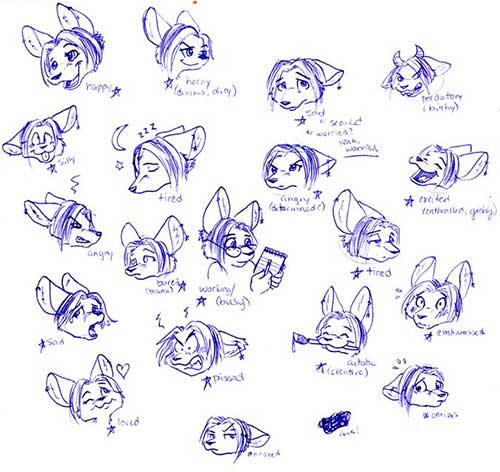 [ DOWNLOAD ]
Related Free Design Resources