Skin Photoshop Brushes for Enhancing Portraits
Having smooth and flawless skin has become an obsession for many people. With modern medical technologies and procedures, this has become easier to achieve. However, you could still get smooth and flawless skin without undergoing some expensive medical procedures–using Photoshop. This time around, we pool together the best skin and cosmetic-related Photoshop brushes that you can use for skin retouching in editing portraits. To download the skin Photoshop brushes set that you want, simply click on the preview image and it will take you to the source where you can download them.
below the listing, you will find two tutorials on how to use these skin Photoshop brushes in editing portrait images. These tutorials are easy-to-follow. So what are you waiting for? Download these free skin Photoshop brushes and use them in the tutorials included here.
---
74 SKIN PHOTOSHOP BRUSHES TO DOWNLOAD
01-Skin Photoshop Brushes
Now you can create realistic human skin face textures for anything. You can create realistic looking faces from complete scratch only using the pen tool and these brushes. You can also use them for touching up photos that might have gotten a bit flat after editing.
[ DOWNLOAD ]
02-Skin Care v2 Photoshop Brushes
This is a small pack of cosmetic skin brushes. The main difference of this pack from other packs is that there is a main 300px skin grain brush which is ideal for smaller resolution images. Again this brush works with all races, skin types for different for people.
[ DOWNLOAD ]
03-Skin Care and Cosmetic Brushes
Use this set of skin brushes to smooth skin or add realistic skin textures. The pack includes brushes for adding realistic highlights.
[ DOWNLOAD ]
04-Skin and Cosmetic Brushes 3-in-1
If you like to have all the three previous brush sets, then here is a set that includes all three. These are for non-commercial uses as well.
[ DOWNLOAD ]
05-Skin Brushes
Human Skin Brushes pack contains 11 high quality texture-like brushes compatible with PS 7 and up! Great for retouching and makeup or something else you can do with human body.
[ DOWNLOAD ]
06-Skin Photoshop Brushes
This set of Photoshop & GIMP brushes is composed of brushes used for painting realistic skin textures. There is a tutorial posted by the author to go along with it. To make the most of this brush pack, you'll want to watch the tutorial.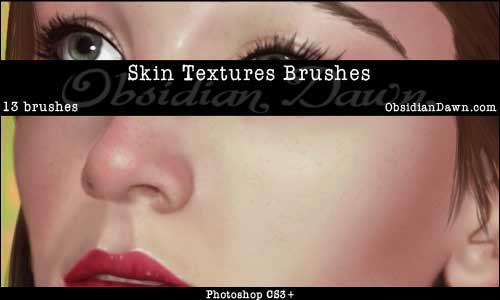 [ DOWNLOAD ]
07-20 Skin Brushes for Adobe Photoshop
This set includes 20 brushes for generating a variety of skin textures–from somewhat smooth skin to freckles, pock marks and blemishes. The collection is fairly large, consisting of some pretty complex elements that allow you to build up skin textures rather than simply applying them as you might a pattern overlay. This allows for much more customization, especially when you're painting on UV maps.
[ DOWNLOAD ]
PHOTOSHOP TUTORIALS ON HOW TO USE THESE BRUSHES
01-Guide to Using the Skin Brushes by Keep Waiting
This tutorial discusses the many options that you have when using the skin Photoshop brushes by Keep waiting (Brushes no. 1-4 above.) This tutorial serve as a quick guide for this collection of skin texture brushes and aims to explain how to get the best results out of every brush in the set.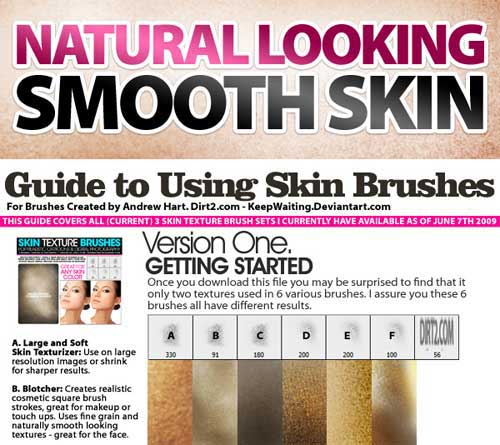 [ SOURCE ]
02-Painting Realistic Skin in Photoshop by Obsidian Dawn
This tutorial is supposed to teach you how to use the skin Photoshop brushes by Obsidian Dawn listed above (Brush no. 06). This tutorial will walk you through how to create realistic skin textures in Photoshop. It accompanies a new brush set that I'm releasing for all versions from Photoshop CS3 and onward. It will explain how to paint with the brushes, blend to create beautiful skin textures, as well as how to add pores and freckles to the skin.
[ SOURCE ]
Related Free Design Resources