550+ Stripes Background Patterns and Textures
Stripes background is popular for both web and print designs. Thus, having your own library of colorful stripes background patterns and textures, which is scalable and tileable, could prove very useful, if you are a designer.
In this collection, we put together more than 550 free Photoshop stripes patterns that you can use in creating backgrounds. Since these are seamless and repeating, you can actually use them in websites, banners, as well as in printed materials such as leaflet, poster, and cards.
These stripes background patterns are great as backgrounds for websites and blogs as well as for prints. You may use them as background for an invitation card, for gift tags, or even as gift wrappers. I am sure you will have pleanty of other ideas on how to make these backgrounds useful. For more free backgrounds like these, check also our collection of free polka dot background patterns.
FREE MUST-HAVE STRIPES BACKGROUND PATTERNS
Below are over 550 individual stripes background patterns that you can download for free. Most of them comes with a Photoshop pattern (.PAT) file and textures packs in either JPEG or PNG. Likewise, there are set that you can download as EPS, giving you more flexibility since you can still edit the pattern as well as the colors. Enjoy this collection!
Pastel Pink Stripes Background Patterns
First, here is a set of 24 Photoshop patterns featuring stripes background patterns in different shades of pastel pink. You will find stripe backgrounds in horizontal, vertical, diagonal stripe designs that you can use for both print and web designs.
30 Striped Patterns
The download includes the Photoshop PAT  file containing the 30 striped patterns. The pack also comes with a GIF image version of these patterns.
Texture Set No. 14: Candy Colored Stripes Patterns
In this particular set, you will get 10 diagonal stripes patterns in various bright colors. These are high-resolution images, thus, you can use them as background for your designs.
Free Vector Patterns – Diagonal Stripes Set 1
A set of free repeating striped patterns featuring diagonal stripes. Each pattern is seamless and will tile perfectly on all sides. The download contains six EPS files that you can load into Adobe Illustrator or your favorite vector editing program. It also includes six 24 bit transparent PNGs that you can use "as is" or load into Photoshop (Edit->Define Pattern).
Free Vector and Pixel Patterns – Seamless Stripes Set 2
A free pattern set with a stripey modern feel. You can download these vector and pixel patterns and use them in your own designs. The download folder includes 3 EPS files that you can load into Adobe Illustrator (or your favorite vector editor) and edit to change the scale, colors etc. There are also 3 PNG thumbs that you can use right away in your web designs or load them into your Photoshop pattern library (Edit->Define Pattern).
Grungy Stripes Photoshop Patterns
Another combination pack of repeating grungy stripes Photoshop patterns (.PAT) and a corresponding seamless grungy texture pack (.JPG). The resolution for both textures and patterns is 740px * 740px.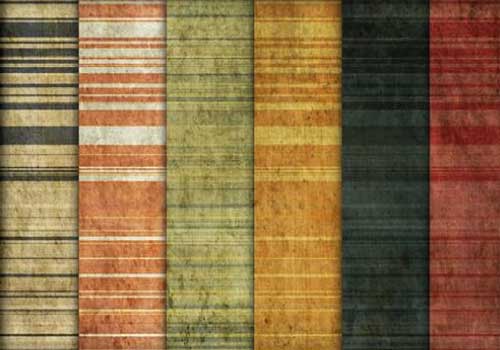 Grungy Stripes Photoshop Patterns Part 2
Here is another free combo pack of large (740px * 740px) seamless Grungy Vertical Stripes textures in .jpg format as well as a corresponding Photoshop tileable pattern (.pat) set.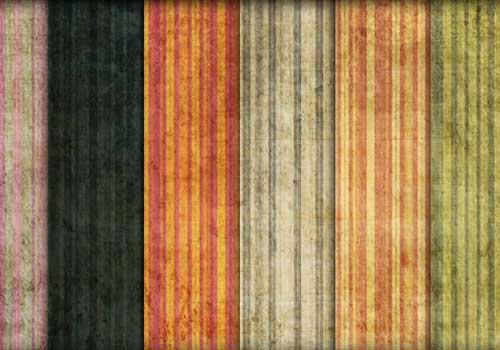 Flat Grungy Summer Stripes Seamless Patterns
A free combo pack consisting large (740px by 740px) seamless flat grungy summer stripes textures in .JPG format. The pack also comes with a corresponding Photoshop repeating pattern (.pat) set.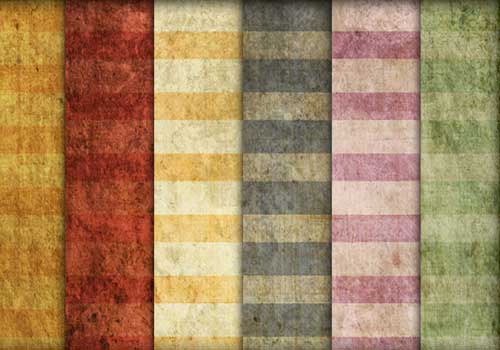 Free High Resolution Grunge Stripes Patterns
Another conveniently packaged Photoshop pattern set (.pat). This time, the patterns are slightly tweaked versions of the previous seamless grunge stripes background set. They range in resolution from 512px by 512px to 1024px by 1024px.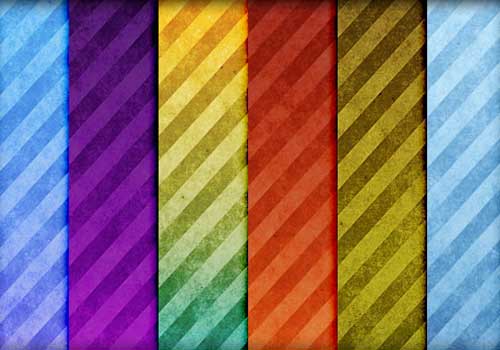 Stripes Pattern Backgrounds by Peter Plastic
In addition, here are 13 stripes patterns that you can use for creating interesting backgrounds, headers, banners, among other things, in Photoshop.
Photoshop Stripe Patterns Set 2
This set includes 20 patterns that you can use for free in creating backgrounds in Photoshop.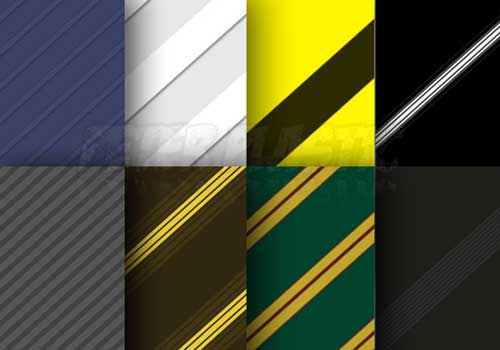 Bourbon Stripes Pattern Set
Set of rich and colorful seamlessly repeating stripes. Not allowed to be used for commercial purposes. Please credit the author if you use them.
Retro Stripes Background Patterns
There are a whopping 70 different stripes patterns in this set. They are ideal for creating retro and vintage themed designs.
Stripes Pack No. 1
There are 8 patterns in this set, mostly horizontal stripes.
Stripes Pack 2
This pack contains 9 vertical stripe patterns in various themes.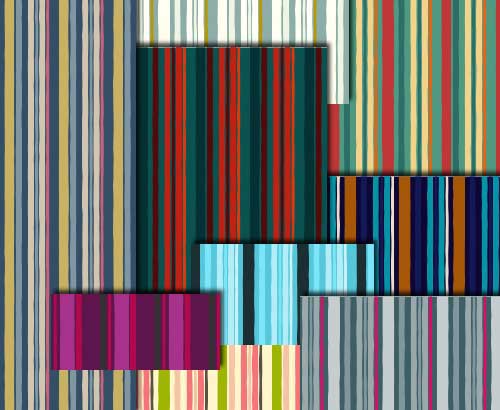 Stripes Pack No. 3
This set consists 7 diagonal stripe patterns for Photoshop.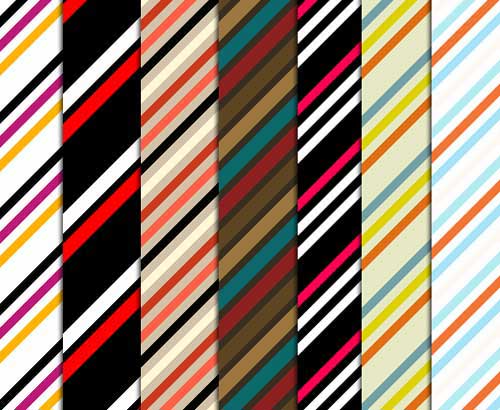 Stripes Pack No. 4
This set consists 7 diagonal and horizontal stripe patterns for Photoshop.
Textured Stripes Background Patterns
This set consists 30 patterns great as textures or wallpapers for your forums or in your artworks.The patterns work with Photoshop CS or newer.
Seamless Photoshop Striped Patterns
This set has 25 patterns that you can use in Photoshop CS or newer versions. They come in different colors. You can use them as wallpaper in layouts, as they repeat well. The download also includes an image pack for those who are using older versions of Photoshop.
Textured Stripes Patterns
This set features six stripes patterns with old paper texture. They are compatible with Photoshop CS2.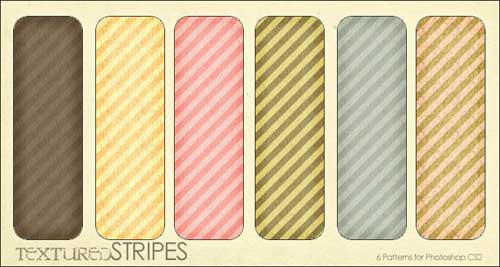 Blue Stripes Patterns
There are nine stripes patterns: horizontal, vertical, and diagonal patterns. These patterns have coarse paper textures.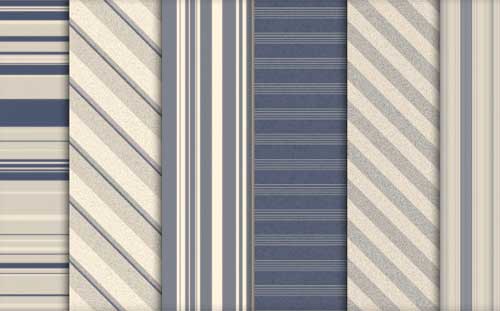 Pastel Stripes  Pattern
Here are 10 stripes pattern in pastel colors. Please credit the author if used.
Gray Background Striped Patterns
Here are 26 colorful striped patterns (tiled). Compatible with Photoshop CS and up. Image pack is also included.
Stripe 1 Patterns
Here are 30 various stripes with gradients. All are seamless and 512 pixel by 512 pixel. Download contains a .pat file for Photoshop and all .PNG files for Gimp.
Grunge Stripes background Patterns
A free set of patterns for Adobe Photoshop or Gimp. The set contains 30 vertical grungy stripes. All are 512pixel by 512 pixel.
Striped Photoshop Patterns
A set of 30 colorful striped Photoshop patterns in one .pat file. These will only work in Photoshop.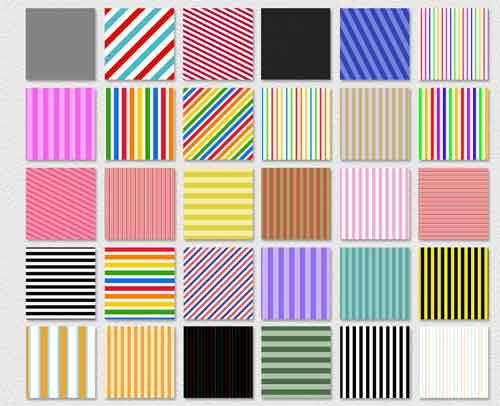 Dark Photoshop Stripes Patterns
A set of 20 seamless Photoshop striped patterns in dark color combinations.
Pastel Stripes Patterns for PS
This set contains 24 seamless striped patterns in pastel colors. The patterns are available in 8 different colors and in 3 various sizes.
Colorful Striped Patterns
There are 18 colorful patterns in this set featuring vertical, horizontal and diagonal striped backgrounds.
Digital Vintage Stripes Background
Here are 20 striped digital paper backgrounds with vintage feel. These are useful for digital scrapbooking, crafts, stationery, gifts, and event supply designing.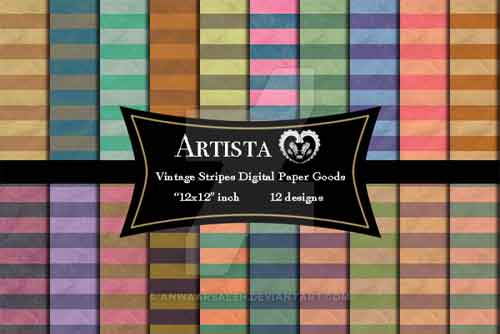 Stripes Collection
Here is a collection of 55 patterns in colorful combinations.
Related Free Design Resources