54 Tattoo Designs Photoshop Brushes
Tattoo designs are useful not just for those who are thinking to have tattoos but also as decorative ornaments in your designs. In this post, you will find a set of Photoshop brushes featuring different classic tattoo designs that you can use for free. There are a total of 54 Photoshop brushes in this pack in medium resolution (with each brush having width of 600 pixels). I hope you will find some uses for these tribal tattoo design brushes.
ABOUT OUR TATTOO DESIGNS BRUSHES
This set was made in Adobe Photoshop CS2 and should work with any CS version of Adobe Photoshop. (Do not quote me on this but I am pretty sure that it works.) In case you are looking for more brushes of this kind, just scroll down to find more than a thousand tribal brushes that you may download and use for free. Simply click on the text link found below each preview image below. Enjoy!
The file that you may download in in ZIP archive file, which is in .abr format. You may also try switching to Mozilla Firefox. It worked in the past whenever people (especially Mac users) who had problems downloading from this blog.
TERMS OF USE: You may use these Photoshop brushes for personal, noncommercial uses. However, please refrain from making these brushes available for download outside of this site. If you want other people to know about these Photoshop brushes, please refer them to this original post.
Please leave a comment if you happen to like my Photoshop brushes or if find them useful. We appreciate your thoughts and comments about this post..
IMPORTANT!!!: Please refrain from redistributing these brushes, (i.e., downloading this set and making it available for download somewhere else). Also, HOTLINKING to the archived file is not allowed. Please refer to this post if you want to spread the word.
Below, you will have a preview on how these brushes would look like when installed in Photoshop:
DOWNLOAD TRIBAL BRUSHES
Size: 2.92 MB
Type of file: .ZIP
———————————————————————————————————————-
5 MORE SIMILAR TATTOO DESIGNS PHOTOSHOP BRUSHES
Click the download button below the preview image to get the set that you want. Enjoy!
Tribal Tattoo Brushes Mega Pack
This set includes 869 brushes loosely grouped in 16 sets according to their style. All brushes are around 600 pixels wide but should still look great even at 1200 pixels.Designs include tribal tattoo signs, symbols, animals, silhouettes, faces, skulls, eyes, dragons, flowers and many more. These are compatible with Adobe Photoshop CS and newer versions as well as Gimp.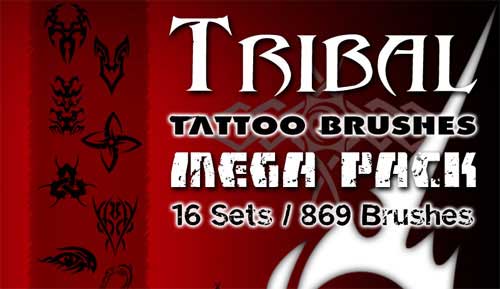 [ DOWNLOAD ]
Tribal Brush Mega Pack
There are 249 awesome tribal tattoo designs that you can get from this mega pack. In case you do not need to download everything which is 8.5 MB in size, links to individual sets are also provided.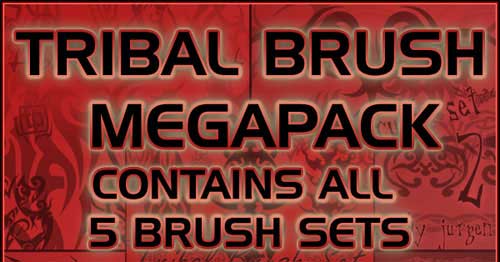 [ DOWNLOAD ]
Tribal Tattoo Brushes
There are 58 tribal tattoo brushes in different sizes. These brushes were created using Adobe Photoshop 7 and should work with later versions.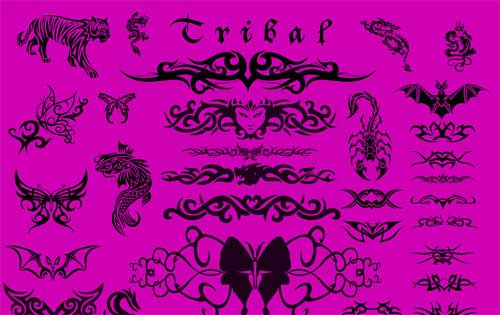 [ DOWNLOAD ]
Tribal Flame Brushes
Here is a new set of Photoshop brushes featuring tribal flame designs. There are a total of 75 designs included in this pack.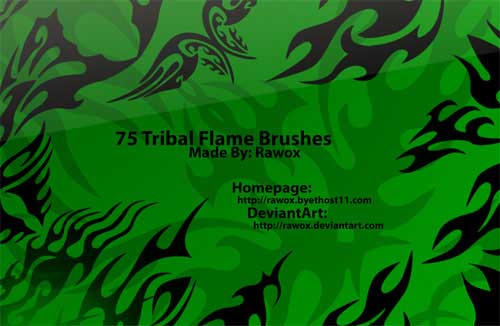 [ DOWNLOAD ]
Tribal brushes
This brush set consists of 51 tribal tattoo design brushes and works for Photoshop CS 2 and later versions.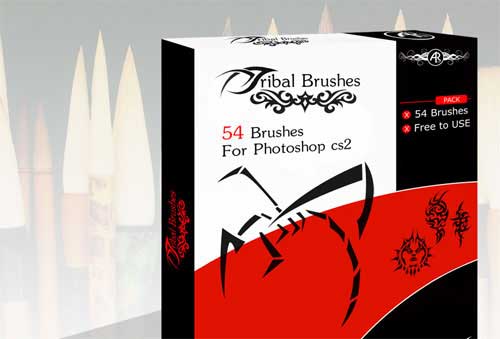 [ DOWNLOAD ]
Related Free Design Resources