Free Thanksgiving Gift Tags and Note Cards
For your projects this Fall, we are releasing another set of printables that you can download for free. This set includes Thanksgiving gift tags and digital ribbons as well as note cards or journal cards with an Autumn theme. You may download these printables for free.
ABOUT OUR THANKSGIVING GIFT TAGS AND NOTE CARDS
The design features  unique plaid pattern patterns in Fall and Autumn colors.  The gift tag set includes eight (8) different tags, each having individual shape and design. You can customize them further by using unique ribbons and twine. Simply punch holes on them and tie with twine or ribbon in your favorite color. The second page includes six (6) note cards you can use for your journals. You can also print these notes on sticker paper and stick on notebooks or your photo/graphic wall.
If you like this set of printables, then you might also be interested to check out our previous printable freebie set: Thanksgiving Greeting Cards and Gift Tags.
Below is a preview of the gift tags and ribbons. The image below is not high-res for printing. Please download the high-quality PDF file using the download button below.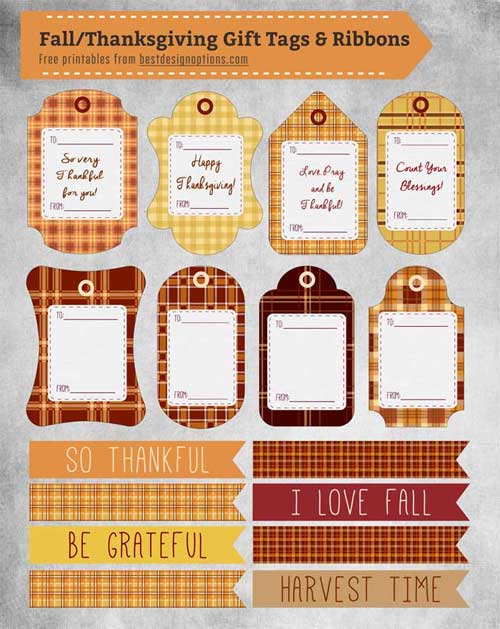 Below is a preview of the note/journal cards. It contains six unique cards you can use to make your notes and journals more interesting. You can also use them in organizing your Fall/Autumn photo albums. We hope you will find these printables useful.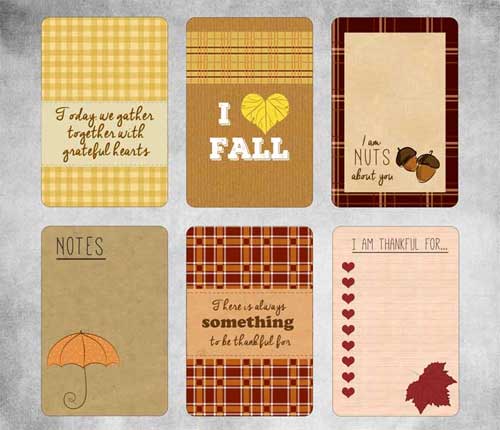 DOWNLOAD FREE PRINTABLES
HOW TO USE THIS PRINTABLE GIFT TAGS AND NOTE CARDS
1. The file that you may download is in PDF. You need at least an Adobe Acrobat Reader to view the file. If you do not have an Acrobat Reader, you may download this for free here: https://get.adobe.com/reader/
2. Print the file using a letter size card stock. For best results, use 240GSM paper or thicker.
3. Cut the cards along the edges using scissors
4. For the gift tags, you may need to punch a hole so you can tie them to your gifts and party favors. Use a gift tag punch to make holes.
4. Alternately, you can print this using sticker paper and just stick on your giveaways or anywhere you want.
TERMS OF USE:
Our printables may be used for personal purposes only and a link back is required. Also, please refrain from making them available for download outside of this site. If you want other people to know about our freebies, please refer them to this post.
IMPORTANT!
The download file is password-protected to prevent hotlinking and discourage people from violating terms of use of our brushes. When prompted for a password, just key in "bdo".
Related Free Design Resources