25 Free Thanksgiving Day Wallpapers to Decorate Your Desktops
Once again, it's the time of the year when we have this opportunity to say thank you for all the blessings, gifts and fortunes we received throughout the year. To celebrate the U.S. Thanksgiving Day, we are featuring here a total of 25 Thanksgiving wallpapers to commemorate this day. For those who are not familiar with this holiday, Thanksgiving is a holiday celebrated primarily in the United States and Canada. Thanksgiving is celebrated each year on the second Monday of October in Canada and on the fourth Thursday of November in the United States. Historically, Thanksgiving began as a tradition of celebrating the harvest of the year.
Of course, Thanksgiving Day celebration is never complete without the holiday symbols such as turkey, which serve as the main course of almost every household during the celebration, the cornucopia, also known as the 'horn of plenty', the corn in various colors, and the pumpkin or the pumpkin pie, which is also a modern staple at almost every Thanksgiving table. Other symbols are beans, cranberries, etc. So do not be surprised if you find most of these elements in the Thanksgiving wallpapers featured below.
To get the appropriate size of the free Thanksgiving wallpapers for your desktop, visit the source page by clicking on the link below each preview image. Have a Happy Thanksgiving Day to all!
---
FREE THANKSGIVING WALLPAPERS AND BACKGROUNDS
Giving Thanks Wallpaper
A simple typographic wallpaper for your desktop computer this Thanksgiving Day. This simple and retro wallpaper features inline texts and a turkey abstract illustration. The paper texture background also adds a rustic feel to it.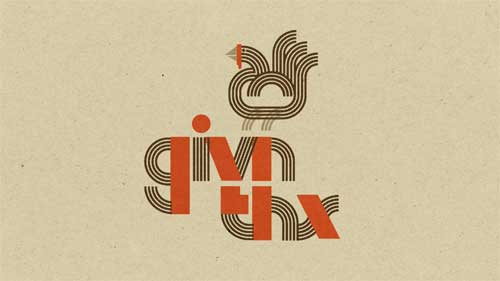 [ DOWNLOAD ]
Happy Thanksgiving by DK Design Studio
This simple and rustic Thanksgiving wallpaper features pumpkins and leaves set against wood planks.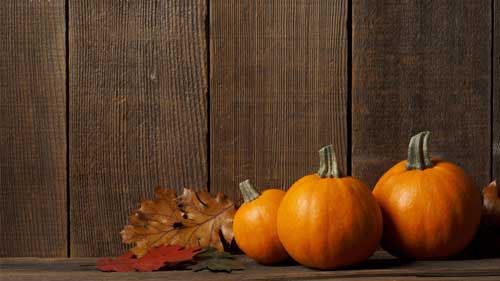 [ DOWNLOAD ]
Grunge Brown Thanksgiving Wallpaper
If you want a less-cluttered background with a natural and organic feel for your desktop, then this wallpaper featuring a turkey and a dry wheat is perfect for you.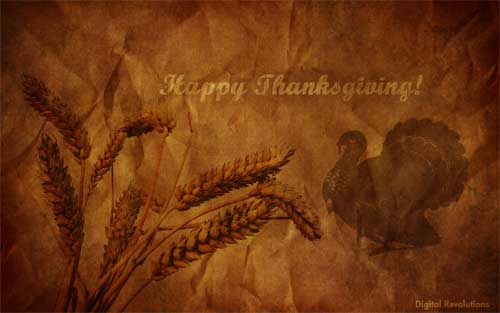 [ DOWNLOAD ]
Turkey and Bountiful Harvest
A wallpaper featuring a turkey with vines, flowers, and pumpkins and a vintage photo frame about Thanksgiving history.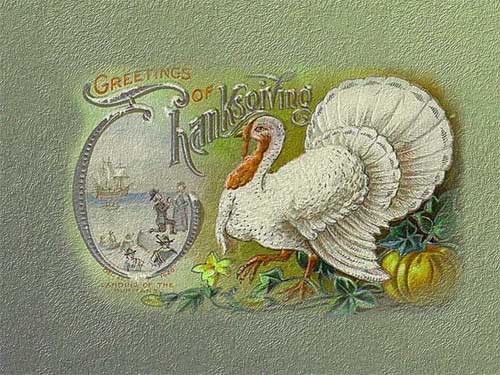 [ DOWNLOAD ]
Maple Leaves with Glitters and Pumpkins
Maximum resolution available: 1920×1200 pixels.
[ DOWNLOAD ]
Vector Thanksgiving Wallpaper Featuring Turkey and Autumn Trees
[ DOWNLOAD ]
Pumpkins and Berries
[ DOWNLOAD ]
Simple Typographic Thanksgiving Day Wallpaper
Here is another minimalist wallpaper in Orange featuring an illustration about Thanksgiving celebration with Happy Thanksgiving text in large bold typeface. Perfect for those who prefer un-cluttered computer desktop.
[ DOWNLOAD ]
Maple Leaf-shaped Candles for Thanksgiving
A nice wallpaper for Thanksgiving featuring a maple-leaf-shaped candles with sunlight beams in the background.
[ DOWNLOAD ]
Wine and Turkey
A nice illustrated wallpaper featuring a traditional Thanksgiving dinner, with wine, pumpkin pies, and turkey.
[ DOWNLOAD ]
15 MORE FREE THANKSGIVING WALLPAPERS
Below are 15 more designs. Click on the preview image to get to the page where you can download the wallpaper size of your choice.