100+ Photoshop Actions for Creating Vintage Photo Effects
Creating vintage photo effects can be easily achieved using Photoshop actions. You can use actions to make photographs look old, vintage, and retro.  The vintage photo effects have become a huge craze all over the world. Just look at how popular mobile phone apps like Instagram and Hipstamatic and you'll realize that many people still crave the old look of photographs using film, with the ease of digital processing.
In this post, we gather more than a hundred ways to create that vintage photo effects as if they have been taken using film look. By using Photoshop actions, you can instantly add classic and retro Through these Photoshop actions, you can instantly turn your photos into something vintage with just one click. Action is a plugin for Adobe Photoshop containing pre-configured recordings of a set of Photoshop manipulations. All you need to do is install this file, open the action window, and click the "play" button and the effects will be automatically applied to your own images. It is that simple! So why waste time repeating the same tedious steps to achieve a the same effect.
Automate your photo editing tasks by downloading more Photoshop actions. Checkout our related post on vintage Photoshop actions for creating retro effects.
CREATE VINTAGE EFFECTS WITH THESE PS ACTIONS
Below, are a number of Photoshop actions that you can download and use for free to recreate vintage photo effects such as film vintage, classic and retro look in your own photos.
6 HANDY FILM VINTAGE PHOTOSHOP ACTIONS
These actions were created to help you breeze through your photo edits. These actions are fully reversible and editable. We recommend adjusting your exposure levels before you apply these presets.
WORKFLOW PHOTOSHOP ACTIONS
There are a total of 45 Photoshop actions for editing your photographs.  Other than the Reduce Noise action, other actions are non-destructive, thus, your image is retained in its original state. You may not get the same results as shown in the preview. Feel free to adjust the opacity, contrast etc. or delete certain layer to suit your need.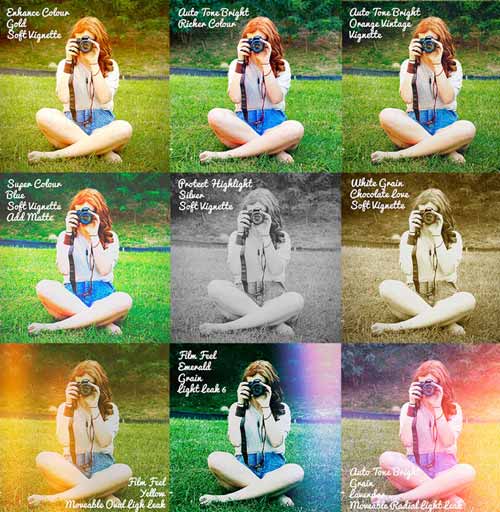 RETRO FILTERS
This set contains 10 pre-configured Photoshop Action files that will dramatically transform your photos with retro style effects inspired by classic 35mm film and processing techniques.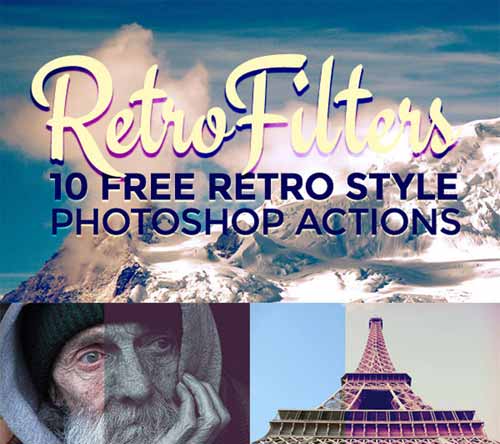 RETRO-VINTAGE FILM PHOTOSHOP ACTIONS
This set includes five actions for creating retro and vintage film effects in your photographs.  The effects that you can create using these actions include retro blue, vignette enhanced, grain vintage, gentle blue, and softened vintage.
ASSORTED FILM ACTIONS
This set includes 6 subtle filmy/lomography actions such as soft cream, lavender, corpse bride, cafe latte, lomo, and exposed effects.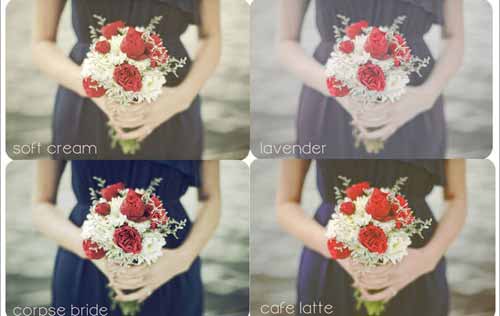 SCANNED FILM EFFECTS
There are five Photoshop actions in this set that emulate the look of photographs printed through a scanned film.
FILM FADED EFFECT PHOTOSHOP ACTIONS
This pack of actions include three free Photoshop actions for making faded film effects on your digital photos.
POLAROID GENERATOR
This set includes actions you can use in Photoshop CS and higher versions to make your photos look like they were taken with a Polaroid camera and film.
POLAROID GENERATOR 3
This pack includes a total of 19 actions you can use for editing your photos. The effects include post-processing actions for adding dust, emulsion voids, and some other effects. These actions are compatible with any CS version of Photoshop.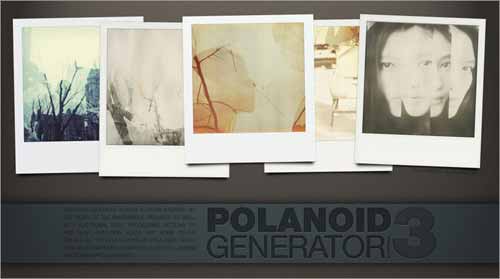 OLD FILMS ACTION
A nice set of Photoshop actions you can download for free to create vintage film effects on your photographs.
VINTAGE LIGHT LEAKS
This set features four vintage photo effects Photoshop actions perfect for adding light leaks and flares like in old film photos.
RUNNING ON FIRE FILM
Another set of actions featuring vintage photo effects  These Photoshop actions get inspiration from the film "Running Scared." The first one is more of a bleach by-pass like action. The second one has darker tones brought to the fore.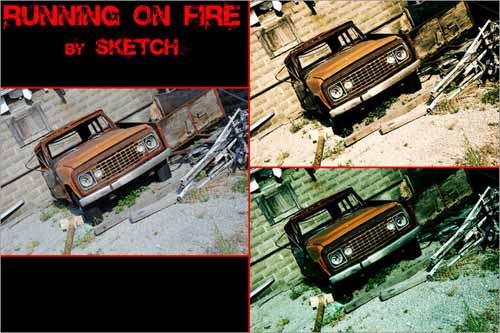 LIGHT LEAK FILM PS ACTIONS
This set includes 4 different vintage photo effects actions for adding light leak effects on your pictures.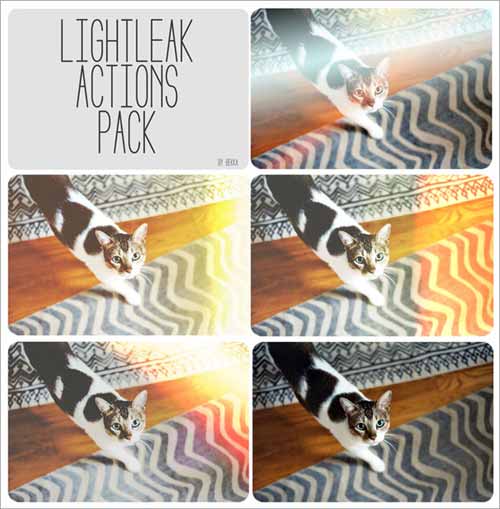 BEACHY BLUE PS ACTIONS
A set of vintage photo effects actions for those summer beach-perfect photos.
FREE FILM ACTIONS PACK
This little pack includes four free film Photoshop actions! Add beautiful analog styles to your photos with this free set. See the before and after previews below.
FREE OLD FILM PHOTOSHOP ACTIONS
This free vintage photo effects  Photoshop action from Shutter Pulse will give your photos an old film style look. This is a free sample from their set of Film Photoshop Actions and it works great with many landscape and nature photos. Below, are sample before and after photos.
10 RETRO EFFECTS WITH LIGHT LEAKS
Download this set of 10 amazing vintage photo effects  each with their own unique light leaks! These Photoshop actions give your photos a retro look with light leaks seen in old film cameras.
PROFESSIONAL CREATIVE PHOTO ACTIONS
This set of Photoshop actions include 7 very useful post-processing effects such as soft blur glow, matte paint, creative detail sharpener, deep light glow, soft light luminosity, TV scan lines, and movie effect. The preview below does not show all of these effects.
VSCO PHOTOSHOP ACTIONS PACK
Another Photoshop actions pack that will help you achieve the look of photos taken with a VSCO camera. Anyway, these actions give off the filmy, vintage-y vibe.
80s BAD FILM PHOTOSHOP ACTIONS
This  vintage-retro look gets inspiration from 70s and 80s images.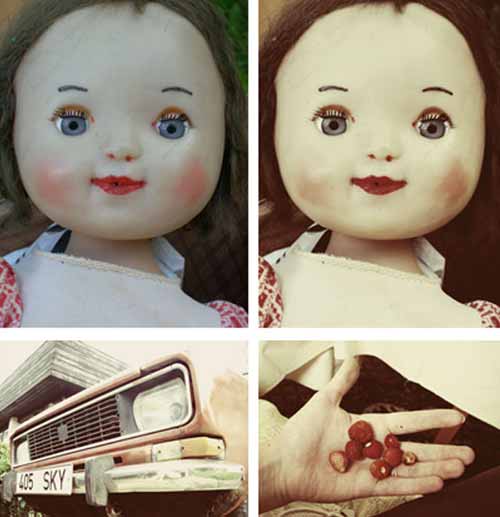 COLD/WARM FILM PHOTOSHOP ACTIONS
This set of three Photoshop actions is perfect for creating cold and sunny film effects in your digital photos.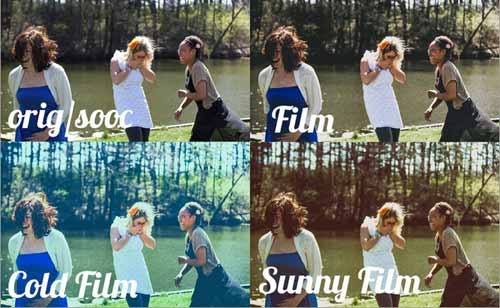 6 FILM EFFECTS PHOTOSHOP ACTIONS
Here is another PS action set that features 5 vintage photo effects  actions. They are perfect for editing your photos. These actions emulate the film effects in your photos.
Related Free Design Resources