350+ Free Vintage Textures and Backgrounds
Having a collection of high-quality textures that you can use for your artwork and  projects is essential to every designer. Especially when creating vintage-themed designs, the use of authentic looking textures will help you create the perfect retro and distressed look. In this post therefore, we decided to put together a total of more than 350 individual vintage textures contained in 25 sets that you can use in your designs for free. To download the set that you want, simply click on the text link provided below each preview image. Enjoy these lovely textures!
---
350+ FREE VINTAGE TEXTURES TO DOWNLOAD
01-Vintage Style Textures
Included in the download pack are 60 vintage style textures. Each texture consists 4-5 different images layered together in Photoshop to get the vintage or distressed look as in the preview below. The vintage look was achieved by combining one fabric texture, two paper textures, and a grunge texture along with the pattern.
[ DOWNLOAD ]
02-This free vintage-themed texture pack features a star pattern on aged paper. The texture comes in 20 wonderful color variations. At 3600×3600px and in JPG format, the files are large and high-resolution. The textures can be used as backgrounds or to add textures to designs, art projects, illustrations, photos, and more!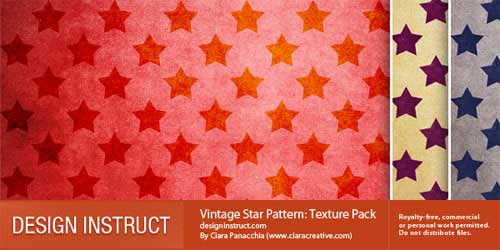 [ DOWNLOAD ]
03-Victorian grunge texture pack
Contains 5 super high-resolution textures featuring vintage Victorian-style wallpaper textures in JPEG format at resolution of 2000×300 pixels.
[ DOWNLOAD ]
04-Large Retro Textures Pack
There are 6 high-resolution vintage textures that you can download and use for free. Features fabric textures in retro style floral and foliage designs.
[ DOWNLOAD ]
05-Colored Vintage Paper Textures
This free set of 20 vintage/aged paper textures contains textures that are each 3600×3600px in size, high-resolution, and in JPG format. You may use these textures as backgrounds or for adding textured elements in your designs, illustrations, photos, and so forth.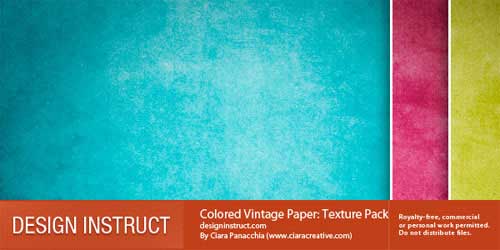 [ DOWNLOAD ]
06-Vintage Grunge Texture Pack
There are 6 high-resolution vintage grunge textures that you can use free for personal or commercial use.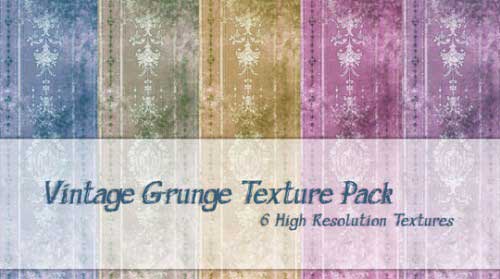 [ DOWNLOAD ]
07-Vintage Background Textures
This pack contains 20 different vintage looking textures in 1000×1000 pixels resolution. May be used without restrictions.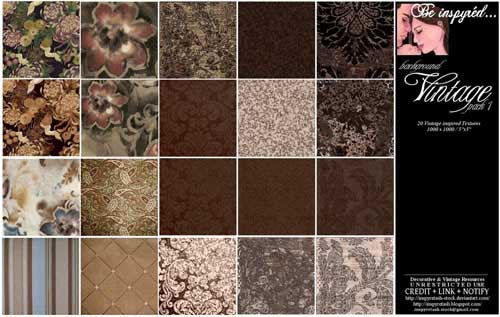 [ DOWNLOAD ]
08-Textures – Time
This set includes six vintage looking textures featuring splats of colors and an old clock. Size of each texture is at 800 x 600 pixels only.
[ DOWNLOAD ]
09-Vintage Backgrounds Pack 7
There are 40 Vintage-inspired square textures in this set that can be used for free. Each texture has a resolution of 1200×1200 pixels.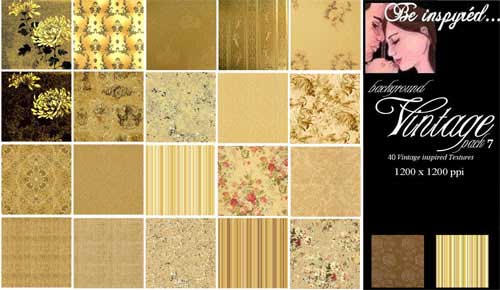 [ DOWNLOAD ]
10-Grungy Mauve Brown Seamless Textures
A free combo pack of seamlessly tile-able Grungy Mauve Brown patterns in .jpg format as well as a corresponding Photoshop pattern (.pat) set.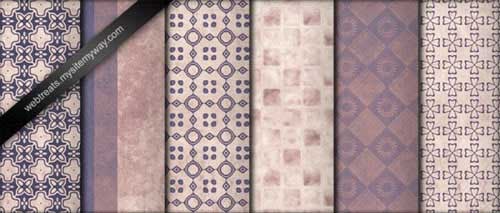 [ DOWNLOAD ]
11-Vintage Retro Grunge Wallpaper Patterns
A pack of seamlessly tile-able Vintage Retro Grunge Wallpaper patterns part #6 in .jpg format as well as a corresponding Photoshop pattern (.pat) set.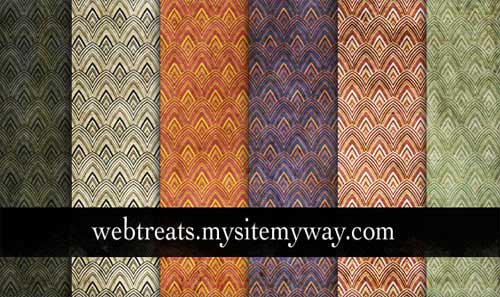 [ DOWNLOAD ]
12-Vintage Sweet Hearts
A  free set of Vintage Sweet Heart textures.  Great for overlaying photos, as backgrounds and for scrap booking.
[ DOWNLOAD ]
13-Vintage French Flair: 4 Textures
These are perfect for adding some vintage French flair in your designs. Grab this pack of textures and let your creative juices flow.
[ DOWNLOAD ]
14-Time after Time Vintage Grunge overlay Textures
Add a bit of soft grunge to your photos or artwork and fade away time with these vintage paper textures.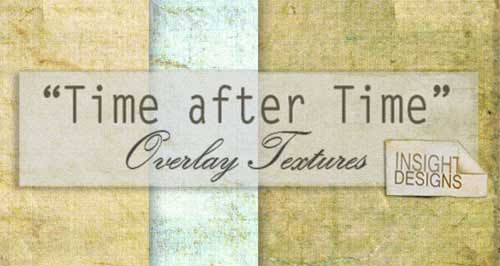 [ DOWNLOAD ]
15-What A Mess
This set contains 12 large textures consisting of a lot of different stuffs such as a map of Rome, two drawings of flacons, a collage, deers, a postcard, a Roman vase, a sign, an old book page, a pillar and so on. It's a nice mess. Download it, if you want to see everything.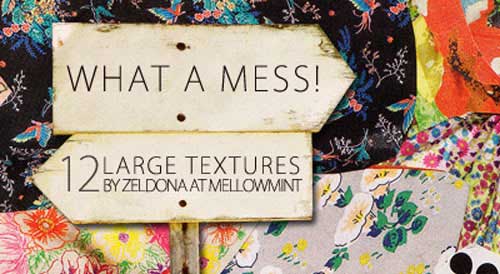 [ DOWNLOAD ]
16-Vintage Star burst Texture Pack
A vintage-themed star burst, set on top of an aged paper background. This free texture pack comes in 36 color combinations and in JPG format. They're very large (3600×3600px) and high-resolution.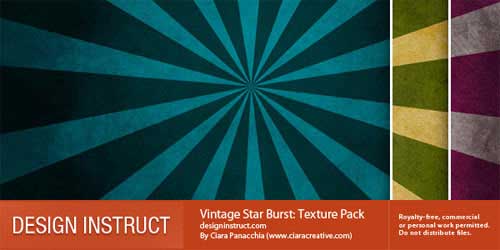 [ DOWNLOAD ]
17-Vintage Valentine Paper
A set of 10 vintage looking paper textures with hearts and other romantic designs. These are perfect for creating textured background for Valentine's Day designs.
[ DOWNLOAD ]
18-Vintage Texture Pack
There are 5 large vintage textures in this set with resolution of 1024×768 pixels each.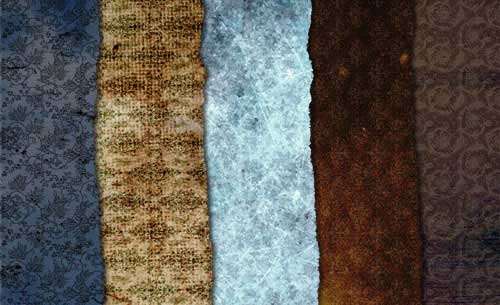 [ DOWNLOAD ]
19-Vintage II Texture Pack
Here is the second installment of the vintage textures series from Cloaks. This time, the 7 textures in this set are smaller at resolution of 800×599 pixels each.
[ DOWNLOAD ]
20-May Vintage
This set contains 10 large textures of vintage stuffs such as an old golden frame, two wonderful maps, an aged letter with a beautiful swirly initial letter, two drawings of palm trees, an anatomical drawing of a skull, two lovely colored illustrations of the world and a nice red lightning on a black background.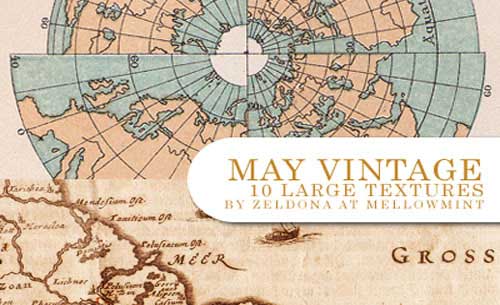 [ DOWNLOAD ]
21-Let's go vintage
This set contains 12 large textures that include a pocket watch, two old maps, a rose necklace, two clouds textures, an old frame, a negative, two vintage papers, a CD and a sheathing. These are great to give your artworks a unique and old look.
[ DOWNLOAD ]
22-Vintage Bum Medium Textures
There are 20 vintage-style textures in this set in medium sizes (431×431 pixels).
[ DOWNLOAD ]
23-Vintage texture set 3
12 vintage textures perfect for creating vintage looking designs, especially for crap books.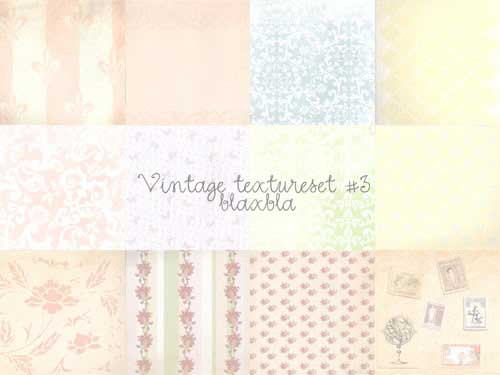 [ DOWNLOAD ]
24-Vintage Book Pages
High-resolution Texture Pack from a 19th Century book titled 'World of Fashion'. Some of the pages have been colored but you should still be able to see some of the images that have worn through over the years.
[ DOWNLOAD ]