25 Beautiful Letterpress Wedding Invitation Cards
Letterpress wedding invitations remain to be one of the most popular these days. Many couples prefer letterpress wedding cards because they look elegant and formal. Letterpress also gives invitations a unique texture and depth, which could not be achieved using other printing processes. For your inspiration (whether you are looking for inspiration in designing your own wedding cards or for a client), we are showcasing here today 25 great examples of letterpress wedding invitations.
Are you looking for free wedding invitation card templates? Visit our post featuring 20 stylish designs that you can download and use for free. Click on the image below to view this post.
---
25 LETTERPRESS-PRINTED WEDDING INVITATION CARDS
To know more about each design, simply click on the preview image. All images are copyright of their respective owners. I hope you enjoy viewing these images. For those who are looking for inspiration in designing their wedding invitations, these examples could hopefully give you some ideas about the letterpress option.
Mixtape Wedding System
This invite pumps up the jam with an old school boom box and mix tapes. We love it for its fun factor and unique departure from most wedding stationery. The horizontal size is different, the illustration is super fun and the couples initials are even in the speakers of the boom box!
[ SOURCE ]
Mexico Wedding Illustration
This illustrated wedding invitation was influenced by the ultra baroque style of the church location for the marriage ceremony.
[ SOURCE ]
Typographic Nectar Hummingbird Wedding Invitation
The detail of the hummingbirds and the classic type makes this an elegant set of wedding stationery indeed. Hummingbirds are such an exquisite little bird of great symbolism, we love the copy they put on the table number card. The color is a dark purple ink printed on Gruppo Cordenons Canaletto 111lbC.
[ SOURCE ]
Daniel and Jessica's Custom Invitation
This wedding invitation features embossed designs and printed in pearl white cotton paper using pink and chocolate brown
[ SOURCE ]
Wedding Invitation: Gootnick
The design features two shades of grey printed on duplex lettra to allow the yellow edge painting.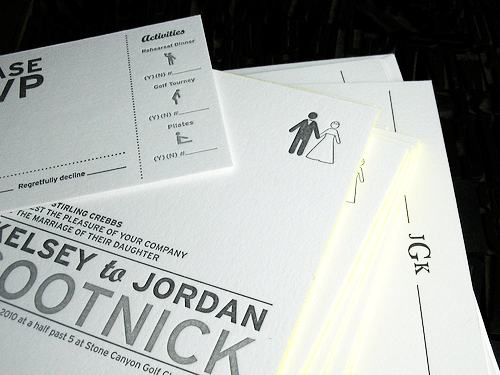 [ SOURCE ]
Eddie and Jae Young's Wedding Invites
Here is another letterpress wedding invitation card example that uses simple and clean design.
[ SOURCE ]
A wedding by the Sea
This unique wedding invitation set is perfect for your wedding by the sea. The design captures the essence of the ocean through the sand dollar, sea horse, antique maps, and more! The invitation set includes quite a number of pieces from the invite with a real sand dollar to an RSVP card, registry card, printed vellum layer, travel information and wedding events cards, and an invitation box with ribbon and custom sticker.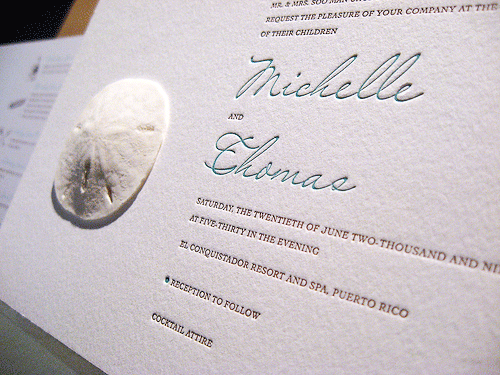 [ SOURCE ]
A / T Wedding Invitation
Custom, poster-sized invite designed by Cultural Operations, Boulder.
[ SOURCE ]
Typographic Elegance Letterpress Wedding Cards
A unique combination of letterpress and digital printing. The letterpress portion of the project were printed with 220lb Crane Lettra in an Ecru color. These cards then had a unique small envelope affixed to them which contains the digitally printed red invitation. Also worth a production note is the perforation that separates the map and the RSVP card into two parts.
[ SOURCE ]
Erickson Wedding System by Studio on Fire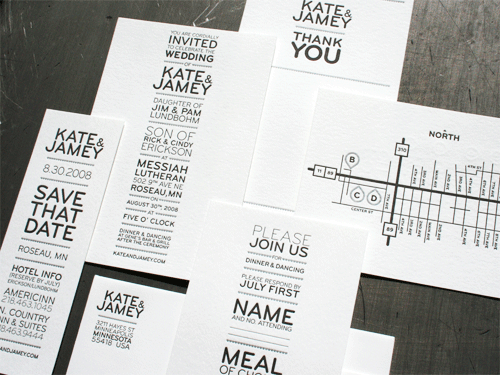 [ SOURCE ]
DIY Wedding Invitation Wheel
They are made from two circles of untreated, recycled chipboard die cut and letterpressed to look like an old planting wheel with redwood rings on it. If you want to create a similar  invitation card, there are editable templates in Photoshop and Illustrator available from source.
[ SOURCE ]
Rhon Letterpress Wedding Invitation
Letterpress wedding invitation printed on our 530 GSM luxury bamboo paper.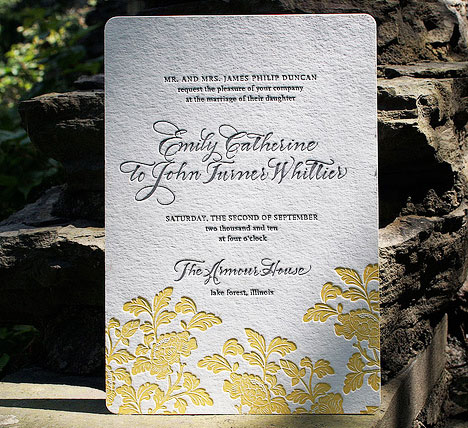 [ SOURCE ]
Letterpress Wedding Invitation
[ SOURCE ]
Away W Go Wedding Invitation Card
A letterpress wedding invitation Designed by One Plus One Design Studio, Printed by Beastpieces. The illustration is simple with just a little overprinting of  bright red and light blue inks. Most of the artwork knocks out, requiring very tight register. (like the blue dotted lines on the hot air ballon.) It is printed on Crane Lettra Flo. White 110lbC The card is like a small poster and folds up to a 5.5 x 5.5 square.
[ SOURCE ]
The Venice by Dolce Press
This invitation features a bold pattern which we reversed so that the floral design remains bumped up in white while the background is printed in blue.
[ SOURCE ]
Modern Circles by Dolce Press
The invite and reply card are letterpress printed in three colors (black, gray, and chartreuse) to match the liner.
[ SOURCE ]
Lindsay & Geof Wedding Invitation
Custom letterpress wedding invitations in brown and silver by Boxcar Press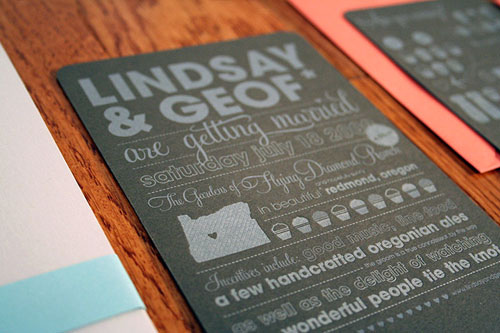 [ SOURCE ]
Bahamas Letterpress Wedding Invitation
Each wedding invitation card is unique using various textures and graphics. Each design combines beautiful flourishes, coral patterns, floral elements, silhouettes, crests and even a bulldog. All cards are make use of two color on Cordenons Canaletto Grana Grossa Bianco 111lb C . It is a 20 percent cotton blend stock with a textural finish.
[ SOURCE ]
Jennifer & Michael Wedding Cards
A clean letterpress wedding invitation by Bella Figura.
[ SOURCE ]
Tara & Mark Wedding Invitation
Urbanity letterpress wedding invitation by Bella Figura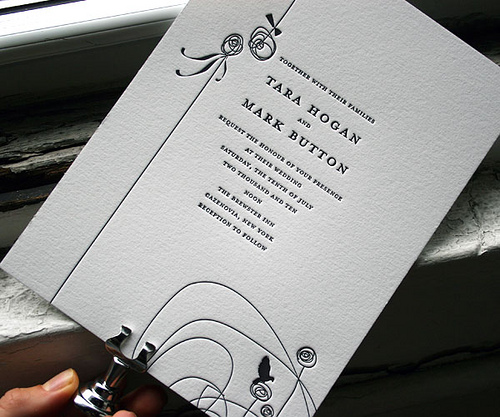 [ SOURCE ]
Tichy/Callahan Wedding: The Suite
Designed by Kristin Mills with hand drawn illustrations and lettering by Eva Jorgensen. Printed by hand on our vintage letterpress at Sycamore Street Press.
Spanish Lace Wedding Invitation
[ SOURCE ]
Letterpress Wedding Invitation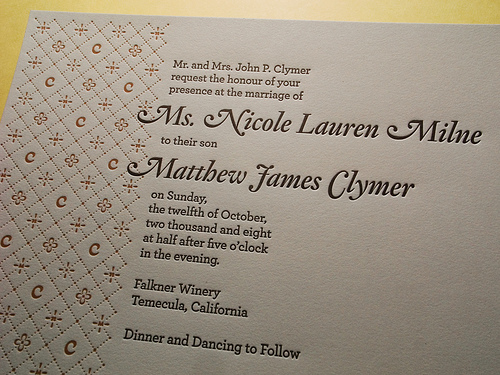 [ SOURCE ]
Letterpress & Foiling Wedding Invitations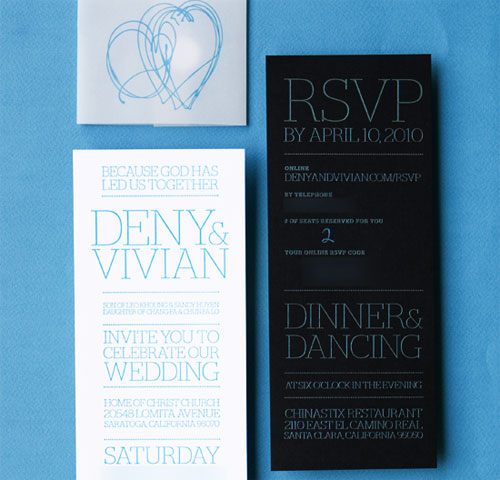 [ SOURCE ]
Related Free Design Resources