21 Beautiful Windows 7 Skins to Download Free
In this post, we are featuring 21 updated and bug-free Windows 7 skins developed by a number of talented DeviantArtist. Before downloading these Windows 7 skins, please make sure to read the installation details along with other information on the respective developer's page. Just click on the text link found below each preview image to go to the download page. If there are Windows 7 skins included in this list that are no longer available, please do update us so we can remove them accordingly. Have fun using these Windows 7 skins!
Windows 7  remains to be a popular operating system despite the release of its predecessor, the Windows 8. Claimed as the first ever operating system from Microsoft which was developed basically based on user feedback, a lot of users of Windows 7 are saying that this OS from Microsoft is way faster and better looking than its predecessor, the Windows Vista. There are a lot of new features of Windows 7 that new users have to get used to such as the new  task bar and Aero Peek. However, these can be easily tweaked and mastered plus the fact that they are fun to use. If you are looking to upgrade the look of your Windows 7, then you should definitely search for some custom made themes or skins.
Do not know how to install and use these Windows 7 skins? Well, most of these Windows 7 skins come with a detailed step-by-step instruction on how to install them. Simply click on the title of each entry to download the visual style that you want or if  you simply want more information about a particular style.
---
21 WINDOWS 7 SKINS TO DOWNLOAD FREE
Since Windows 8 is officially in the market, we are pretty sure you are as interested as most of us in trying this new OS from Microsoft. However, if you are still hesitant about upgrading your system, there is actually a way to change your computer interface using Windows Skin. This skin called 8 Skin Pack is a Windows theme that will let you transform the way your Windows 7 OS look into Windows 8 Metro. Below is a preview of this skin. A link to the download page is provided below the image. Do not forget to check it out!
Frost Aero is a cool, clean, and elegant skin package for Windows 7.  It features 2 sub themes (one with a search box and the other without a Search Box). This has been updated regularly to fix issues encountered by its users. A complete easy-to-understand step-by-step guide is also available at the DeviantArt download page.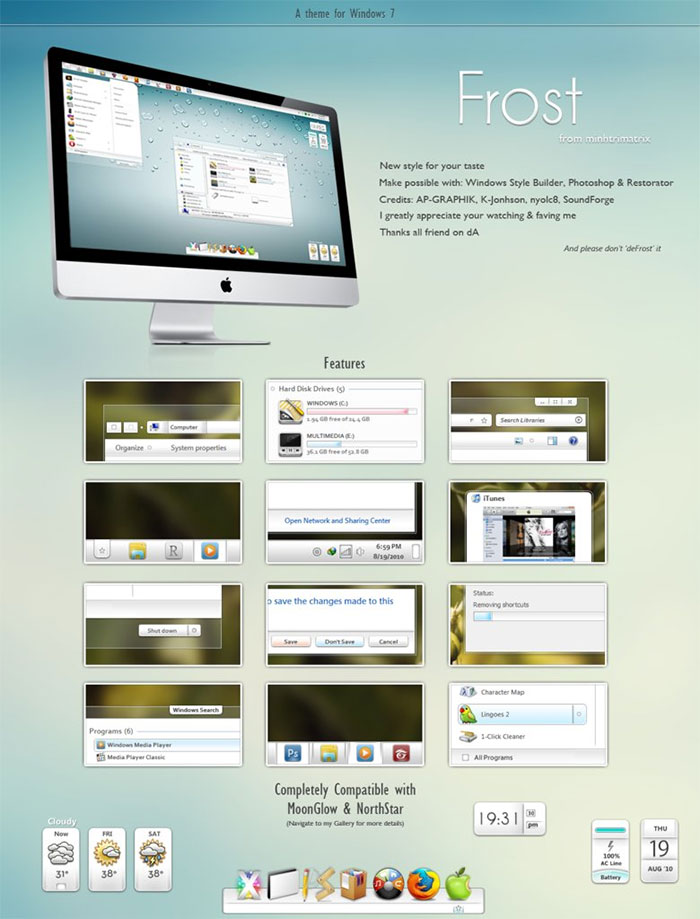 On the other hand, if you are a fan of dark theme for your desktop, then this Windows skin is for you. This version features fixed notification area backgrounds, fixed task bar, and jump list background, etc. Although this has been tested on Windows 7 x86 only, it also works on x64 as well.
04- Win 7 Blend
This visual style is compatible with Windows 7 RTM Build 7600 (x86 and x64) and was created using Photoshop CS4, Restorator 2007, GIMP, and Window Style Builder. Available in various color schemes.
05- Placebo Windows Visual Style
There are six Windows 7 skins included in this set (the preview only shows 2 styles). This visual style is intended for Windows 7 and has been tested to work on both 32 and 64-bit versions. Make sure to read and understand the "Read Me" file included in the download folder for the complete installation guide.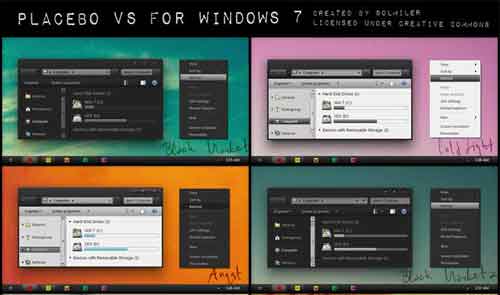 06- Elune Clean Windows 7 Theme
A very high quality and clean theme, Elune is a visual theme intended for Windows 7. Included are three sub themes that you can mix and match for task bar and caption buttons. A complete installation guide is available at Deviantart page of the author. Follow the link below for more information.
07- QMac-2.5-Black and Gray Final
If you want to mimic the Macintosh look for your Windows 7 machine, then this Windows skin is for you. Below is the preview of the theme. If you decide to install this in your computer, make sure to read carefully the instructions available at the download page.
This s a glass-inspired visual style intended for Windows 7 Build x86 and x64. It includes three styles, called Dusk, Dawn, and Noon. This visual style includes support for top, bottom and left task bar. It comes in two different font options: the Windows default Segoe UI font and a smaller Calibri font.
09- Clean Green Windows Visual Style
If you are a fan of green color scheme, then this Grass visual style for Windows 7 is for you. It achieves the clean minimal look through a combination of green tones and glass.
10- Leo's Revenge Aero Windows Skin
For pastel lovers, here's a Windows 7 Skin that is perfect for you. This skin includes two styles for the task bar called Aero and Solid. There is also an option on how to position your task bar.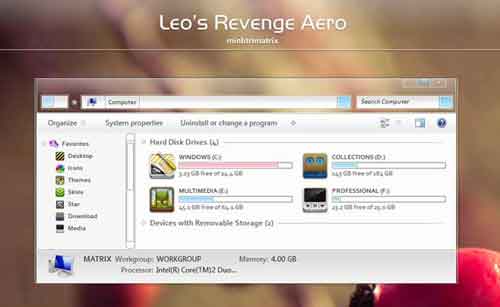 11- Dynamic Black
Claimed as the darkest visual style for Windows 7 ever created, this skin will surely attract people who prefer dark computer interface. It includes two visual styles, one with rounded edges and the other with diagonal edges as shown in the preview below. System files are available for both x64 and x86.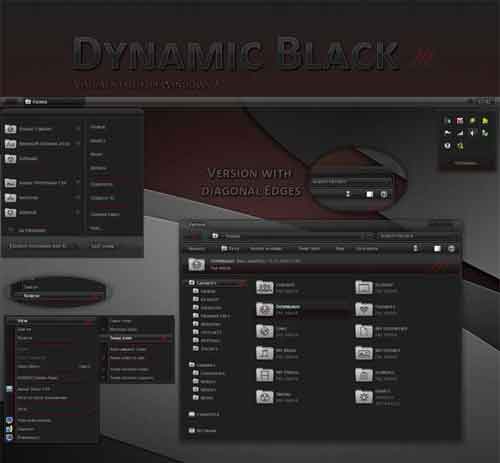 Steam is a dark visual style for Windows 7. It has been updated to include Flash and progress bar. A link to a video showing how the theme should look like when installed is available at the download page.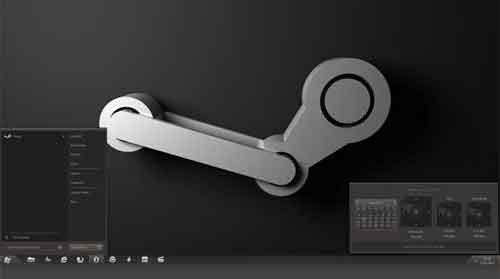 13- Space-Themed Skin for Windows 7
Here is another visual style for windows 7 with a space theme. Included in this style are two versions of the theme ( with line buttons and round buttons). It also includes navigation buttons, task bar icons, system icons, and a start orb.
14- Dark Agility Windows 7 Skin
Another dark visual style for Windows 7.  This style is also available in blue color scheme just in case you do not like dark themes.
15- Red Ice Windows 7 Visual Style
If you like red, then this visual style for Windows 7 will surely work perfectly for you. Make sure to read the installation guide for this theme to work seamlessly with your Windows 7 machine.
16- Purple Dream Plus for Windows 7
For purple color lovers, here is a visual style you can use to customize your Windows 7 display. To use this Windows 7 skin, you must be using Windows 7 (X86) 32 bit or Windows 7 (X64) 64 bit or an Aero Compatible PC. Enhancements have been made for this visual style over the years, which include among others, an improved purple shell style, improved control panel view, and clearer start menu.
17- Zune Collection: Visual Style for Windows 7
Inspired by Microsoft's Zune player, this Windows 7 skin features a clean interface and a sleek look. If you prefer a dark theme, then good for you because this skin is now available in black style.
18- Elegant Glass Windows 7 Skin
A sleek and simple visual style for Windows 7 with glass-like, glossy buttons and icons. It includes style shell for top and bottom.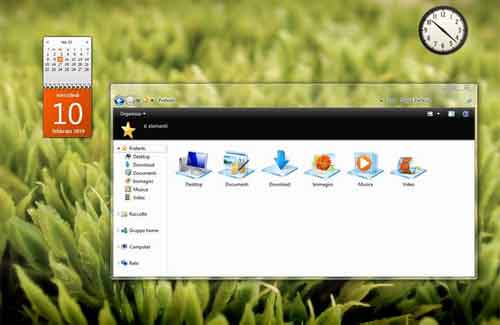 Inspired by the glossy Sony Ericsson theme design, this visual style for Windows 7 is available in three color schemes green, blue, and soft.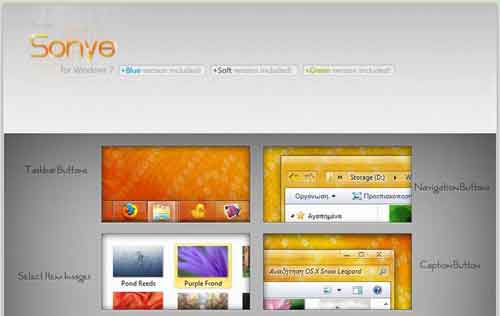 20- Per Castra Ad Astra – Windows 7
A modern looking visual theme for Windows 7 and 8.1. You can choose from four styles : Blood Oath, Dark Matter, Grey Day, and Infinity.
21- M83 Midnight City Theme for Windows 7
This Windows 7 skin includes 20 beautiful wallpapers and a dark user interface. The download pack includes a detailed instruction on how to install the theme.
Related Free Design Resources