26 Inspiring Examples of Creative Wine Bottle Labels
Having a nice and creative wine bottle label plays a major role in wine branding. Especially when a new wine is being introduced to the market, the bottle label design can in fact, make or break the success of the brand. No matter how excellent the quality of the wine itself, the wine bottle labels design is the first thing that customers see and usually become the only basis of most customers when deciding to buy the wine or not.
Thus, the work of a designer is very crucial to the success of a wine brand. To make a brand stand out, many designers have come up with unique and creative wine bottle labels.
In this roundup, we gather 26 inspiring and unique wine bottle labels where you can draw inspiration from.
---
Examples of Creative Wine Bottle Labels For Inspiration
To know more about each wine bottle labels design and view more and larger pictures, just click on the preview image and it will take you to the source page.
Honeymoon by Lauren Golem
Honey Moon features a golden wine bottle labels intended as a promotional material to celebrate the first day of summer. The concept is inspired by the first full moon in June, which occurs near the first day of summer, which is seen as the most optimal time to harvest honey. Thus, the wine is called the honeymoon. The wine serves as gift for new clients, as the company start their honeymoon–a sweet new business relationship. The wine bottle labels also feature a unique typeface developed by the designer as logo.
[ SOURCE ]
Down Under by Serhat Ferat
This concept for a wine bottle labels design was developed for a range of Australian-made wines to be sold mostly overseas. The wine bottle labels feature a playful, yet clean typographic approach inspired by the Australian cheekiness and playfulness. The label design comes in four variations and includes carry bags that also sport the same design style.
[ SOURCE ]
Vinhos Lagosta
This is a design proposal for the re-branding and packaging of Rosé & Vinho Verde of Lagosta Wines. Lagosta (Lobster) is a fresh summery wine that goes well with all kinds of fish and sea food. The wine bottle labels aim to recreate and modernize the traditional "Mateus Rosé" bottle and target a more sophisticated audience.
Versus Wine Pouch
Here is a unique packaging for wine. Instead of using bottles, this wine from The Company of Wine People, an African company, made use of a 2-liter pouch with a dispenser attached.  The wine is being sold at supermarkets in South Africa.
Leather Label for a Brazilian Rum
These wine bottle labels for Oronoco, a distinctive rum imported from Brazil, feature a Brazilian map embossed in leather. The slender bottle shape and cap design also communicate masculinity in the premium rum category. The most innovative feature of the package is the embossed leather wrap label.
Sav by Stockholm Design Lab
This wine packaging and labels remind us of a sparkling elixir at Springtime. According to its designer, this wine bottle design was inspired by the birch and the northern Scandinavian pureness.
[ SOURCE ]
Mini Garage Winery
As long as you do not store these wines in your garage (especially next to the turpentine), you are in for a tasty treat of packaging design.  The Mini Garage Wines and Brandies by Anthony Hammond have a literal conception– Hammond's wine is produced in a former tractor shop in Germany.  The packaging is among the most creative on this list, although some observers were skeptical on their ability to preserve the original flavor of the product.
[ SOURCE ]
Bootleg Wine Bottle Labels
Extremely innovative and amazing packaging that stands out from every other wine bottle on the shelf,  the Bootleg Wine Collection is outfitted in a sleek, shrink wrapped bottle that looks like leather with a zipper that runs the length of the bottle.
Volute: Aluminum Bottled Wine
Volute Wine is a French wine which makes use of  aluminum bottle instead of glass. Not only is the bottle aluminum, but its smaller single-serve size makes it portable and nice for more casual parties. They are one-fourth the volume of a 750mL standard wine bottle. Why aluminum? Volute claims it functions like a glass, yet it has lower carbon footprint and requires less weight/material per bottle than glass.
WineSide Trial-Sized Wine
WineSide created these sample-sized tubes of wine so consumers could try the wine before buying. This is especially useful if the bottle is expensive. The engineered glass tubes have screw tops and are made to protect the flavor of each wine. They offer a range of different wines, from Chateauneuf du Pape to Muscat in sizes of 6cl or 10cl tubes.
Electroluminescent Liquor Packaging
Ballantine's "Listen to Your Beat" campaign includes an electro-luminiscent wine bottle label with graphic equalizer display. Designed by London-based "The Core," this label is more evidence of a trend towards animated, self-illuminating liquor labels. Similar to these battery-powered T-shirts, audio references seem to occur frequently in youth-oriented liquor packaging.
Let It Grow Hand Painted Wine Bottle Labels
Brazilian design firm Let It Grow wanted to reach out to their clients with a special gift.  The designers took 100 empty wine bottles, painted them white and then illustrated each bottle by hand.  The wine comes in a vacuum-sealed black plastic label with a description about its contents.
Boarding Pass Shiraz Wine Bottle Label
The front label of this wine bottle is essentially a boarding pass with the travel details replaced with information about the wine.  This 2005 Shiraz encompasses the entire air travel experience in one bottle.
[ SOURCE ]
DolceVita Wines Bottle Labels
Designed by Romulo Castilho, these wine bottle labels for DolceVite Wines feature fireworks display for their packaging.  These Brazilian wine bottle labels explode with color, gold for the light and purple for the dark.
Lazarus Wine's Braille Wine Bottle
These wine bottle labels made use of Braille letters. Braille consists of raised dots arranged in "cells," with each cell consisting six dots that fit under the fingertips, arranged in two columns of three dots each. Each cell represents a letter, a word, a combination of letters, a numeral or a punctuation mark.
[ SOURCE ]
G&J Greenall's Bloom Gin Bottle Labels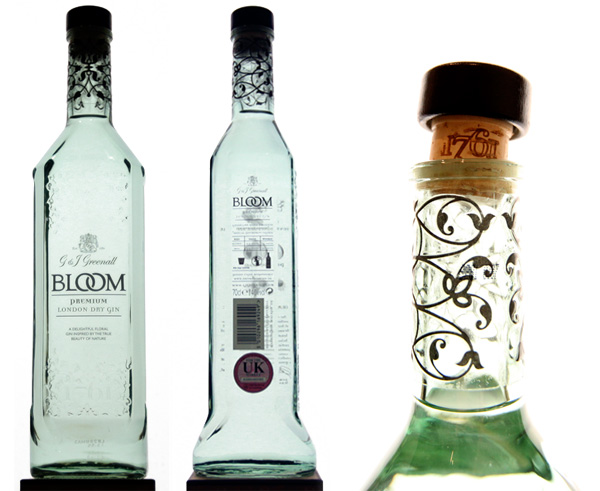 [ SOURCE ]
USB (Port) Wine
A wine bottle design that feature a USB port.
B Frank Wine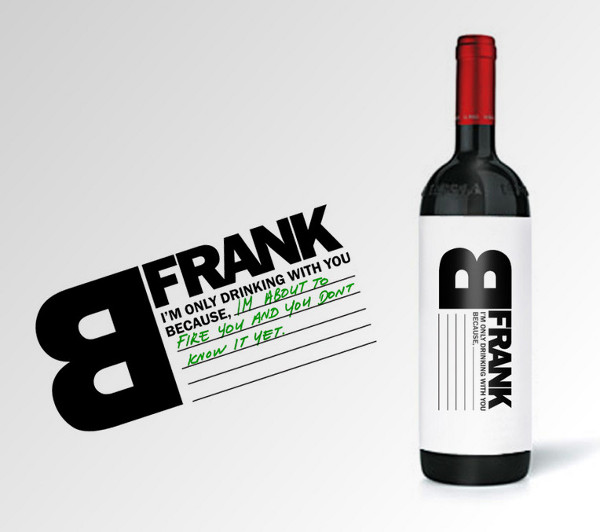 Buddy Mulled Wine
The Wine Case Lamp by Ciclus
Oops Wine Bottle Labels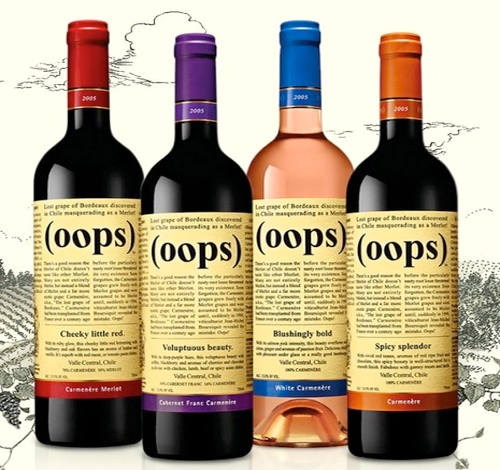 [ SOURCE ]
Neil Ashmead GTS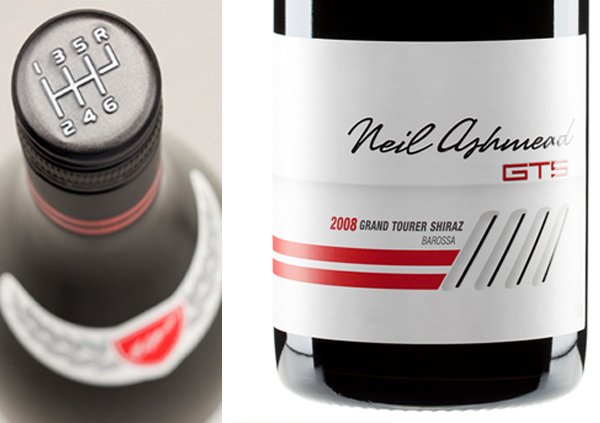 [ SOURCE ]
Alpha Box & Dice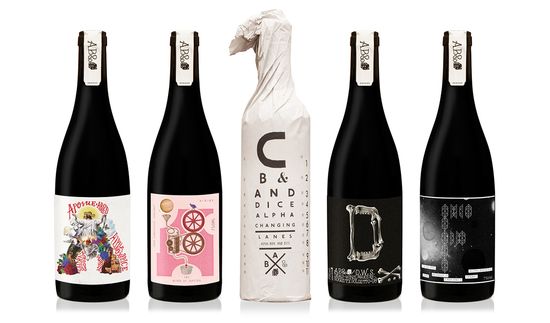 Lunar Vine Wine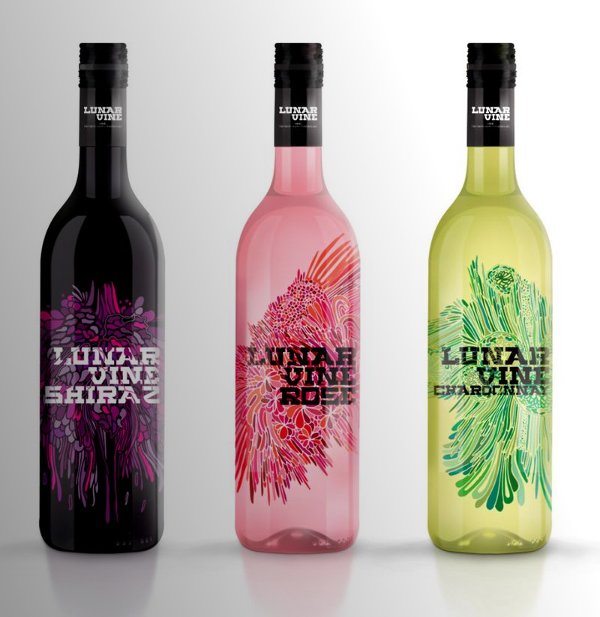 Urban Influence Holiday Promo 2009
[ SOURCE ]
Related Free Design Resources