2 Sets of Free Printable 2016 Calendars in Pink
Here is another free printable to help you organize your life this coming 2016. Today, we are releasing another two sets of mini 2016 printable calendar in pink color scheme. One comes in floral light pink design while the other set has geometric patterns in them.
These 2016 printable calendar are sized at about 3 x 5 inches, these are ideal for journals and scrapbooks. You can also print them on stickers and stick to your notebooks if you wish. Or, you can hang them on your walls using binder clips.
2016 PRINTABLE CALENDAR IN PINK FLORAL DESIGN
Below are previews of the 2016 printable calendar featuring hand drawn roses, orchids, cherry blossoms, etc. The floral patterns are in light subtle pink and dark brown combination. The calendar follows the standard North American format, in which every week starts on Sunday and ends on Saturday.
DOWNLOAD
---
2016 PRINTABLE CALENDAR IN PINK GEOMETRIC BACKGROUND
The second set of pink mini 2016 printable calendar feature different geometric designs. Each month/card features a unique pattern in pink-purple-brown color combination. The designs include checkered, plaids, argyles, squares, and diamond patterns.  Below are the previews for this set: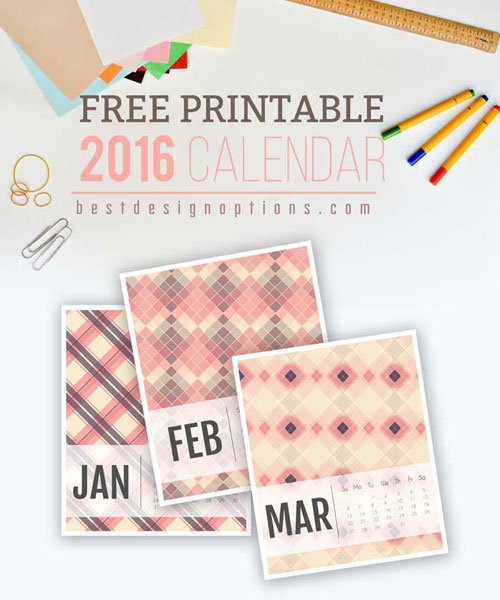 DOWNLOAD
---
The file that you may download is 100 percent printable. Simply download the high-quality PDF file and print out on nice thick paper at home or at a copy shop. Each month of our 2016 printable calendar comes in unique color and animal fur print. If you are looking for a unique, and useful yet inexpensive gift this holiday season, then you have come to the right place. Your friends and colleagues will surely appreciate this thoughtful gift.
The artwork on the PDF is locked and may not be edited in a program like Adobe Illustrator or Photoshop. This mini note-sized calendar is meant to be used as-is. We hope you enjoy these freebies. Let us know of what you think by leaving a comment below.
HOW TO USE OUR 2016 PRINTABLE CALENDAR
1. The file that you may download is in PDF. You need at least an Adobe Acrobat Reader to view the file. If you do not have an Acrobat Reader, you may download this for free here: https://get.adobe.com/reader/
2. The PDF file has 3 pages, 4 month each. Print the file using a letter size card stock. For best results, use 240GSM paper or thicker.
3. Cut the cards along the edges using scissors
4. Alternately, you can print this using sticker paper and just stick on notebooks or walls.
TERMS OF USE FOR OUR 2016 PRINTABLE CALENDAR
Our 2016 printable calendar are free for personal purposes only. Please credit us or link back to us if you use them. Also, please refrain from making them available for download outside of this site. If you want other people to know about our freebies, please refer them to this post.
IMPORTANT!
The download file is password-protected to prevent hotlinking and discourage people from violating terms of use of our brushes. When prompted for a password, just key in "bdo".