17 of the Best Free Embossed Fonts to Download Now
Make your text look as if it has been lifted off the page by using embossed fonts. These type of fonts are great for large titles and headings but should not be used for body text since they are difficult to read in smaller sizes. Also, embossed text is nearly invisible with some color schemes. So make sure you have good contrast by choosing the right background color or texture.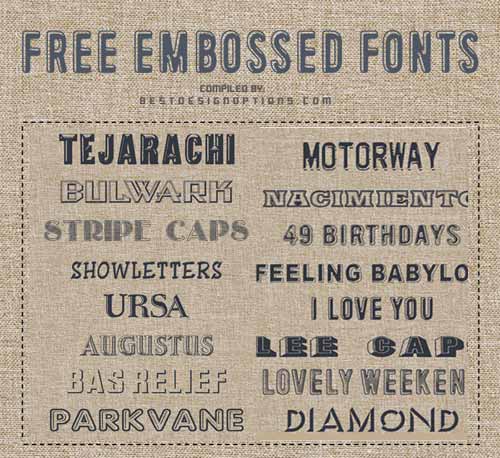 If you want a unique embossed look for your fonts, you can always do it in Photoshop through effects layers. Bu that is another story. If you are time-constrained, then these fonts are ready-to-use and they are free. Just download and install them in your computer. We downloaded and tested all these fonts so we will be able to experience using them before recommending them to you. These fonts would look great as heading or title for posters, flyers, advertisements, or anywhere you need big and eye-catching types! They would also look great on logos, labels, etc.
For more free fonts to download, check out our post on free outlined fonts you can use for your design projects.
FREE EMBOSSED FONTS TO DOWNLOAD
Most of these fonts are free for personal, non-commercial use only. However, there are always options to buy a license for a minimal fee. Some requires you to donate any amount you are willing to shell out in exchange for using these fonts on your commercial projects.
TEJARACHI EMBOSSED FONT
A free embossed font by David Rakowski. It is available in eight different weights such as regular, condensed, extended, reverse, etc.  This font would look great for a logo or for big headlines for advertisements. This is free for personal, non-commercial use only.
BULWARK EMBOSSED FONT
Created by Nick's Fonts, these embossed types are inspired by a poster by Chris Ware. The stark, angular lines of the lettering seemed to lend themselves well to an "extruded" treatment. These fonts are perfect for a poster or for anything that you would like to call people's attention to.
STRIPES CAPS EMBOSSED FONTS
Designed by House of Lime, Stripes Caps font is a decorative font. These fonts are great for designs that have handmade look. Theya re also suitable for vintage and retro-themed designs.
SHOWLETTERS EMBOSSED FONTS
We were not able to include the small letters in the preview but they have different embossing style for a double effect. These fonts are fun and would look great for party posters and birthday invitation cards.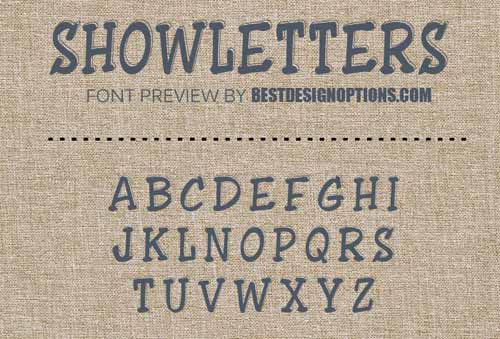 URSA EMBOSSED FONTS
Designed by Jim Pearson, Ursa font is a serif embossed font with a vintage vibe. This font is great as title for poster or advertisement.
AUGUSTUS BEVELED FONT
by Intellecta Design. Freeware, commercial use requires donation.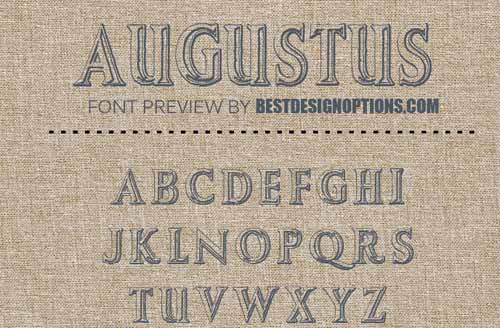 PARKVANE EMBOSSED FONTS
Designed by GemFonts, these rounded fonts feature a 3D effect and are hard to miss because it is embossed and outlined.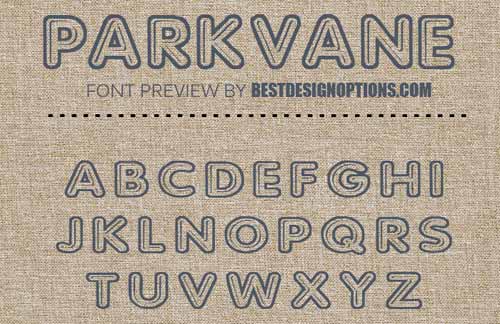 KREDIT EMBOSSED FONTS
This font family is inspired by the lettering on credit cards. Kredit is an OCR-A imbued credit card font. The font comes in various styles and weights–transparent regular, stack the back, front and shine layers. These fonts include a license that allows free commercial use: sometimes referred to as a desktop license. This allows you to install the fonts on a computer and use them to create posters, web graphics, game graphics, t-shirts, videos, signs, logos and more.
MOTORWAY EMBOSSED FONTS
Inspired by embossed letters on a license plate, Motorway is a narrow embossed display font that you can download and use for free in your personal projects.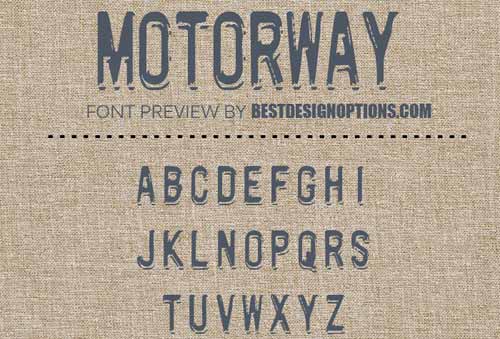 NACIMIENTO EMBOSSED FONT
If you need heavy and stocky font for your design, then Nacimiento is for you. This font is free for personal use only with options to use them commercially. More details on this in the download page.
49 BIRTHDAYS FONT
This font will remind you of candles you blow on birthday cakes. Great font for birthday posters and cards.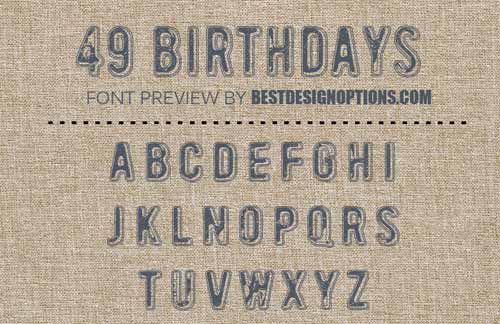 FEELING BABYLON FONTS
If you need a more formal embossed font, then Babylon is for you. These fonts  are great as logo or title for a poster or advertisement. These are free for personal use only.
I LOVE YOU EMBOSSED FONT
A set of narrow embossed fonts for romantic designs. These are free for personal use only.
LEE CAPS FAMILY FONT
Here are big chunky embossed fonts if ever you need some. Great for posters and cards.
LOVELY WEEKEND EMBOSSED FONT
Another embossed fonts you can use for free for your personal projects. We are loving the texture and the rounded edges of these fonts.

DIAMOND EMBOSSED FONT
Created by Rafael Dinner, this set of fonts are available in caps only (no small letters).  make sure to use the right background to create contrast when using this font.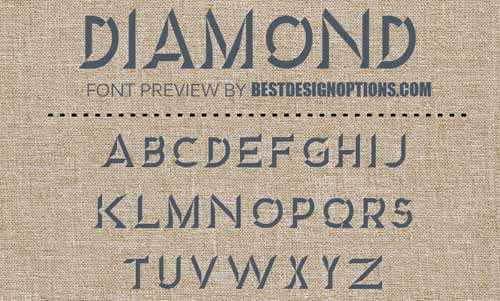 Related Free Design Resources