12 Free Frames Clip Art Brushes for Photoshop
Here is a new set of frames clip art brushes for Photoshop that we are giving away this week! This time, we are happy to present a set of frames clip art brushes that you can use for birthday postcards, posters, invitation cards or as frames for photos and portrats. There are a total of 12 frames clip art brushes in this set with resolution of 2500 pixels each. Like many of our Photoshop brushes, this set was also created in Photoshop CS3. Thus, this should work with versions CS+ of Photoshop. You may also use these frames clip art brushes as corner brushes, side borders or as decorative elements in your scrap booking projects.
If you encounter problems downloading this file, which is in .ABR format, please let me know. You may also try switching to Mozilla Firefox. It worked in the past whenever people (especially Mac users) who had problems downloading from this blog. Resolution of each frames clip art brush range from 600 to 2500 pixels, which are large enough even for designs that you intend to print later on.
TERMS OF USE: You may use theseframes clip art brushes in any way you want, and that includes commercial uses. However, please refrain from making them available for download outside of this site. If you want other people to know about these freebies, please refer them to this original post.
Please leave a comment if you happen to like our frames clip art brushes or if find them useful.
Below, you will have a preview on how these brushes would look like when installed in Photoshop:
BORDER PHOTOSHOP BRUSHES
Size: 2.6 MB
Type of file: .RAR
---
SIMILAR FRAMES CLIP ART BRUSHES
If you liked our border Photoshop brushes, then you might also wantto check out these similar brushes we found from other websites:
Border and Corner Brushes 2
This brush pack contains 8 border and corner brushes.
[ DOWNLOAD ]
Decorative Frames Brushes
The second pack of the Grunge Series. I hope you will find it useful as well. The dimensions are high, so you won't have a problem using them for your prints.
[ DOWNLOAD ]
Elegant Border Brush Set
There are 12 brushes for Photoshop 7 that you can use for free in this set of border Photoshop brushes.
[ DOWNLOAD ]
Swirls – Flourishes II Brushes
A set of brushes made up of various swirls, ornamental designs, and flourishes. Most of these will work great as corner brushes. These have some flowers added to some, different textures, dots, circles, and various other ornamentation.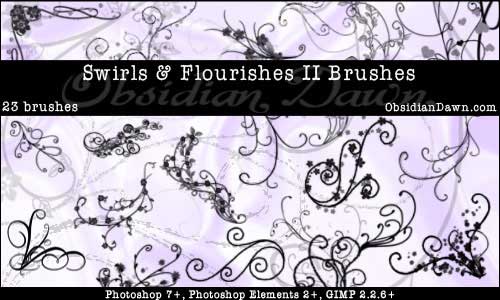 [ DOWNLOAD ]
Related Free Design Resources