15 Tall Grass Clip Art PNG and Photoshop Brushes
For your Spring and Summer-themed nature designs, we have created a set of grass clip art brushes for Photoshop composed of images of tall grasses and weeds. There are also images with floral shapes and birds, too! These grass clip art brushes and PNG images were created in Photoshop CS5 using vector images of grasses and weeds. Each grass clip art has a resolution of 1500 pixels tall, which are big enough even for those projects you intend to print later on.
ABOUT THE GRASS CLIP ART BRUSHES
These grass clip art Photoshop brushes are ideal to use in your artworks as decorative backgrounds or as corner ornaments to frame your art work. When used alone, a single brush in this pack can stand alone as graphic element in your layout. simply put some text and you are ready to go. These grass clip art brushes are useful for making post cards, greeting cards, invitation cards and other printables. This set contains a total of 15 free grass brushesthata re compatible with any CS version of Adobe Photoshop.
Below, you is a preview to give you an idea how these grass clip art Photoshop brushes look like: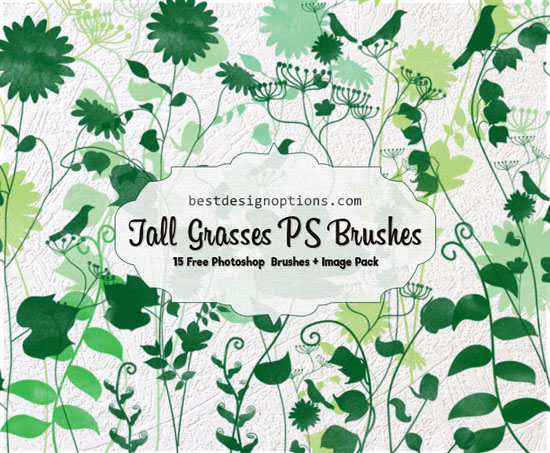 ---
ABOUT THE GRASS CLIP ART PNG IMAGES
Since not everyone has a CS version of Adobe Photoshop, we decided to also provide the image version of these grass clip art brushes. The download pack below includes all the grass clip art designs in ready-to-use PNG files. The PNG files are also high-res at 1500 pixels tall each. All the images come with transparent background, making them easy to drag and drop in your layout. The grasses and weeds have watercolor texture on them in dark green color. If you prefer them in any other color, then by all means use the Photoshop brush version.

TERMS OF USE: As with our previous brush sets, these brushes are free for personal, noncommercial purposes only. Also, please refrain from making them available for download outside of this site. If you want other people to know about these freebies, please refer them to this original post. Also, please do not HOTLINK the download file.
IMPORTANT! The download file is password-protected to prevent hotlinking and discourage people from violating terms of use of our brushes. We have been seeing our brushes being distributed by other sites without our permission. PASSWORD for these brushes is: "bdo".