12 Beautiful Lace Patterns in Black and White
Our free free pattern set for this year feature the most basic color combination: black and white. In this set, you will find 12 black and white lace pattern patterns that you can use as backgrounds for your web and print designs. All of these lace patterns are seamless or tileable, making them ideal as background for websites or for those printables in high-resolution format.  You may use these lace patterns for blogs, social media pages, greeting cards, gift tags, invitation cards, among many other things. There are a total of 12 seamless lace patterns that you can download and use for free.
Meanwhile, you can also use them as backgrounds for your photos, for making title cards for your journal entries, or to decorate your home or your work area. Furthermore, you can also use them as background for wedding invitation cards, birth announcement cards, or save-the-date cards. These lace patterns also look great for birthday cards, Thank You Cards, or for post cards that you can send to friends and loved ones. These are also great as gift wrappers for small items.
Just use your creativity to discover more ways to do with these beautiful denim and lace backgrounds. However, if what you need are lace textures, then visit our other post on lace backgrounds.
OUR BLACK AND WHITE LACE PATTERNS
There are 12 high-quality digital papers in this set, with each measuring 12×12 inches at 300 DPI resolution. They are available as ready-to-print JPEG files. You may print these on an A4 or letter paper or a 12 inches ×12 inches paper. The preview below feature some of the denim background patterns included in this set. The Photoshop (PAT) pattern file is also available, in case you need to be more flexible in using these patterns in your designs. The Photoshop PAT includes more than 30 lace patterns. Enjoy!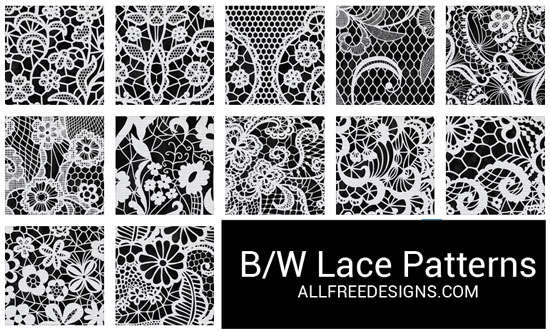 TERMS OF USE:
You may use these patterns for personal projects only. Also, we appreciate a link back if you use them. Most importantly, please refrain from making them available for download outside of this site. If you want other people to know about our freebies, please refer them to this post.
IMPORTANT!
The download file is password-protected to prevent hotlinking and discourage people from violating terms of use of our resources. When prompted for a password, just key in "afd".
---
Below are individual previews of our black and white lace patterns.