33 Magazine MockUp in Editable PSD Templates
Today, we are showcasing a total of 33 magazine mockup designs that you can download and use for free. Using mockups is a great way to present your designs and other creative work to your clients or to just showcase your work portfolio. Creating your presentations from scratch could take hours and even days. Thanks to mockups, now you can just drag and drop your designs to preview how they would look like in real life.
The magazine mockup templates included in this post are all editable Photoshop PSD files that you can edit to showcase your magazine layout designs. You can also use these templates to see how a print ad on a magazine would look like. Likewise, you can also use these mockups to show your clients your personal design portfolio in a more interesting way.  Or, perhaps, you want to feature yourself (with your photos) on a magazine cover or in a magazine spread.
So if you are pressed for time to make your own magazine mockup designs, no worries because the range of ready-made designs we feature here can be downloaded for free. Also, all of these magazine mockup templates include Smart Objects for easy integration of your designs.
By the way, if you wish to collect more templates like these, then visit also our roundup of very useful PSD mockup templates for print designs.
---
MAGAZINE MOCKUP TEMPLATES TO DOWNLOAD
Below, are 35 mockup templates in PSD Photoshop format that you can download and use for free. To get the file that you want, click on the preview image and it will take you to the source page. I hope you will find these templates useful.
01: Magazine PSD Mockup
A high-resolution and photo-realistic Magazine PSD mockup file that you can download for free. The PSD file includes the editable layers that can be easily customized. Just place your own design and also your background texture using smart objects.
02: Magazine Mock-Up PSD Freebie
Another photo-realistic magazine mockup in Photoshop PSD format. Just replace images with your designs using "Smart Objects". To do that, double-click the "Smart Layer" and paste your artwork.
03: Photo-Realistic Magazine MockUp
Showcase your magazine spreads in a very realistic manner with this fully-editable PSD template. Just drag and drop your design inside the PSB file and the smart objects will finish the job for you.
04: Open Magazine Mockup
A free PSD mock up template for showcasing magazine spread pages. The files includes fully editable layers using Smart Objects in Photoshop.
05: A4 Magazine Mockup
A professional modern A4-sized magazine mockup template for presenting your designs. You can download the free version which has resolution of 1000 pixels. The mockup includes different angles and arrangement settings.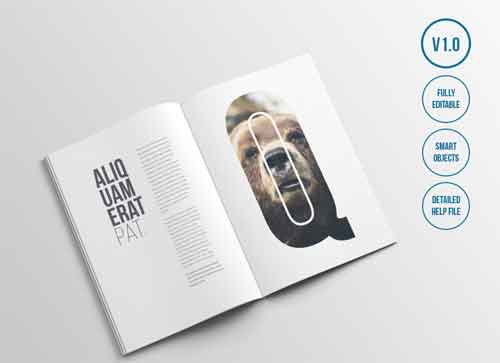 06: Free PSD Mockup – 4K Magazine
There are 3 PSD templates for presenting your magazine layout designs. These mockups are optimized for A4 letter format. The background can be easily edited using smart object. All layers are organized, labeled by colors and names. The PSD file is high-quality at resolution of 2500 x 1667 pixels.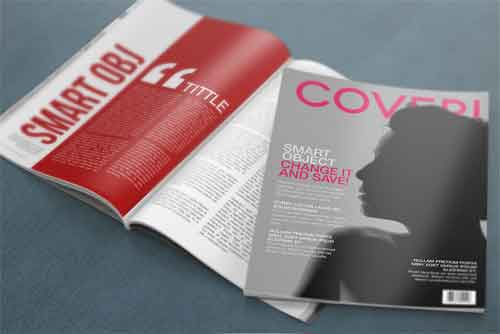 07: Free Magazine PSD Mockups
Present your magazine spreads design in style using these photo-realistic mockups. The PSD files are layered and you can easily place your own design using smart objects. Included in the pack are 3 PSD files created in CS4 and at resolution of 3000 x 2000 pixels.
08:  Square Magazine Mockup
A set of free square magazine mockup templates that you can download in PSD Photoshop format. The mockups are based on 8 different angles and arrangement settings and can be easily edited using smart objects.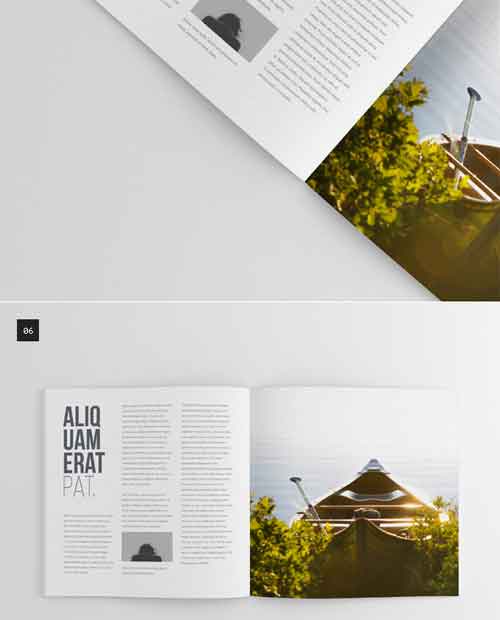 09: Magazine Presentation PSD Template
This free-to-use magazine presentation template (mockup) includes 2 editable smart objects for easy integration of your own designs. The template is in high resolution PSD format (2500 x 1500 pixels) with easy layer structure.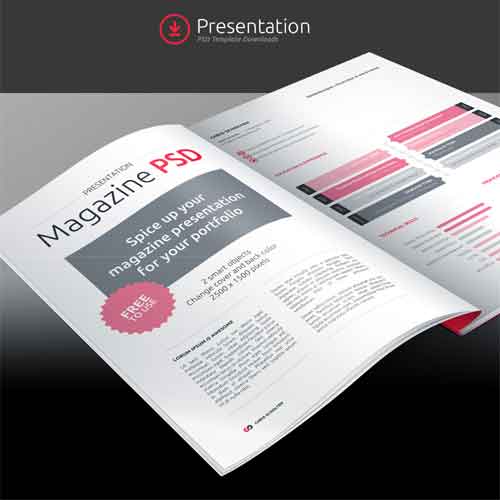 10:  Free and Easy-to-Customize Magazine Ad
A free photo-realistic magazine mockup for presenting your magazine ad design or magazine page designs. The mockup is a high angle shot of open magazine with one page being turned, giving a view of three pages. All 3 pages have smart objects so you can easily place your own designs on these pages.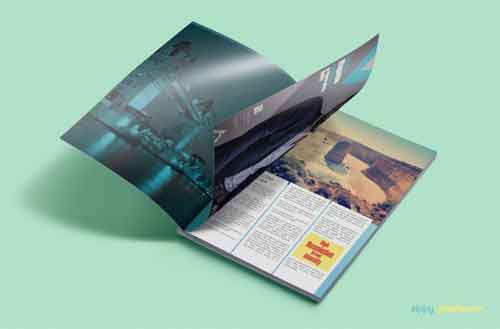 11:  Meet Magazine PSD Mockup
A high-resolution mockup (2400 x 1600 pixels) that you can use to showcase your own magazine designs. Just add your own design or photos on the open pages of the magazine using smart object layers in yellow and red. Place your your designs and save. As simple as that.
12: Magazine PSD Mockup
A magazine mockup in PSD format created in Photoshop. With fully editable layers, these mockups have photo-realistic magazine / book look. The PSD file contains two mockups of areal-view of magazine front cover and open-page magazine. To add your book cover and pages, double-click the smart object layers (RED layers) and drag-and-drop your designs and save.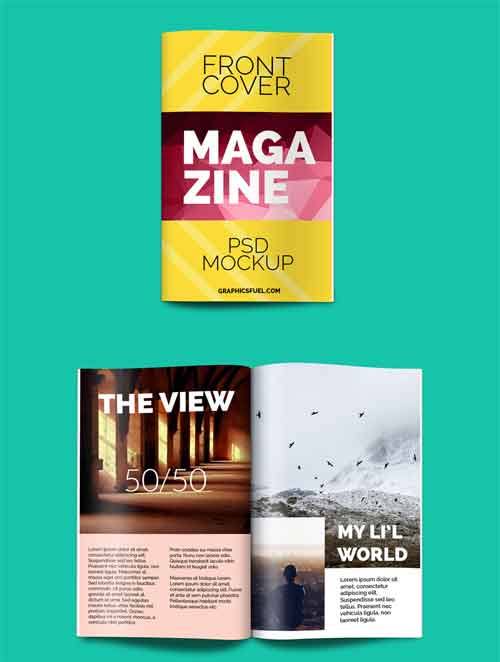 13: Photo-Realistic Magazine MockUp #3
This gravity defying magazine mock-up will let you showcase your spread editorial designs in a photo-realistic way. To display your work on the pages of the magazine, you need to place it in the smart objects and you'll have a flawless result in no time.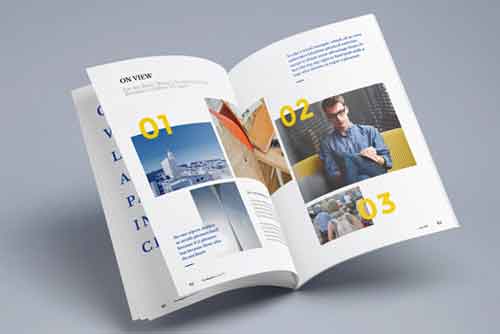 14: Reading a Magazine in the Garden Mockup
This is a unique mockup of a young man reading a magazine in the garden. The image shows an open magazine over a wooden table. The magazine template allows two images to be displayed, one on each page.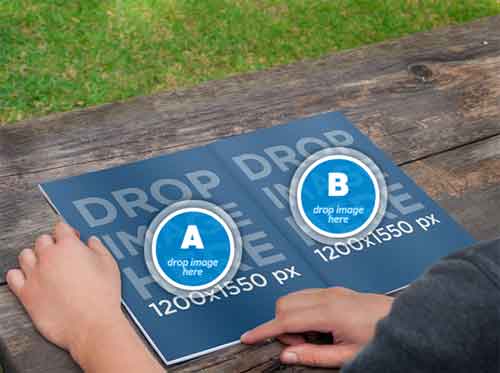 15: Free Digest-Size Magazine PSD Mockup
This free PSD mockup comes in 300 DPI resolution and editable organized layers for shadows, lighting, and background. You can easily replace the images and texts in the layout with your own creations using the  smart object layers.
16:  Free Mockup : Magazine + Cover
This mockup of a magazine spread plus cover come in high-resolution editable Photoshop PSD file. To use, simply put your design inside the smart object and voila! great magazine presentations.
17:  Mock up Design for Fabulous Magazine
This free magazine mockup design is ideal for presenting your portfolio in a magazine style. By using this exclusive mockup design, you can easily create the virtual picture of your upcoming magazine without putting in lots of efforts.
18:  Free Magazine Double Spread Mock-up
This free mockup is powered by Smart Objects. All you need to do is simply double click on the smart object layers and copy in your designs, hit that save button and return to the original document. The files dimensions are 3198×2230 pixels.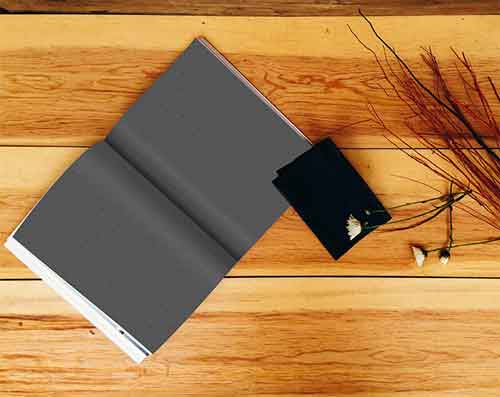 19:  Free Magazine Layout Mockup PSD
This free magazine page layout mockup is a great way to present your page layout and graphic design to your clients without having to print. It comes in an easy to use PSD Photoshop format, and is completely free for both personal and commercial use.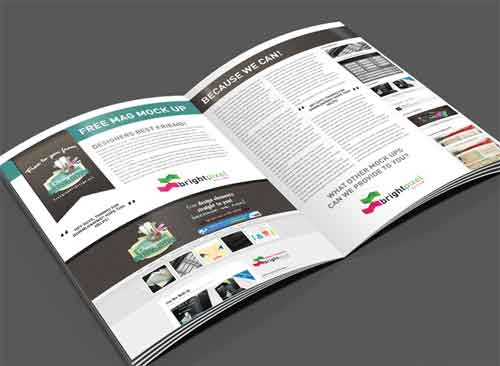 20:  Free Beauty Magazine Mockup
Another free mockup featuring a simple and editable magazine layout to showcase your projects. It's free to download. The pack includes various angles of cover, back cover and inside page spreads.
21:  Free Typographic Magazine Mockup
A free mockup PSD file for magazine layout designs. It is high-res at 2500 x 1875 pixels, with page dimensions at 2480 x 3508 pixels.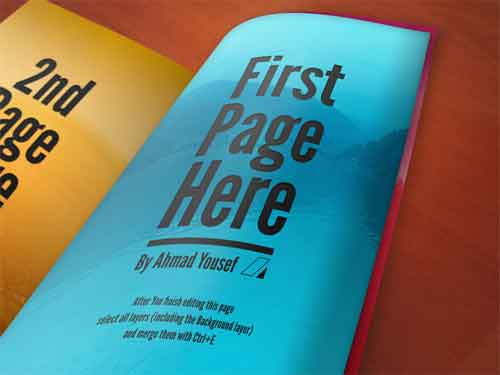 22:  Realistic Visualization with Magazine Mockup
The design features two different views: outer cover and the inside magazine views. The template is available in PSD format and comes in two different PSD files. The mockup pixel size is 4000 by 2600 at 300 DPI. It contains Smart Objects so you can customize it easily according to the design of your magazine.
23:  Free Brochure and Magazine MockUp
Here is a photo-realistic mock-up of a folded magazine in free PSD Photoshop file format.
24:  Magazine Newspaper Free PSD Mockup
Here is another set of photo-realistic PSD mockups that you can easily edit using smart objects. This will certainly make your work a breeze. Drag and drop on your screen and your work will be done in moment!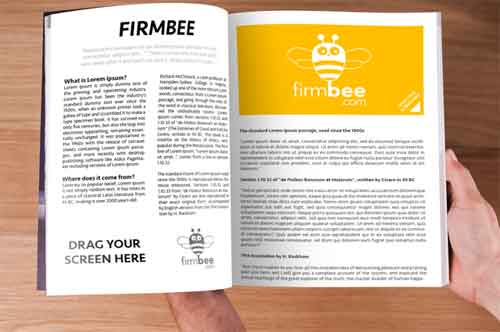 25:  Magazine Cover PSD Mockup
A simple mockup in PSD format for showcasing your magazine design cover.
26:  Three Magazine Mockups Template PSD
There are three high-quality magazine mockups in this pack for presenting your print work to yoiur clients. It comes in editable Photoshop PSD file and free to download and use.
27:  Magazine Mockup Templates PSD
This pack of mockup templates in PSD format allows you to display the design of your magazine in various angles and perspectives.
28:  Magazine Mockup Cover Template
This prototype magazine is great for displaying your magazine designs. It has a perfect perspective to show the cover and do a sneak peak of what it contains.
29:  Blue Magazine Cover Template PSD
Here is another magazine cover mockup PSD template. You can easily resize this template for use in a smaller promotional material like brochures.
30:  Magazine A4 Mockup
Here is another easy-to-use mockup in PSD format for showcasing inside pages of a magazine. If you need a smaller version of this mockup for flyers and brochures, then you can also easily resize the layout in Photoshop.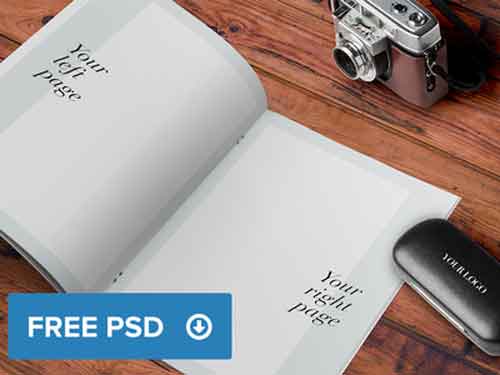 31:  Free Magazine Cover Mockup
Here is a great way to showcase your projects in a very realistic and simple style. To use the template, simply replace elements with your designs using smart objects.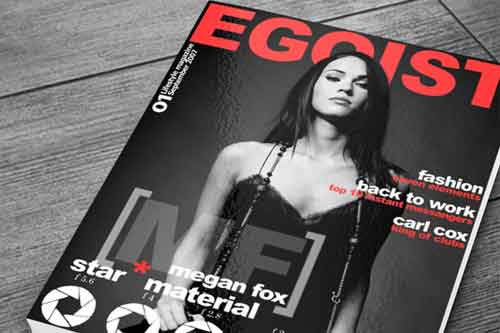 32: Free Three-Page Book Mockup PSD Template
Use this mockup template in PSD format to show 3 pages of a book or magazine.
Related Free Design Resources