12 Sets of Free Printable Recipe Cards and Templates
Many people believe that the Internet has killed the recipe card. But I would like to think otherwise. While many people use online sources for finding and organizing their recipes, there still seems to be a niche for the printable recipe cards.
Printable recipe cards are especially popular for gift giving, such as giving homemade food products along with the recipe printed on a card. So whether you want to put into writing a heirloom recipe, pass cooking instructions to a friend or make an edible gift more meaningful by providing the ingredients and how-to, recipe cards are handy things to have around.
There are plenty of free-to-download printable recipe cards out there that you can use for any of these purposes. In this post, I put together 12 sets of pretty printable recipe cards. Upon seeing these recipe cards, I am also inspired to make my own sets of printable recipe cards for baked goods like cupcakes and pastries, for fruit juices, shakes and slushy, and maybe cocktails and other alcoholic mixed drinks. Watch out for them.
---
FREE RECIPE CARDS TO DOWNLOAD
To download the set that you want, click on the link provided below each preview image. Enjoy these free resources.
8 Fruity Printable Recipe Cards
A set of printable recipe card designs featuring fruit patterns as backgrounds. The cards are 4×6 inches in size and feature watercolor effects.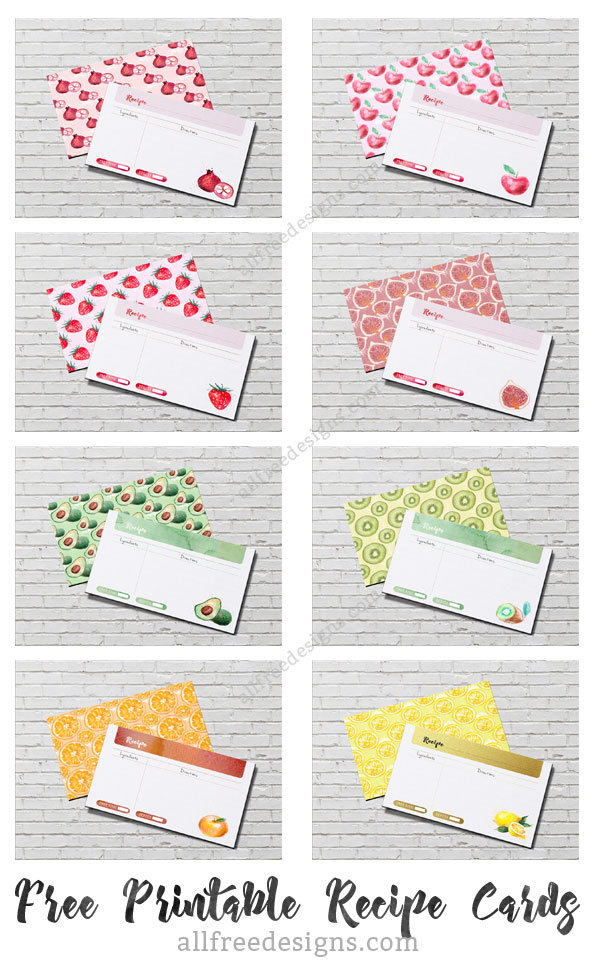 [ DOWNLOAD HERE ]
Free Printable Recipe Cards Featuring Striped Patterns
A set of free printable recipe cards featuring a simple, clean design and sunny color scheme. There is also option to print the back side with matching striped patterns. The recipe cards are sized 4×6 inches.
[ DOWNLOAD HERE ]
Printable Recipe Cards from Social Home
Another simple and classic printable recipe card design in 3×5-inch size. Each page contains four cards that you can print and cut.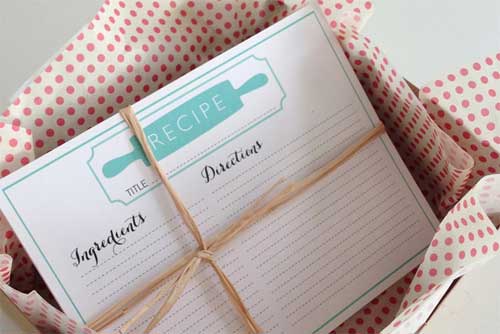 [ DOWNLOAD HERE ]
Printable Recipe Cards That Are Editable
These recipe cards come in four different designs and four different colors: aqua, avocado, brick, and gold. The great thing about these recipe cards is, you can fill them out on your computer and print them from home!
[ DOWNLOAD HERE ]
Recipe Cards from Brown Paper Shopping Bags
If you are into recycling, then here's a nice idea to help save the environment. This is actually a template that you can use to create your own recipe cards using brown paper shopping bags.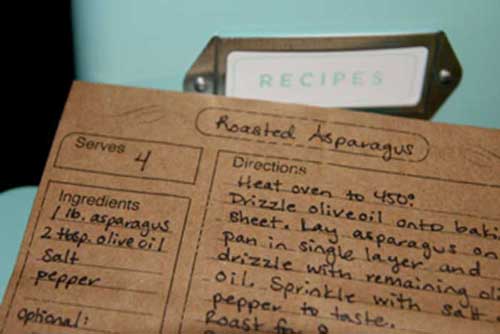 [ DOWNLOAD HERE ]
Free Printable Recipe Cards from Essentially Eclectic
Each of the recipe cards has unique adorable icon. Just choose one design you like best or use the different cards for different recipe types.
[ DOWNLOAD HERE ]
Printable Vintage Recipe Cards from the Graphics Fairy
Use these vintage-looking blank recipe cards to share your secret recipes. The recipe cards are sized 4×6 inches and you can easily print them at home. For example, you can use these cards for homemade baked goods  by perhaps attaching the recipe alongside it. Or you can print several copies of these cards and bundle them up with some ribbon as part of a special gift.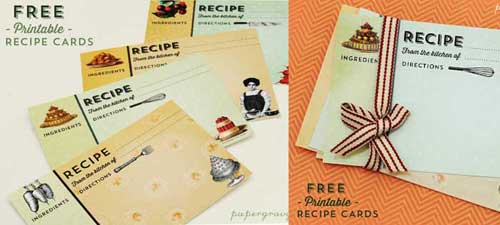 [ DOWNLOAD HERE ]
Printable Recipe Card Templates
Use these recipe cards as gifts by printing up a few, either blank, or filled in with some of your favorite recipes, or a combination of both. You can also use them to write down the recipe for the food you are bringing to a potluck party. These free printable recipe cards also come with a printable back designs in various colors and patterns.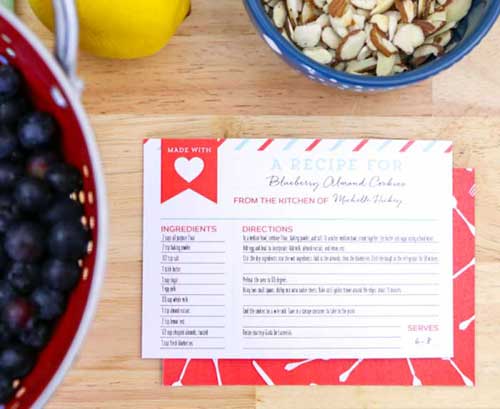 [ DOWNLOAD HERE ]
Free Printable Recipe Cards
A free set of three 4×6 printable recipe cards incorporating vintage style into the template designs. Use these templates to create your own custom recipe cards.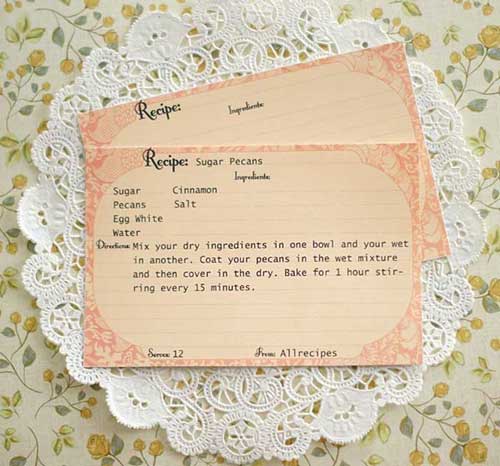 [ DOWNLOAD HERE ]
Bunting Flags Recipe Cards
A set of very colorful summer-inspired recipe cards with bunting flags as borders. These bright and cheerful recipe cards will surely get you excited about organizing your favorite recipes. For best results, print the file onto 8.5? x 11? heavy-weight paper. Each page prints two cards.
[ DOWNLOAD HERE ]
Free Printable Mason Jar Recipe Cards
Here are printable recipe cards shaped like mason jars. You may print the file that you can download using a letter-sized card stock (8.5×11″). Each page has two recipe cards: one clear and the other in blue. Just print and cut using scissors then attach them to a jar with ribbon or twine.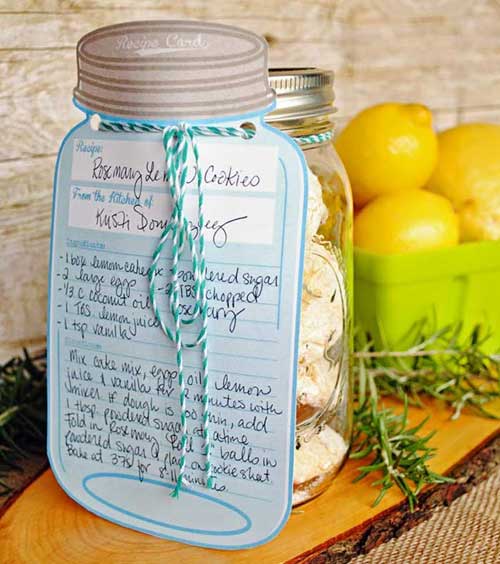 [ DOWNLOAD HERE ]
Free Owl Printable Recipe Cards
This recipe card has a space for your favorite recipe on one side and instructions on the other. Each card has a space for the title, dish type, preparation time, shopping list and the recipe, and is adorned with adorable owl illustrations.
[ DOWNLOAD HERE ]
Recipe Cards: An Easy DIY Teachers Gift
Although these recipe cards were designed as unique gift for teachers, you may also use these cute templates for your favorite recipes. The card design include space for the name of the recipe, the details and the number of servings.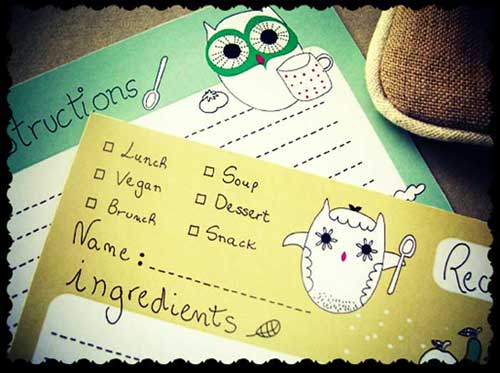 [ DOWNLOAD HERE ]