21 Unique Save-the-Date Cards and Wedding Invitations
It is June! and June has always been the most popular month for weddings. One of the major aspects of getting married is having a nice wedding invitation or save-the-date cards. Most couple spend a lot to come up with something that is unique and matches the theme that they have in mind. In addition to wedding invitations, couples are now also sending Save-the-Date cards to give plenty of time to their friends and family and make sure that those people they want to be present during the wedding ceremony will not forget the date.
Do you want to know why June is a popular time for weddings? Based on my quick research, June is named after the Roman Goddess of marriage named Juno. It is believed that  if a couple decides to marry during the month of June, Juno will bring prosperity and happiness to their home. On a more practical and logical note, June has been favored as the month to get married in the past because if married in June, the bride was likely to birth her first child in Spring, allowing her enough time to recover before the fall harvest. I'm not sure if this still applies today. Nonetheless, many couples are still choosing to get hitched during this month. To celebrate this month of weddings, here are some unique save-the-date cards and wedding invitations for your inspiration.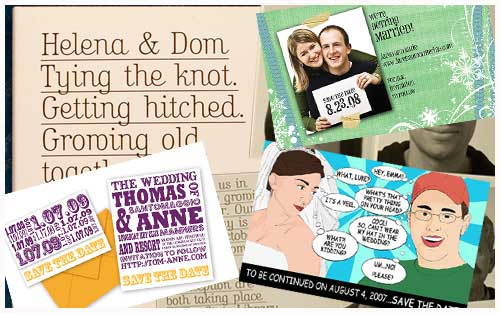 If you are looking for ideas on how to make your wedding invites orsave-the-date cards unique and creative, we decided to look all over the web for some good design examples that you might have not seen yet.
---
I. CREATIVE SAVE-THE-DATE CARDS
Featured below are unique wedding invitations and save-the-date cards featuring designs that look like a movie poster, a comic cartoon, a newspaper layout, driver's license, among other things. To view the high-resolution or larger versions of these invites, simply click on the text link found below each post. More information about each design are also available in each author's page. Enjoy!
Ladyfingers Letterpress Laser Cut Save-the-Date Cards
Through typography, color palette, and a bit of playful laser cutting these save-the-date cards do a great job representing the fun and excitement of a wedding, and the techie side of the two grooms.
[ SOURCE ]
There's Hope: Newspaper Save-the-Date Announcement
The design of the save the date announcement was to look like an exposé caught on the front page of a local Newspaper.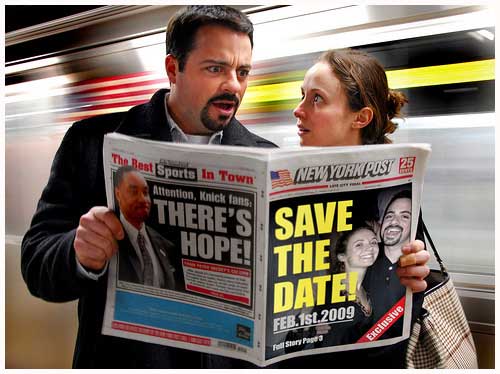 [ SOURCE ]
"Concert" Poster As Save-the-Date Cards
A unique save the date card laid out and worded like a concert poster.
[ SOURCE ]
Save the Date on the Wall
A Save the Date card made by changing the logo on the wall and adding some text!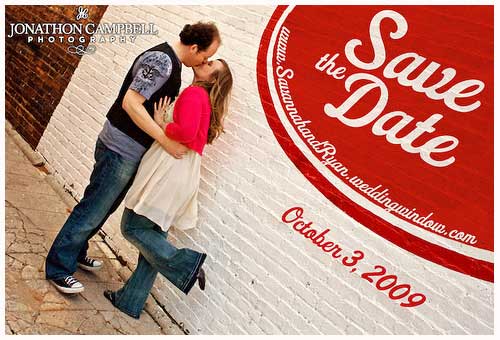 [ SOURCE ]
Katie and Jeremy's Save-the-Date Cards
These cards were printed by Moo.
[ SOURCE ]
Funny Comics Style Save-the-Date Cards
[ SOURCE ]
Letterpress Save-the-Date Cards and Program Cards
This wedding invitation includes a CD Program, Save-the-Date cards and a removable-belt that reveals the specifics of the wedding date and location. Belt is adhered on one end to back of the card while the other side is perforated and backed with envelope adhesive so recipients could remove and affix to a calendar.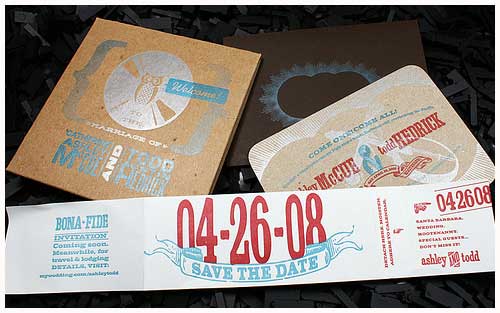 [ SOURCE ]
Save the Date Index Cards
These were not actual save-the-date cards but rather a school design project. But hey, the idea is unique and could be a good idea for someone who is looking for a unique idea for a save the date card design.
[ SOURCE ]
II. UNIQUE WEDDING INVITATIONS
Endless Love: Movie Poster Wedding Invitation
This unique wedding invitation is designed like a movie poster. Important details such as date, venue, etc. were creatively incorporated in the design.
[ SOURCE ]
Join us in the Woods
Designed for a wedding in the woods, the card features pop-up trees to give prospective guests a taste of event they would be attending.
[ SOURCE ]
Unique Wedding Invitations: Flip Flop Beach Theme
Artist and designer, Michelle Mospens, makes use of flip flops as the main design element for a beach-themed wedding.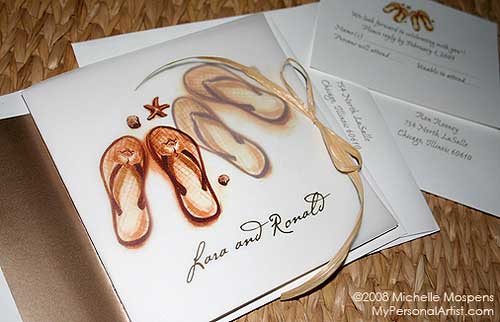 [ SOURCE ]
Wedding Reception Guest Book Poster
A typographic vintage looking guest book poster. Way more fun than signing a guest book, right?
[ SOURCE ]
Fer & Nora Wedding Invitation
This invitation card has two parts, the lower with the event data and instructions on what to do with the card. The top, on the other hand, contains a series of micro-perforated circles with laser.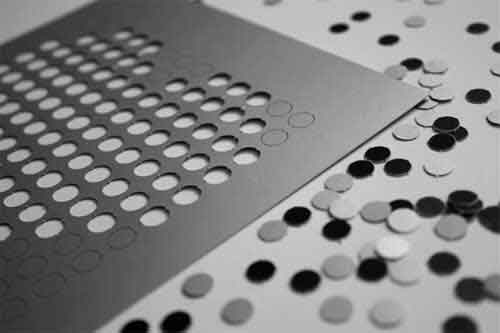 [ SOURCE ]
Eva & Juanjo Wedding Invitation
An invitation featuring partridges–exciting as the arrival of the bride and romantic as the waltz. Details of the wedding event are on the tag that comes along with the jar.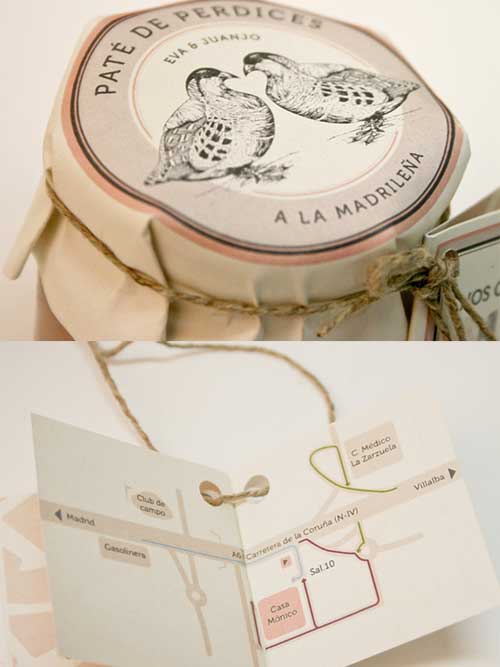 [ SOURCE ]
Wedding Invitation for Photographer Couple
Since the couple are both passionate photographers, they decided to turn their mutual obsession with photography into a theme.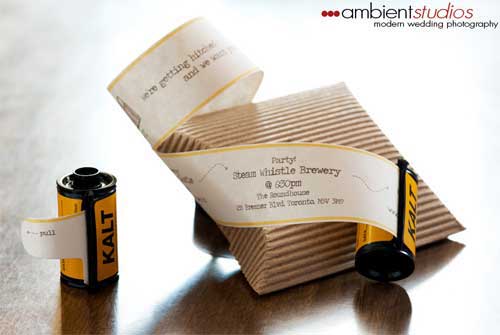 [ SOURCE ]
Winter's Wedding Invitation
Lots of lovely illustration, ample hand work, an open brief, and speedy digital printing made it possible for these charming Victorian-era-inspired wedding invitations came together in record time for Nate Harris.
[ SOURCE ]
Amy & Billy's Wedding Celebration Invitation
The choice of this unconventional material for these card ties in nicely to the classic American travel design influence, the location—a lodge in the woods—and will certainly make an impression on the invitees.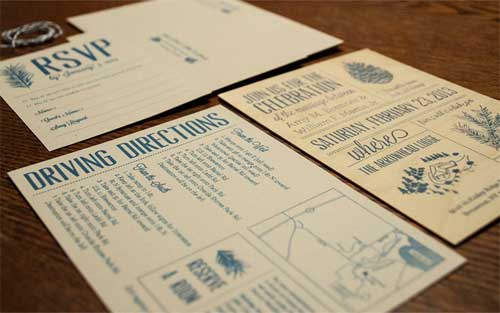 [ SOURCE ]
Saray & Mark Wedding Invitation
Pop-up folding and a playful enclosure bring a touch of whimsy to this cool, calm wedding collection.
[ SOURCE ]
Nature-Inspired Laser Cut Wedding Invitations
The laser cut technique is a great way to add dimension and texture to a wedding invitation suite. The tree silhouette is beautiful as a stand alone piece, and is even more beautiful together with letterpress pieces!
[ SOURCE ]
Amy + John's 3D Decoder Surprise Wedding Invitations
After several years together, Amy and her now-husband decided to finally tie the knot. With their friends and family already gathered together to celebrate their daughter's 2nd birthday, they handed out decoder glasses and surprised everyone with a wedding! How fun!
[ SOURCE ]
Daniel & Leslie Wedding Invites and Collateral
An artful combination of straightforward and "straight craftiness", Daniel and Leslie's clever integration of ink stamping, digital printing, and hand trimming is resourcefully non-traditional in this type-based, Texas wedding package.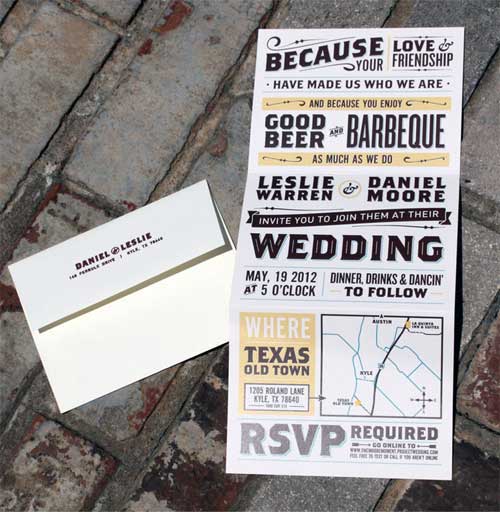 [ SOURCE ]
Related Free Design Resources