500+ Free Tribal Tattoo Designs in Vector Format
Here, we put together some beautiful tribal tattoo designs in vector format that you can use in your designs. If you wish, you can also use these graphics as inspiration for your next tattoo. These tribal tattoo design vectors are editable using software like Adobe Illustrator.
Summer means showing off more skin than you usually does. This is the reason why tattoos are becoming the coolest summer accessory. Whether you are going to get a permanent tattoo or just a temporary one, it is best to find inspiration first before getting one. If you wish to collect more tribal-themed graphics, visit our collection of tribal patterns and backgrounds.
DOWNLOAD THESE FREE TRIBAL TATTOO DESIGN VECTORS
To download the tribal tattoo design set that you want, simply click on the link below the preview image. We hope you find these tattoo designs interesting.
Tribal Tattoo Design Vectors
A vector art set with eight pretty cool looking tribal tattoo design. Worn by tribal warriors in ancient times, tribal tattoos have become the mark of fierce fighters. Today, clean and sharp tribal graphics are still the symbol of brotherhood for rebels and tattoo lovers.
Tribal Dragons Silhouettes
This set has a total of 30 dragon tribal tattoo design in vector format. These are high-quality dragon shapes with a tribal style. You can use them to create any graphics such as posters, t-shirts, and business cards.
Angel Wings Tattoos
The set includes 15 beautiful angel wings design in tribal tattoo design style.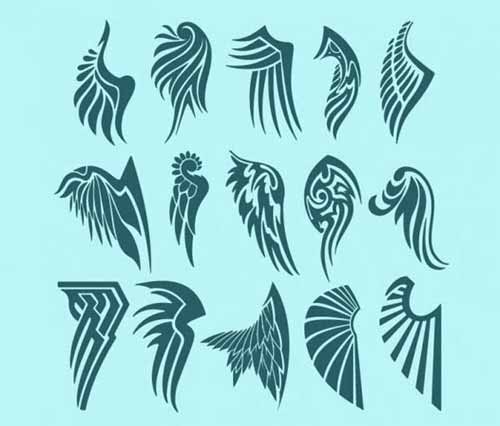 Cool Tribal Borders
This pack includes 10 vector borders which can be used as seamless lines, seamless borders, and frames.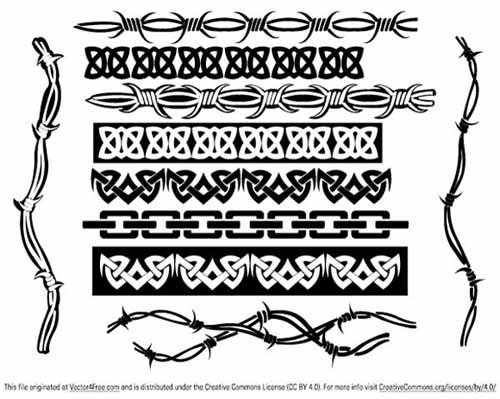 Tribal Symbols
This set includes decorative vector shapes featuring traditional tribal tattoo design style. These tribe-inspired graphics have thorn points and curves, which resemble abstract flowers. The template comes with an orange and yellow sunburst background image. These are free to download for your tattoos, logos, and icon designs.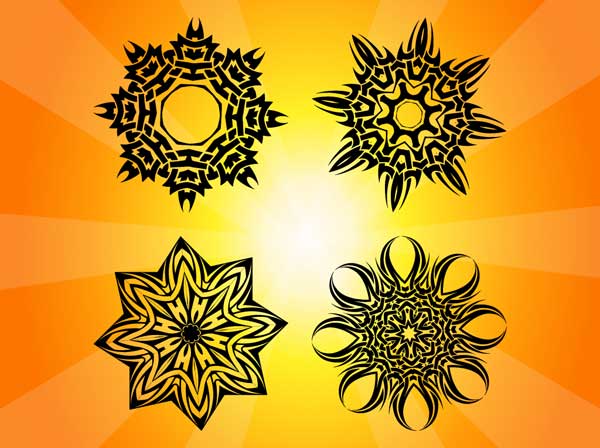 Hawaiian Tribal Patterns
This set of tribal tattoo design vectors includes six different Hawaiian tribal pattern borders. These are perfect for any tribal project with a tribal theme.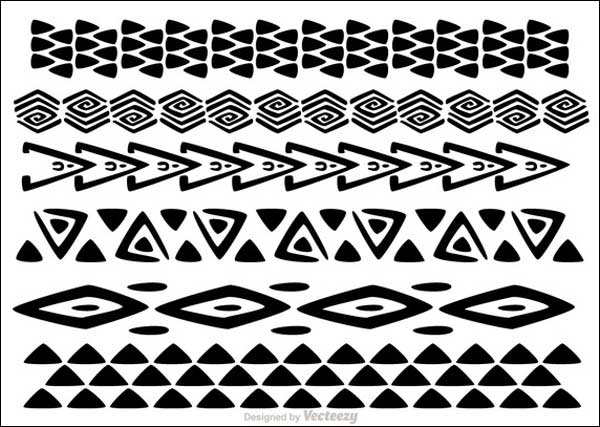 Tribal Tattoo Design Shapes
A free set of nine circular tribal design elements.
Hawaiian Tribal Flower Vectors
Here is a pack of six cool Hawaiian tribal flower vectors that I know you will surely love.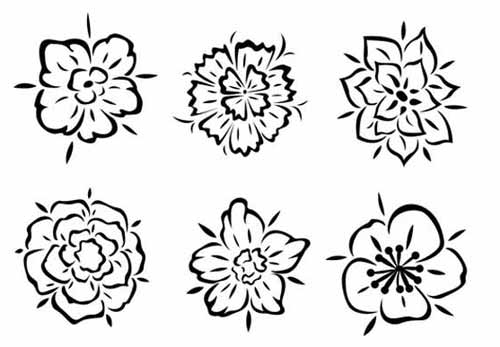 Tattoo Vector Set 3
This second set also consists 16 tribal tattoo designs in an editable vector file.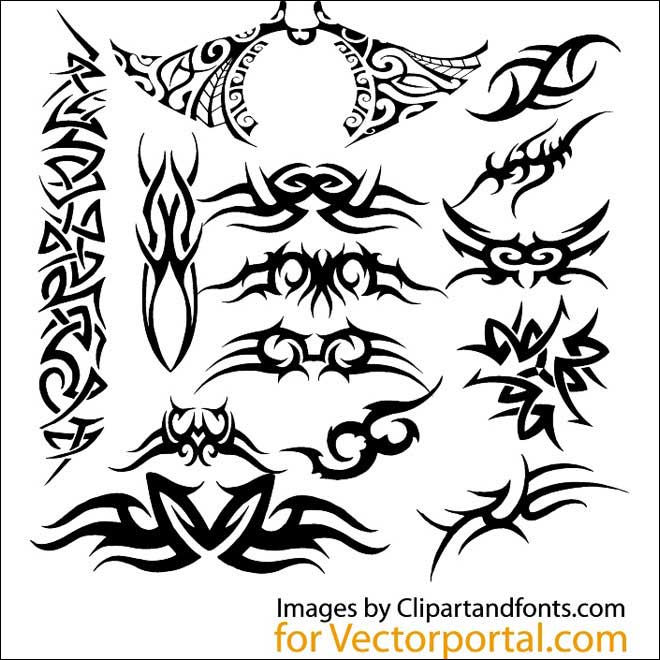 Tattoo Flower Vectors
Here is another set of 16 free tribal flower designs.
Tribal Wings Design
Wings are popular as body tattoo. So, here are 11 tribal style wing designs in vector format.
Lion Tribal Tattoo Vectors
There are a total of six lion designs in tribal style for tattoo designers in this set. The design includes different lion's heads as well as lions with wings.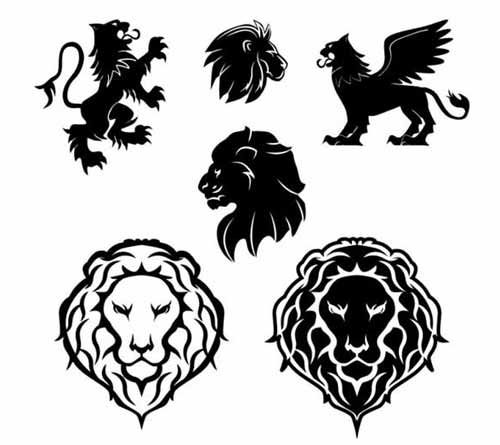 Free Vector Flourishes
This pack contains over 50 vector images of various design elements in tribal style, mostly flowers and flourishes.
Tribal Vector Graphics
A set of 30 vector graphics featuring various design elements in tribal tattoo style. Includes butterflies, flowers, plants, and swirls.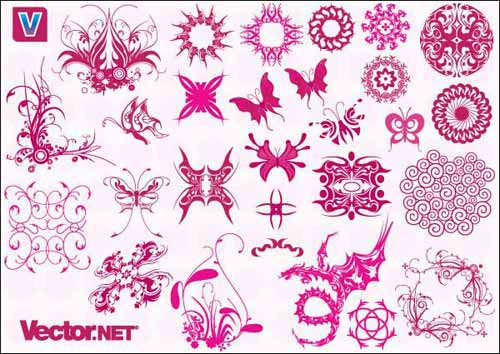 Free Tribal Birds and Butterflies Vector
This free set of tribal tattoo designs includes five high-quality vector graphics. The set includes three different butterfly styles, peacock, and a flying bird.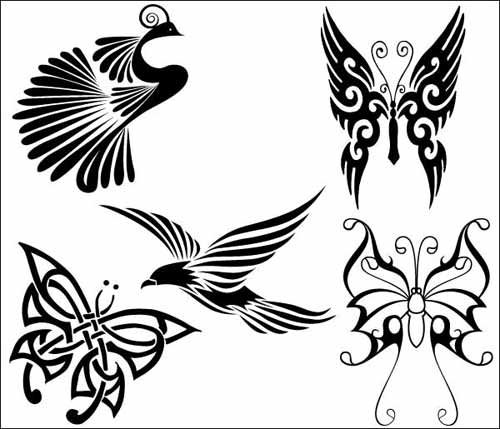 Various Tribal Tattoo Design Shapes
This is a pack of eight tribal ornament designs.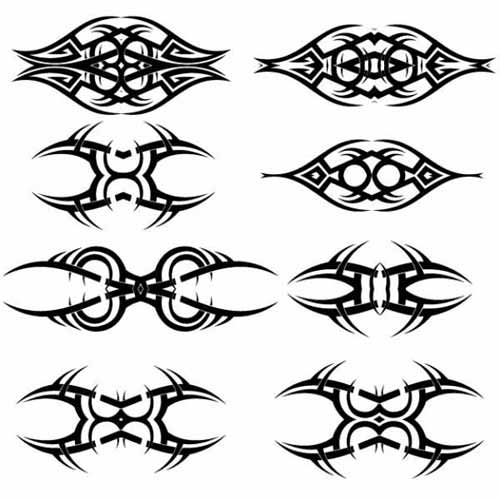 Oriental Dragons
A pack of free tribal tattoo design shapes, featuring 16 oriental dragon graphics. In this pack you can find a Chinese traditional dragon, an Asian dragon head, a Japanese Dragon, and flying reptiles.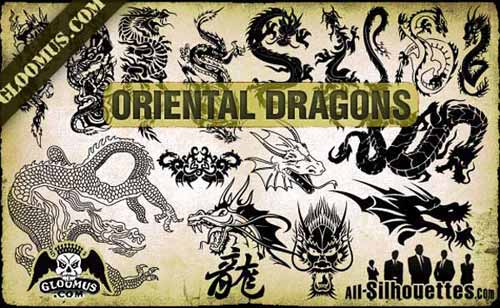 Vector Tribal Tattoo Designs
This set includes 52 designs of various tribal ornaments. These are good enough to use as individual elements or as a decoration material.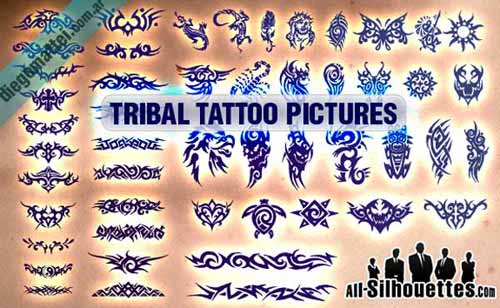 Tribal Tattoo Vectors
Here is another pack of 43 tribal tattoo design shapes. Usually the tribal tattoos tell their meanings themselves. You can see much designs look like, animals, stars and claws. They convey a wild meaning with their bold visual appeal, thick and black curving.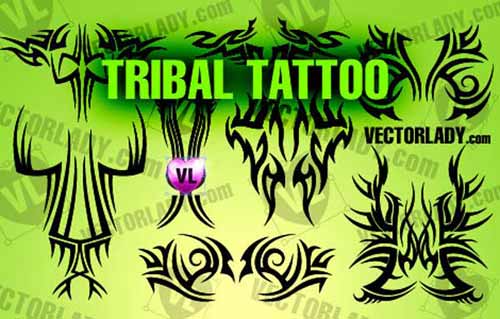 Shirt Tribal Shapes for Illustrator
This set includes 16 spiky tribal shapes for Illustrator that you may use as decorative element in your design.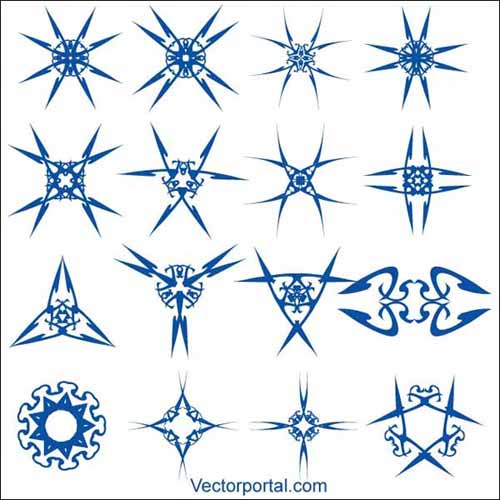 Tattoo Vector Graphics
Here, you will find over a hundred tribal tattoo design shapes that you can use to create tribal-style graphics.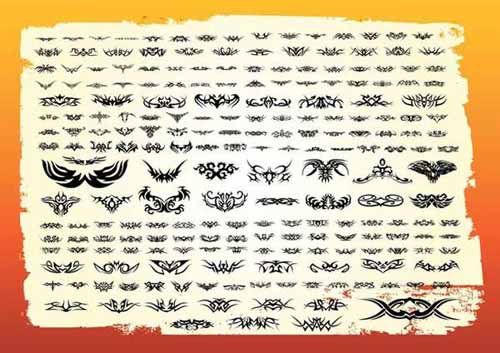 Tattoo Fire Flames
Here is a vector art set of 25 abstract ornaments with tribal flames tattoo elements. The shapes include fire and flames ornaments, fireball graphics, and heat waves. All the elements are in separate layers for easy editing in Illustrator or other vector programs.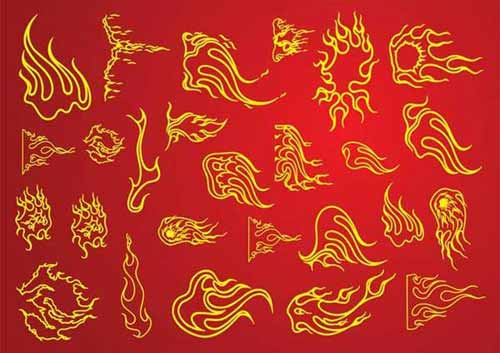 Floral Hawaiian Tribal Vector Pack
A set of six Hawaiian floral tribal tattoo designs.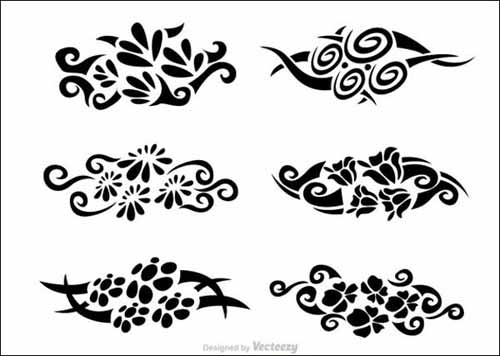 Tribal Butterflies
Likewise, here is a pack of 25 beautiful butterfly designs in fantasy/tribal style. These are cool as tattoo or decoration in your designs for posters and invitation cards.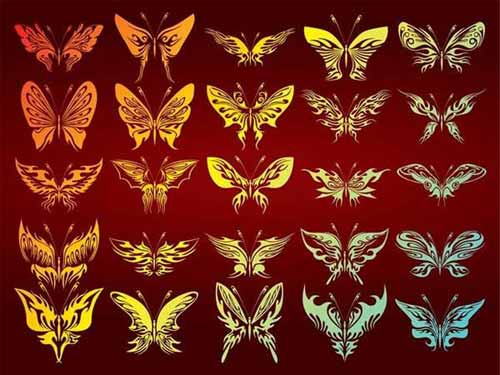 Tribal Floral Tattoo Vectors
A set of vector graphics featuring flowers and swirls in tribal style. These are perfect for tattoos or as graphic elements in your designs.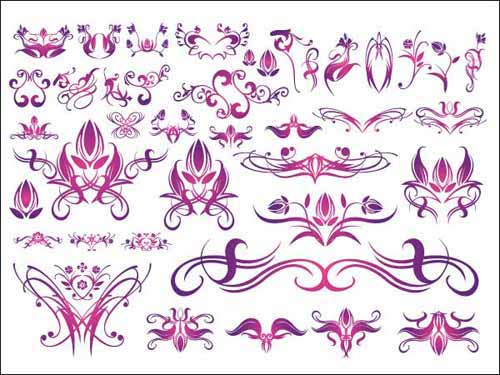 Related Free Design Resources