7 Free Lovely Valentines Background Patterns
We love making patterns. They are very useful for creating interesting designs. You can use them as tiling background for your website or as texture for your business card or greeting card designs. They are also useful for scrapbook or other crafts such as bookmarks, gift tags, among other things. With Valentine's Day just around the corner, we decided to give away a set of free Valentines background patterns. I'm sure most of you are in search for free graphics you can use for your projects, personal or otherwise.
As our way of thanking you for your continued support to our blog, we are giving away a set of beautiful patterns that you can use for your Valentine-related projects. There are 7 lovely designs featuring hearts in pink, love birds, red hearts and dots backgrounds and a lot more! You can use these patterns as backgrounds for websites and blogs as well as for web banners. They will also look great as backgrounds for your printables like greeting cards or for your scrapbooks. These Valentines background patterns are also great not just to celebrate the love month but also for other romantic occasions like weddings and engagement parties.
For those of you who are familiar with using .pat file in Photoshop, we included the pattern file so you can still play around with them. Below is the link. But for those who are new to Photoshop or do not use this program, we likewise included high-resolution images of these patterns that you can instantly use in your designs.
PREVIEW OF THE VALENTINES BACKGROUND PATTERNS
Alternately, you may download these patterns in high-res PNG format. A zipped file is provided after the preview images.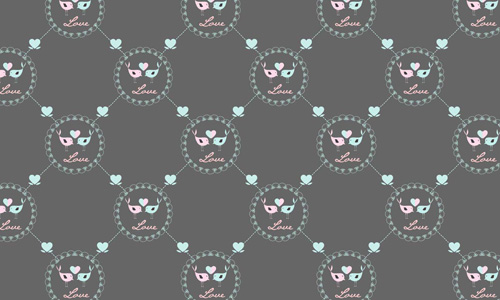 DOWNLOAD .PAT FILE FOR PHOTOSHOP
DOWNLOAD PATTERNS (PNGs)
Related Free Design Resources