1000+ Free High-Quality Vector Flowers and Swirls
It is always useful for every designer to have an arsenal of vector objects that you can count on in creating different designs. Since the use of flowers and swirls have been very popular lately and most probably in the near future, we decided to pool together the best vector flowers and swirls that we found from around the web.
In this post, we assemble together in this post a total of 26 sets of vector flowers, containing over 1,000 individual designs. These graphics consist flowers, swirls, foliage, spirals, curves, and other floral shapes. You can use these vector flowers to create your unique frames, backgrounds or patterns. These designs are available in either Adobe Illustrator, EPS or SVG for your designing pleasure. Most of the sets can also be used for non-commercial purposes although  there are some where commercial use is allowed. Please checkout the license before using them commercially as the license may change from time to time.
If you like this post, then you might also be interested to checkout our roundup of free flower PNG files.
---
VECTOR FLOWERS AND SWIRLS TO DOWNLOAD
To download the set that you want, simply click on the preview image and it will take you to the author's page where you can get additional information, terms of use, and most importantly, the download link for these free resources.
Swirls Decor Designs
Here, you will find 24 high-quality swirls designs featuring floral curves, flowers and leaves in vector format. You can apply colors, textures, even patterns to make these swirls more interesting.
[ DOWNLOAD ]
Floral wreaths and garlands Set
Here is a set of garlands and wreaths featuring beautiful arrangements of flowers, leaves, and swirls. These are perfect for Spring and Summer designs. They are also perfect for weddings and other romantic events.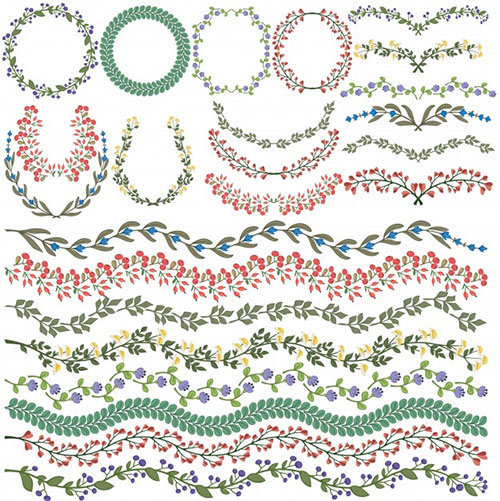 [ DOWNLOAD ]
Vintage hand drawn swirls ornaments
This set of vectors include several ornaments that are hand drawn. The designs include floral wreaths, borders, as well as corner frame designs.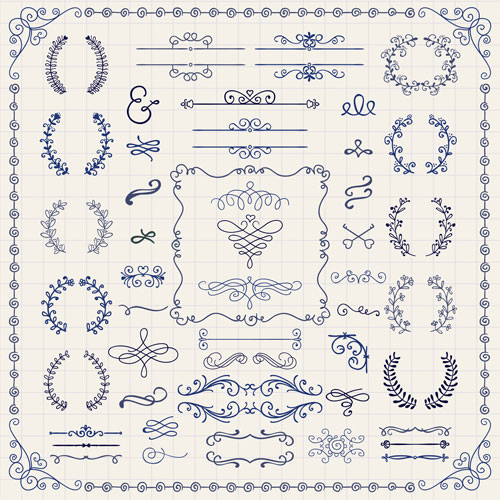 [ DOWNLOAD ]
Painted Vector Flowers
Also, this pack contains 38 painted vector flowers. These are available in GIF/PNG 1000 pixels format for you guys who do not have Adobe Illustrator.
[ DOWNLOAD ]
Vector Flowers Set 2
A very large vector set containing over 30+ unique flowers, great for using them as brushes.
[ DOWNLOAD ]
Spring flower round cards
Another great vector graphic featuring round cards with floral designs. These are great for Spring greeting cards, gift tags, and other promotional designs.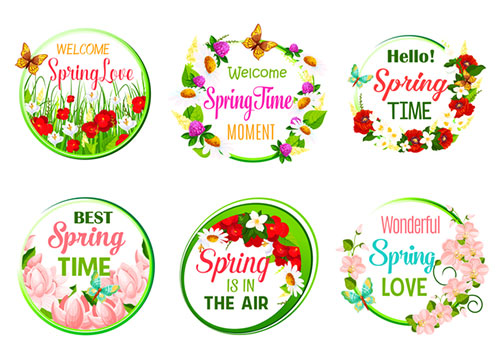 [ DOWNLOAD ]
Beautiful flower borders
Here is a vector file consisting different ink and red flowers. These are great as borders for your designs. However, you may also isolate the individual flowers and rearrange them to create various designs.
[ DOWNLOAD ]
Grass with flower borders
For your Spring designs, here is a set of vector graphics featuring grasses and flowers that you can use as borders. You may also isolate the flowers and leaves and use them separately n your designs.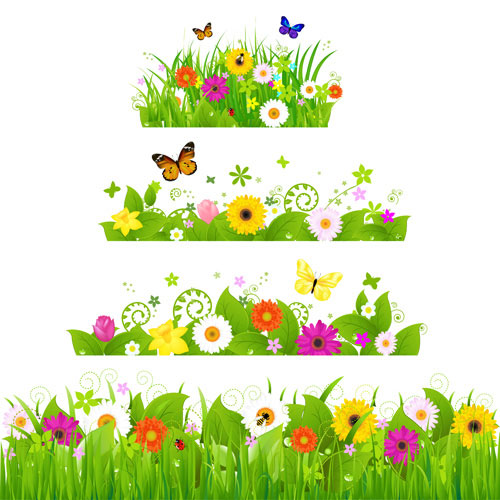 [ DOWNLOAD ]
Mystical Flower Vector
A very useful vector graphic consisting various botanical and flourish like elements. This file is a little different than our usual products, because it contains illustrator transparencies.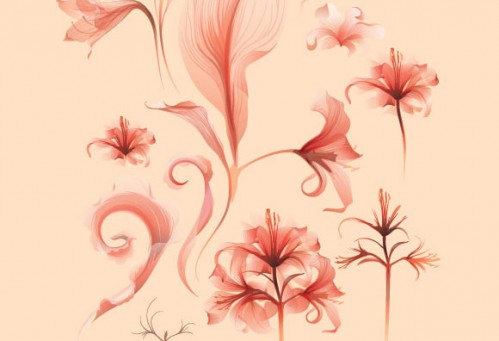 [ DOWNLOAD ]
Vector Flower Patch
This flower patch uses transparencies so the file is available in  native Adobe Illustrator to keep the file size down.  However, EPS format is available upon request.
[ DOWNLOAD ]
Flowers and Swirls
Decorate and improve your designs with vector flower swirls. Use this set of floral graphics as inspiration for your own designs. Instead of providing a long tutorial on how to create swirl graphics, we give you the source file with many decorative variations and let you study it, dissect it and come up with your own design. Included in this set are various forms of swirly flowers, floral arrangements, grunge flowers,  and leaves. Also in this set are flower branches, roots and long curly stems. Combine the flower graphics with the swirls to create your own retro flower collage or floral wallpaper.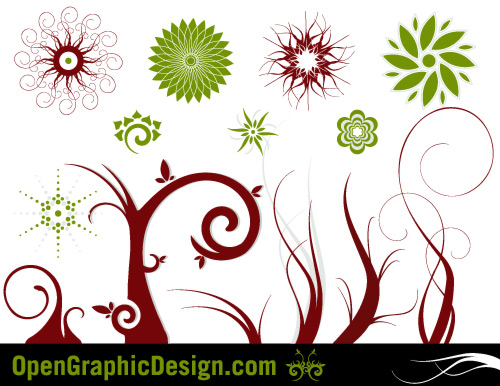 [ DOWNLOAD ]
Vector Flowers with water Splashes
A vector composition featuring lovely roses and poppies and water splashes. Just add your text to use this graphics as greeting card.
[ DOWNLOAD ]
Vector Stem and Flower Set
A collection of vector flower, swirls and stems  that you can use for free. Available in both native Illustrator and EPS formats.
[ DOWNLOAD ]
Swirl Vector 1
Floral Elements in EPS format to use on Photoshop & Illustrator.  Download & Enjoy!
[ DOWNLOAD ]
Retro Grunge Floral Vector
This collection includes lots of splatters, details, lines and funk that you can use for non-commercial purposes.
[ DOWNLOAD ]
5 Floral Ornaments
This set includes 5 decorative floral ornaments that you can use freely as ornaments in your designs.

[ DOWNLOAD ]
Floral Vines Vector
Several floral ornaments with and without flowers. Useful for your scrapbook and to freshen up your website and blog or use them as paper decoration.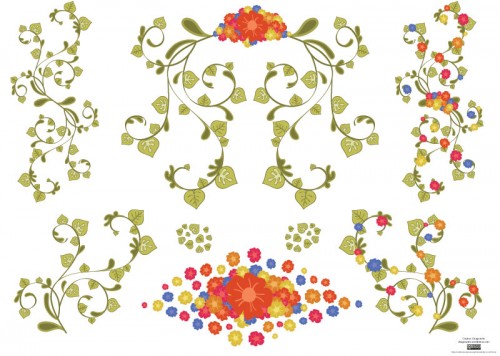 [ DOWNLOAD ]
Swirl Vector 2
Floral elements in EPS format to use with Adobe Photoshop and Illustrator.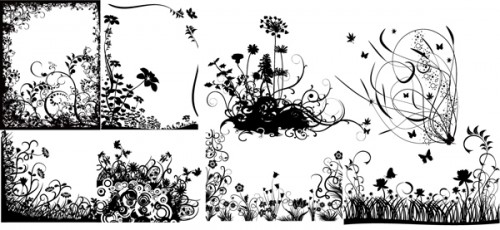 [ DOWNLOAD ]
Free Vector Flower Downloads
There are around 50 sets of flower designs in vector format that you can get for free.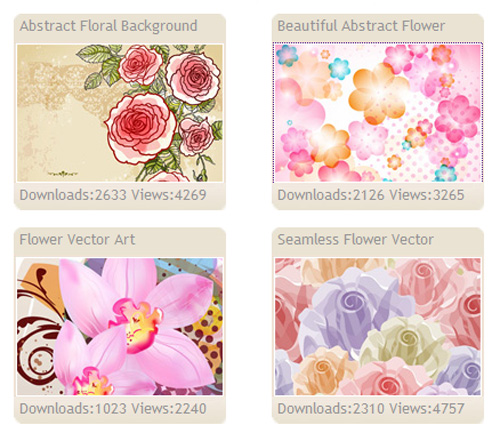 [ DOWNLOAD ]
Fight: Disco Ball and Floral Swirls
[ DOWNLOAD ]
Elegant Vector Floral Designs
Here are 7 elegant floral ornaments created by ArtBox. You may use them in your artwork, no matter if it is for your client or for your personal projects and to redistribute these vector samples as long as you provide a back link to their website. You are not however allowed to resell these artworks nor create any artwork using these vectors for sale.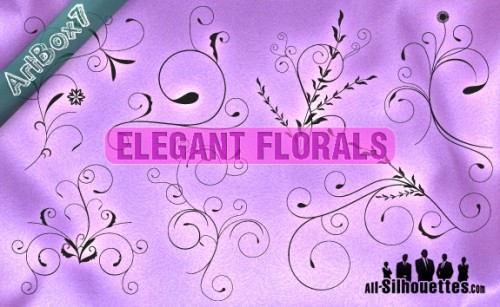 [ DOWNLOAD ]
Vector Flourishes Designs
Here is another Amazing set of Detailed Premium Flourish Designs in Vector. There are 24 ready-to-use flourish elements. Easy to mix and modify it for any purposes – personal or commercial. Includes Adobe Illustrator and Photoshop  custom shapes files.
[ DOWNLOAD ]
6 Flower Labels
Awesome free vector art from DaPino, this set contains 6 variations.
[ DOWNLOAD ]
Random Free Flower Vectors
These vector flowers are available in Adobe Illustrator, EPS, and SVG for your designing pleasure.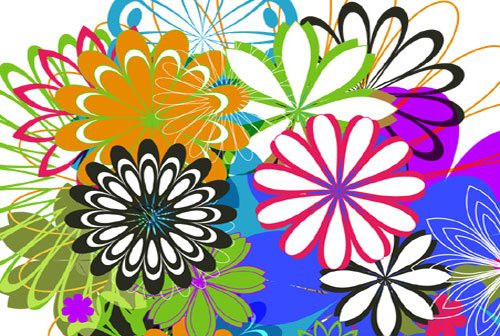 [ DOWNLOAD ]
Swirls and Flowers
Beautiful swirls and flowers vector graphics by DaPino. Free for non-commercial use.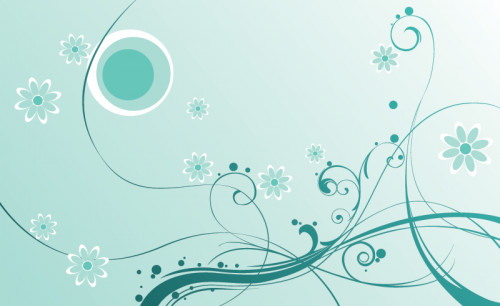 [ DOWNLOAD ]
Vector Flower 3
All are created in illustrator CS3 and are completely vectored.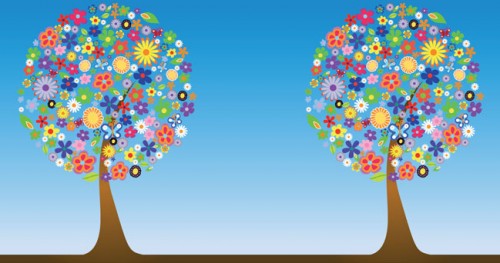 [ DOWNLOAD ]
Related Free Design Resources