25 Free Watercolor Floral Brushes for Spring and Summer Designs
It has been sometime since the last time we posted a design freebie. Since Spring is almost over and Summer is just around the corner, we decided to release a set of Photoshop brushes featuring watercolor floral brushes. These brushes are ideal for your projects not just for Spring and Summer but all year round. These designs will let you make trendy birthday cards, post cards, leaflets, and flyers. Since watercolor floral design remains big for wedding and other love-themed events, then you will surely find this set of brushes useful in your upcoming projects.
ABOUT THESE WATERCOLOR FLORAL BRUSHES
This set includes a total of 25 brushes consisting flowers, leaves, and other design elements at resolution of around 2000 pixels wide. The set features different watercolor floral designs as well as leaves and other shapes. The download links below include the Photoshop (.ABR) file you can extract and install in Photoshop CS and above. The image preview below shows only some of the brushes included in this set.
You may change the opacity and colors using the brush menu in Photoshop. The brushes have watercolor texture and pastel effect if you stamp them on your canvas. You may use solid color or apply styles and patterns to your brush to make them look more interesting. You may also adjust the opacity and the blending modes to get more interesting effects.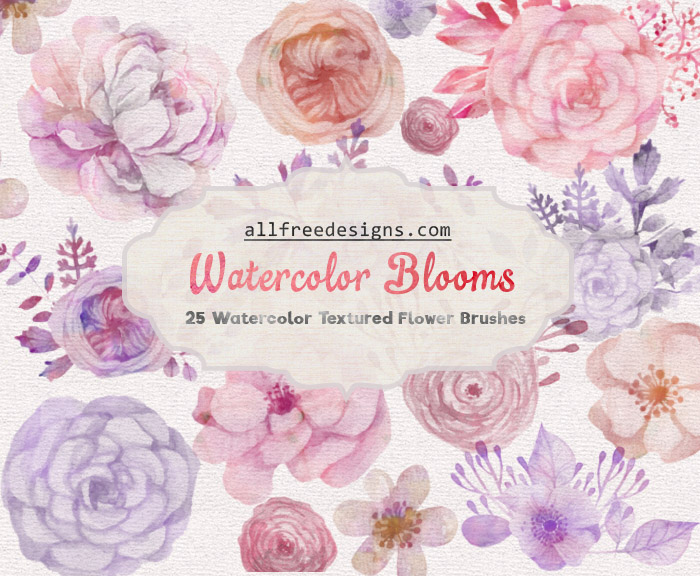 TERMS OF USE:
You may use these watercolor floral brushes for personal projects only. Also we appreciate a link back if you use them. Most importantly, please refrain from making them available for download outside of this site. If you want other people to know about our freebies, please refer them to this post.
IMPORTANT!
The download file is password-protected to prevent hotlinking and discourage people from violating terms of use of our brushes. When prompted for a password, just key in "afd".
If you like these brushes, then you may also want to check out our previous post about watercolor brushes.
Related Free Design Resources