30 Beautiful Waterfalls Wallpapers for Your Desktop
To inspire you in taking waterfalls pictures or simply to relax you by just looking at them, here are 30 of the most beautiful waterfalls wallpaper pictures taken from around the world. If you want a relaxing diversion right in front of you, you can also use some of these photos as desktop wallpapers. Most of these photos are from Flickr Creative Commons. Check out the terms of use of each photo if you want to use them in your designs. To view the original size, simply follow the link provided below each preview image.
Waterfalls have  magnetic effect on most people simply because they have  something that makes us feel good. Because people are drawn to waterfalls, it is also no wonder why waterfalls are one of the most photographed subjects. Photographing waterfalls, however, is not as easy as it looks like. For one, photographing a moving subject like waterfalls presents a major challenge but also an opportunity to get a dynamic shot. In photographing waterfalls, most photographers opt to go slow by putting their shutter speeds to lower speeds and let the water blur, making them look more dramatic.
---
30 FREE WATERFALLS WALLPAPER DESIGNS
01-Havasupai Waterfalls Wallpaper
Called paradise on Earth, Havasu Falls is an absolutely amazingly beautiful waterfall located in a remote canyon of Arizona in the United States.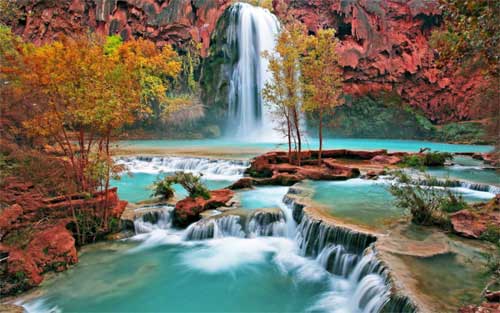 [ DOWNLOAD ]
02-Krai Woog Gumpen
Krai Woog Gumpen is a waterfall in the Hotzenwald, a remote part of the southern Black Forest. It wasn't discovered until 1952 and then subsequently made more accessible (although you still need to drive on narrow roads deep into the forest). The name is of Alemannic origin and means "roaring waterfall into basin".
[ DOWNLOAD ]
03-Wallaman Falls, Queensland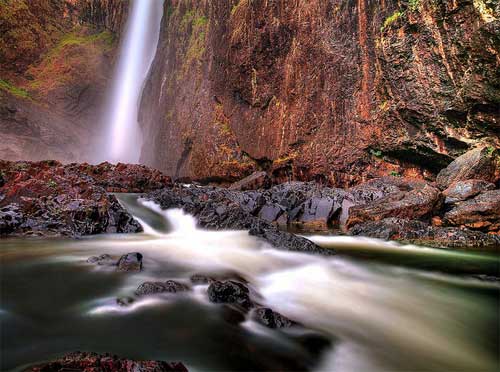 [ DOWNLOAD ]
04-Hongryong Waterfalls Wallpaper
Dubbed as waterfalls from heaven, this falls is located near the Hongryong temple in Yang-san, Korea.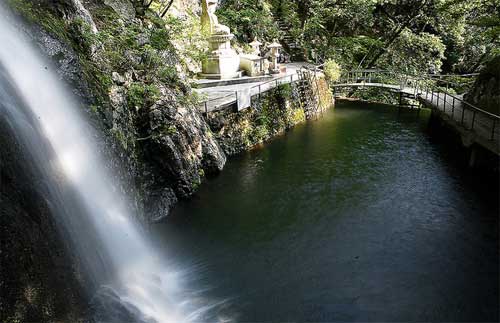 [ DOWNLOAD ]
05-Mardis Mill Falls
A little different view of Mardis Mill Falls.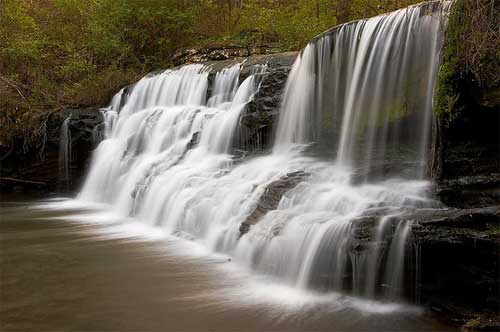 [ DOWNLOAD ]
06-Lake Waterfalls Wallpaper
The 45 foot tall Lake Falls in Matthiessen State Park, near Utica, Illinois. Ice is beginning to form along the canyon walls.
[ DOWNLOAD ]
07-Waterfalls at Midnight (Taken in Iceland)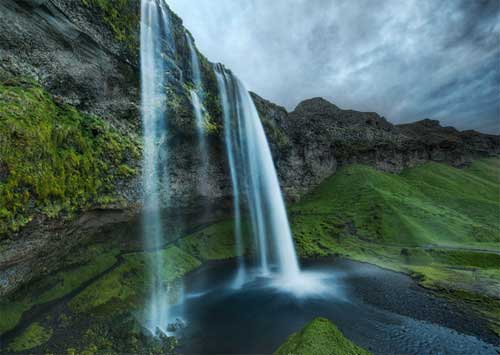 [ DOWNLOAD ]
08-Alone at the Raging Waterfall of Gulfoss, Iceland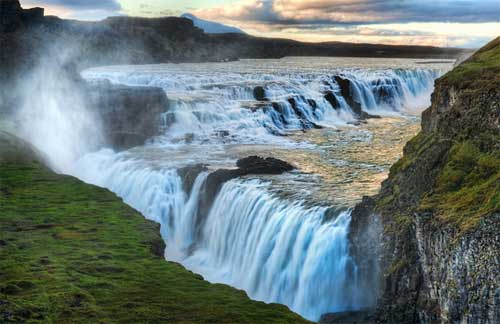 [ DOWNLOAD ]
09-Ramona Waterfalls Wallpaper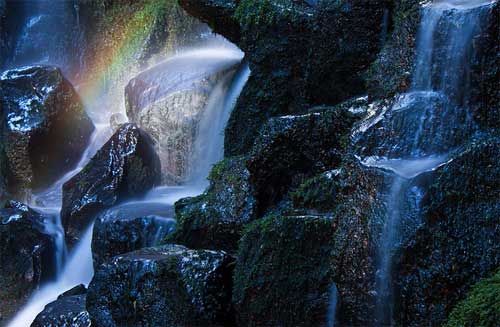 [ DOWNLOAD ]
10-James River Waterfalls Wallpaper
[ DOWNLOAD ]
11-Cedar Falls in Autumn
Cedar Falls is located in Petit Jean State Park near Morrilton, Arkansas.
[ DOWNLOAD ]
12-Sunset Over Iguazu Waterfalls Wallpaper
The great thing about the Brazilian side of Iguazu is that there are no limits on taking pictures at any time of day….(unlike the Argentinian side).
[ DOWNLOAD ]
13-The Ice-Blue Pure Glacial Water Runoff
Taken at the mountains of Glacier National Park.
[ DOWNLOAD ]
14-Waterfalls Wallpaper
Waterfall at the base of the Frankfort resort, stone steps lead down to this semi-cavernous area of cascading water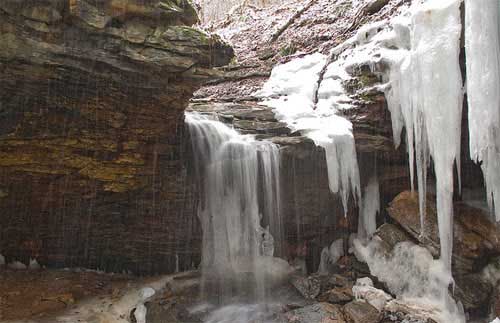 [ DOWNLOAD ]
15-Liquid Gold
This is Magnolia Falls, located in the NW part of Arkansas in the fabulous Buffalo River Valley.
[ DOWNLOAD ]
16-The Water Music
Plitvicka lakes (Croatia)
[ DOWNLOAD ]
17-Luckiamute Falls Wallpaper
Falls City, Oregon.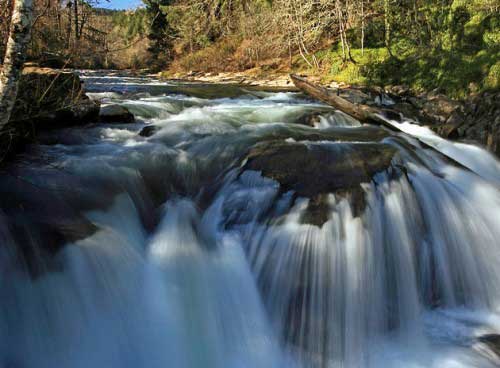 [ DOWNLOAD ]
18-Hamilton Pool near Austin, Texas by Dave Wilson Photography
Hamilton Pool is one of the best kept secrets in Central Texas. The place is a spectacular circular swimming hole half covered over by the massive remains of the previous cave's roof.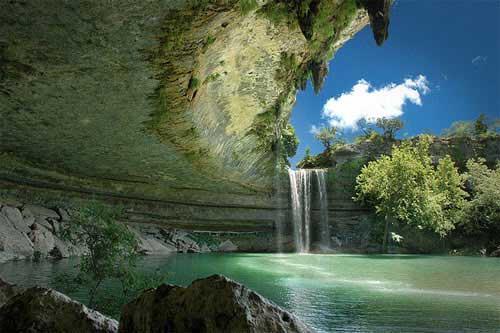 [ DOWNLOAD ]
19-Upper Desoto Falls
This is the upper section right before the main drop of the Desoto Falls.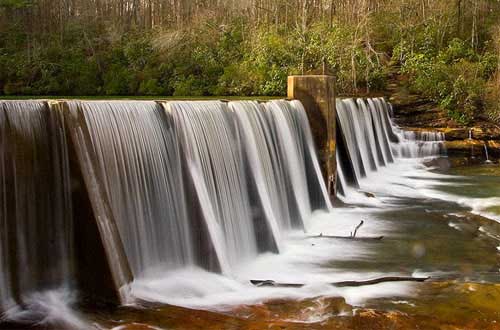 [ DOWNLOAD ]
20-Wide and Long
This shows the upper section of the fall on the top left where most people take their shot of Kirkjufell in the background.
[ DOWNLOAD ]
21-El Salto Falls Wallpaper
Located in Chella, Valencia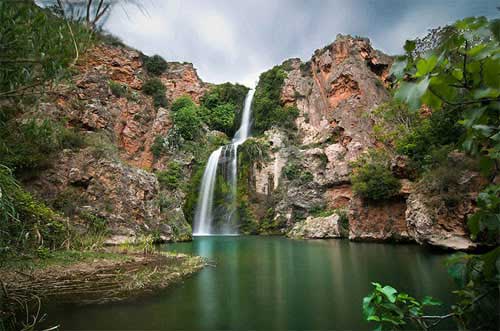 [ DOWNLOAD ]
22-Wulai Waterfall, Taipei
[ DOWNLOAD ]
23-Thoovanam Waterfalls Wallpaper
Deep with in the Chinnar Wildlife sanctuary lies the spectacular Thoovanam water falls. The river Pambar flows eastwards through the sanctuary and forms the waterfalls. The enormous waterfall on the Chinnar River , with its breathtaking silvery cascade is a major tourist attraction.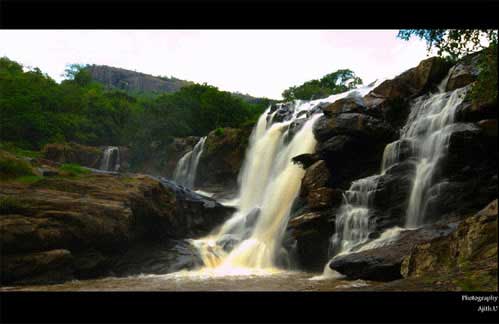 [ DOWNLOAD ]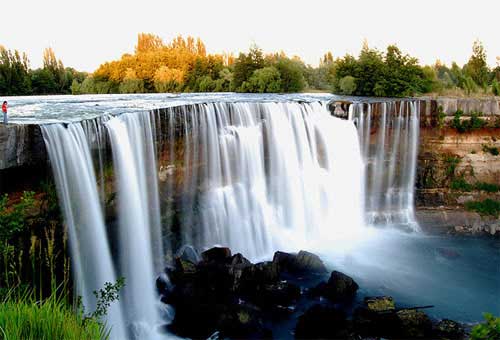 [ DOWNLOAD ]
25-Wigan Waterfalls Wallpaper
Wigan is a town in Greater Manchester, England.
[ DOWNLOAD ]
26-Life is a Waterfall
Night shot, long exposure.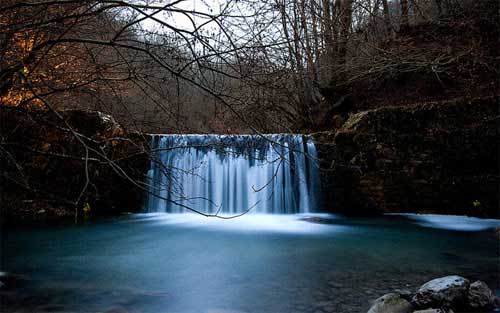 [ DOWNLOAD ]
27-Paradise Falls Wallpaper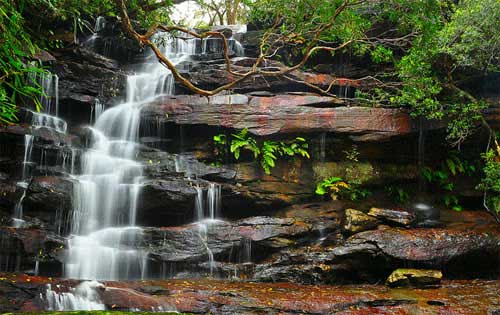 [ DOWNLOAD ]
28-Skull Falls Wallpaper
Taken in Disneyland Paris in Adventureland.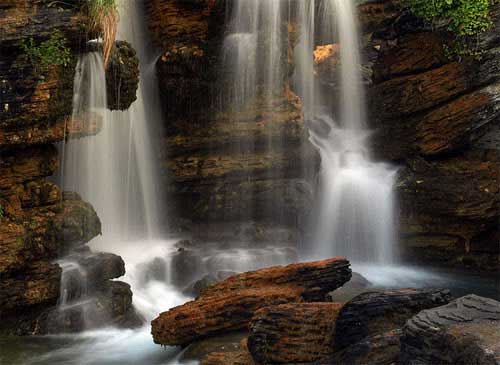 [ DOWNLOAD ]
29-Cascade Langevin In Reunion Island
[ DOWNLOAD ]
30- Waterfalls Wallpaper
Waterfall at Juneau's Salmon Bay in Alaska
[ DOWNLOAD ]
Related Free Design Resources