15 WordPress Photography Themes for Your Photo Blogs
In this post, we put together some of the best WordPress photography themes that you can use for free. This post is especially intended for those bloggers who wish to start a photography or portfolio site to showcase their creative works using WordPress. Using wordpress as your content management system (CMS) is the best choice for those who are planning to come up with their own portfolio or photography website since it is easy to maintain and easy to update. On top of that, there are also numerous WordPress plugins that you can use to give your photo gallery a more sophisticated look.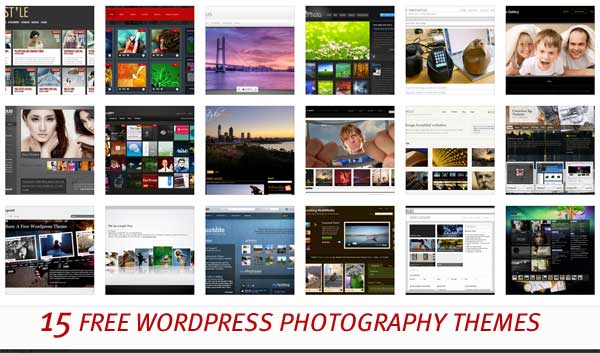 So, what are you waiting for? Start showing your work to the world using these WordPress photography themes that you can download for free. Yes, you heard it right…these WordPress photography themes are FREE.
---
FREE-TO-USE WORDPRESS PHOTOGRAPHY THEMES
You can view the demo and download page by clicking on the preview image. Make sure to check out the demo page as well as the documentation so you have an idea on how your site would look like using any of the WordPress photography themes listed below. I hope you will something that suits your requirements from this post. Have a good day!
Photo View version 1.1
PhotoView is designed for displaying photos and videos in a simple and clean manner. PhotoView includes lightbox and comments support. The PSD file is also included in the download folder for easy customization.
Infinity: A Free WordPress Theme
Infinity is a free professional WordPress theme from Smashing Magazine. The theme has 3 fixed columns and an attractive visual design.
WordPress The Unstandard
The Unstandard is a split two-three-column WordPress 2.6+ compatible theme. The home and archive index pages utilize photos rather than text. The latest update is completely optimized and stripped of any unnecessary code allowing for complete customization.
Smashing Multimedia: Free Podcasting, Video and Photography WordPress Theme
Smashing Multimedia, a unique, flexible and advanced WordPress theme for artists, photographers, podcasters, designers and users. By using this theme, you can easily embed videos and images, rate them and showcase them in your own WordPress-based blog.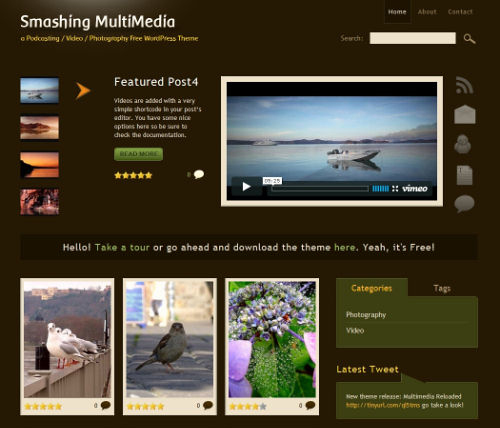 Irresistible
Irresistible is a visually-rich personal blog, with a little bit of a multimedia focus. Incorporating some nifty video-options and widgets, Irresistible should meet all of your personal blogging needs. Just add your content to the mix.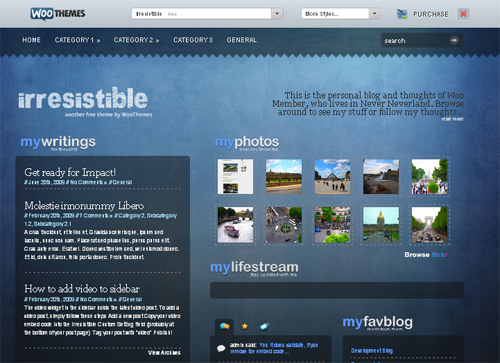 Fhi-zin
Fhi-zin is a free AJAX WordPress theme template for portfolio and photography. It features a two-column grey layout with right sidebar. The template is also widget-ready and SEO optimized.
Viewport
Viewport is a free WordPress theme from Paul Bennett. It features a clean and simple layout with sliding 'panels' displaying images to represent posts. It also features a user-changeable background (color or image) and other customizable elements.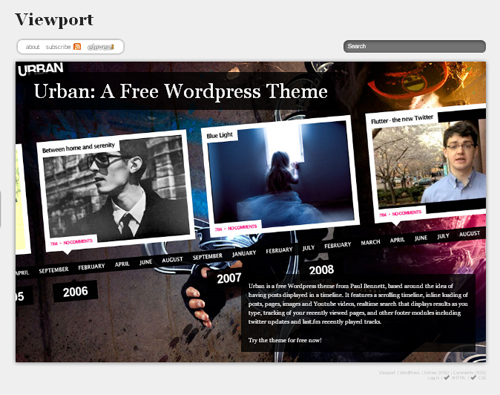 Creative by Nature
This is a unique and flexible high-quality portfolio WordPress theme for artists, photographers and designers. The designers created a funky theme, particularly useful for artists, photographers and designers who are looking for a flexible portfolio solution.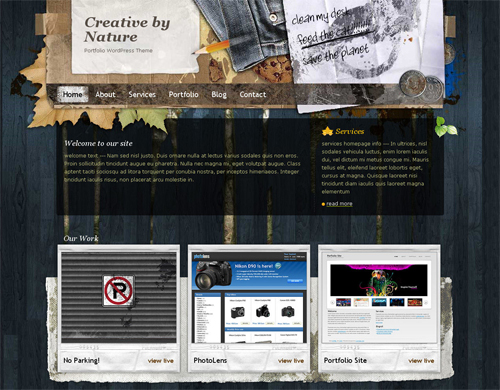 Work-a-holic
A free minimalistic two and three column WordPress theme that focuses mainly on showcasing portfolios for artists, web designers, photographers and illustrators.
Modularity
This is a highly customizable multimedia theme framework for WordPress.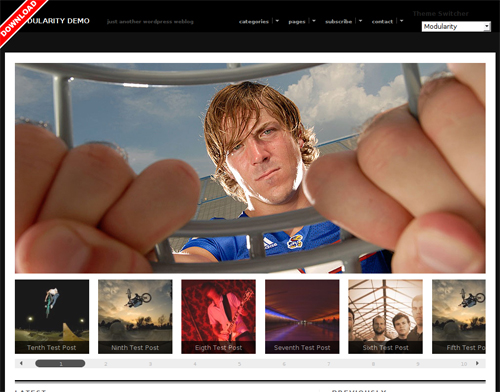 StudioPress Black – Photography WordPress Theme
StudioPress is a two column WordPress theme for photographers. It's design is simple and is available in black and white color schemes.
Gallery WordPress Theme
Gallery is packed with loads of cool features for displaying photos and built-in social media links for each gallery item.
Fotofolio Landscape
A very nice and clean template for a photography website powered by WordPress from wordspop. Check out the site for more details.
Nishita
Here is another simple, sleek and minimal photo blog theme for WordPress. Nishita is also quick and simple to set up or install.
PREMIUM WORDPRESS PHOTOGRAPHY THEMES FOR A MINIMAL FEE
If you did not find anything that suit your needs, then you need to look for a premium theme. Also, one of the biggest disappointments of using a free theme is the lack of support. Another is the footer links that you cannot modify. If you want the best deal for a premium theme, try Elegant Themes,  they have more than 50 themes that you can access, use and choose from for a fee of only $39. Most sites sell their WordPress theme for over $50 each. So this one is the best deal ever, especially if you are running several WordPress blogs that require different themes! Below are the themes from Elegant Themes that you can use for a gallery themed sites like  photography sites:
E-PHOTO THEME
Deep Focus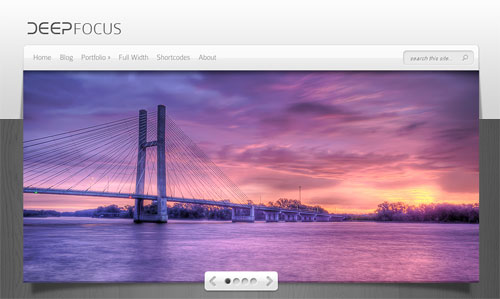 E-gallery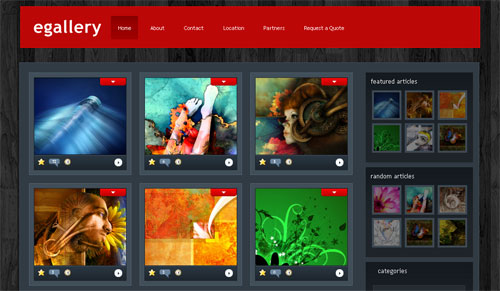 The Style
VISIT ELEGANT THEMES TO KNOW MORE ABOUT THESE THEMES!
Related Free Design Resources