Recent Posts From
HALLOWEEN AND AUTUMN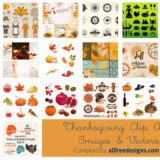 With Thanksgiving coming soon, I am sure most of you have already started preparing your printables and other graphic designs for this season. Using Thanksgiving clipart images and vectors will surely make your work easier. So in case you need some free stuff you can use in your layout, we decided to round up a set of 30 thanksgiving clipart images and vectors that you may download for free. The sets below include traditional graphics associated with Thanksgiving such as food, fruits, falling leaves, among others.
CHRISTMAS
FREE FONTS
INSPIRATION
PATTERNS
PRINTABLES
PS BRUSHES
RESOURCES
VECTORS
Are you ready for another freebie yet? Here is a set of background patterns in glittery red and kraft paper texture that you can use for everyday designs and also for Christmas-related stuff. Unlike our first set, these red glitter background patterns feature basic geometric designs such as stripes, polka dots, waves, polygons, and other shapes.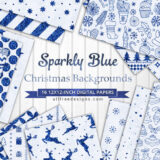 If you liked our printable Christmas cards and gift tags in sparkly blue patterns, then you should also get excited with our freebies today. Download free this set of free seamless patterns featuring Christmas themed designs in sparkly blue background to create your own printables. These are the backgrounds we used for the Christmas cards we released yesterday.
Here is something to get you started with your Holiday preparations this year. Today, we are giving away a set of free printable Christmas cards and gift tags sporting sparkly blue and white color combination. To use these cards, simply print the PDf file, put inside a nice envelope and send to your loved ones this holiday season. You may also use them as gift tags or as journal cards for your scrapbooks.
Like what we did for our watercolor floral mini calendar, we also decided to update this set so you can use them this coming year. In about a month and a half, the new year 2017 will be here. We know you don't want to enter the new year unprepared. That is why we come up with another printable calendar that you can use to organize your life this coming year.
Our 2016 printable mini calendar has been among the most downloaded freebie that we released last year. So if you missed downloading it, don't worry, because we have updated the design with 2017 calendar. So let's begin the countdown to year 2017 with this set of beautiful printable mini calendar. Sized 3 x 5 inches, these are ideal for journals and scrapbooks. You can also print them on stickers and stick to your notebooks if you wish. Or, you can hang them on your walls using binder clips.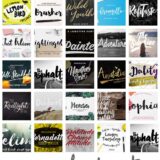 Are you looking for a trendy, elegant, and casual fonts you can use free for your design projects? Paint brush fonts will give your designs a vintage and DIY feel. Thus, they are perfect for flyers, posters, greeting cards, and other crafty projects. If you are not convinced yet, then try these 30 free paint brush fonts that we have assembled in this roundup.
Creating cool text effects in Photoshop has now become so much easier and fun. Thanks to the Smart PSD, we can now download pre-made text effects that we can customize to suit our own requirements. In the earlier days of designing in Photoshop, we usually make text effects using either the Photoshop Style or Photoshop actions. These techniques are a lot more complicated and customizing them is not also easy.
To help you come up with creative and fun designs, we are featuring today 15 new and cool lettering fonts. Handmade lettering fonts are becoming more and more popular. You see them in almost any medium–print, web and multimedia. Combine these fonts with hand drawn design elements like flowers leaves and nature design elements and a nice watercolor background to create cool and original designs.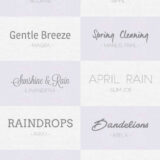 One of the main considerations when creating graphic designs and artworks is the choice of fonts. Spring is a fun and lovely season so our designs must also look fun and lovely. To help you achieve that, we decided to share with you our top choices of beautiful fonts that you can use in your Spring designs for free. Yes, we will list down only free fonts with links on where you can download them.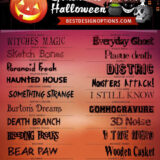 Before you know it, the Halloween and Fall holidays will be here. So we are sure some of you are now starting to work on projects for this special time of the year. In this post, we put together some of the most gruesome. and creepiest free fonts out there that you can use for your Halloween-themed designs. These fonts are perfect for labels, invitations, posters and flyers to ghoulish parties, and menus for frightening dinners and feasts!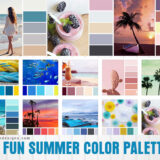 Summer is here. It is the season of fun and vibrant colors. For us designers, it is important that infuse some summer vibes into our designs. So we decided to look around and look for the hottest summer color palettes.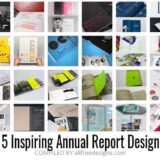 If you are a designer in the process of conceptualizing an annual report design and layout, looking at some inspiring annual report design ideas will surely help. In this post, therefore, we decided to come up with a list of the 15 inspiring annual report design ideas. Most of these designs are actual annual reports while some of them are design concepts or school projects.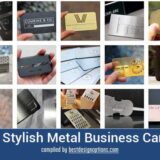 Metal business card is one great option if you are looking to have a unique card that does not only stand out from the rest but also last longer. That's because metal business cards stand out, get noticed, and do not get thrown away. One of the greatest advantages of a metal business card is the fact that it can withstand almost anything and it does not fade or get scratched. Most metal business cards are manufactured using stainless steel or aluminum. Designs and engravings are done by chemically etching the surface of the steel or by cutting through the card with precision or via laser cutting and etching.
I know a lot of people who enjoy a good cup of coffee. But there is a common belief that highly creative people are more drawn to liking coffee. The free-thinkers, creators, and innovators among us become accustomed to (and perhaps dependent on) the enticing aroma and flavor of freshly brewed coffee more easily than most. For us, it is fuel for the day that provides the kick start needed to get us going. Most creative people believe they are more productive if they start the day with a good cup of coffee.>
Next to flowers, fruits are among designers' major source for inspiration, especially when it comes to powerful color schemes and palette. Fruity colors are popular for Spring and Summer designs. Oranges, red cherries, lemon yellow, and lime green are just some of the best examples on how we can use fruits as inspiration in our designs. Fruity colors can bring lively feel to websites, home interiors, and printed invitation cards. Aside from generating color inspiration from fruits, images of fruits are also popular as design elements for websites and printed designs for Summer. Mouthwatering fruit slices in vivid colors, fruits splashing on water, close up images of fruits, are popular for website banners and headers, for posters, as well as flyers.
Plaids and ginghams are favorite Fall patterns. So in this post, we put...
Here's one last freebie before Summer ends–another set of free...
Here is a set of 15 sparkling zigzag backgrounds and patterns that you can use in your projects. These are great for invitation cards, packaging, etc.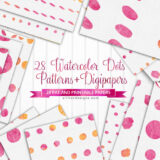 Here is a playful set of 28 pink polka dots patterns featuring watercolors...
Watercolor textures are all over. So here, we have come up with a new bundle of 22 pink watercolor pattern backgrounds that you can use in your projects.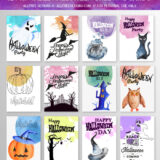 With less than a month to go before Halloween, I am sure that most of you...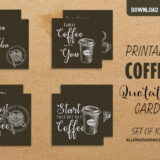 Our post for today is about a set of free printable cards sporting beautiful...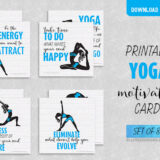 A set of 8 free printable yoga motivation cards to help you stay motivated in your practice. You may use these for your journals or share on social media.
We all have those days when we do feel unmotivated to exercise or eat...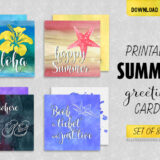 Yes, it is still Summer. How about wrapping up this fun season by sending...
School days are still a few weeks away. But I am pretty sure, we all prepare...
Give your photographs a nice retro look with our brand new set of Polaroid...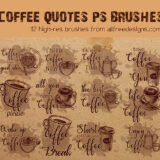 Here is a set of coffee lettering brushes featuring lovely coffee quotes...
Here is a set of free Photoshop brushes featuring flowers in watercolor style. These floral images are suitable as corner brushes to frame your pictures or text messages and quotes. The corner brushes feature different flowers and arrangements. For best effect, you may use them as stamp brushes for greeting cards, post cards, journal or scrapbook cards, among others.
A set of flower images composed of flower bouquets brushes in various arrangements. There are bouquets of roses, daisies, and tulips, to name a few.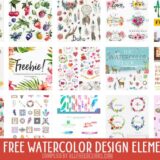 Watercolor design remains the most popular trend to date. Here are 500+ free watercolor design elements for creating trendy web and print graphics.
Watercolor backgrounds have been a staple for graphic and web designers for years. Here are 150+ free watercolor backgrounds that you can download.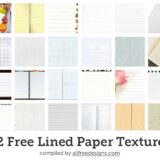 Here are 32 high-quality lined paper texture images that you can use for making realistic mock ups, web and print backgrounds, and many more.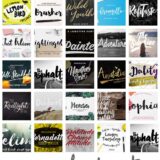 Are you looking for a trendy, elegant, and casual fonts you can use free for your design projects? Paint brush fonts will give your designs a vintage and DIY feel. Thus, they are perfect for flyers, posters, greeting cards, and other crafty projects. If you are not convinced yet, then try these 30 free paint brush fonts that we have assembled in this roundup.
Spring is here so let me share with you my favorite Spring color palette options from two of my favorite color scheme generators–Colourlovers and Design Seeds.You can use these Spring color palettes in designing printables, website banners, greeting cards, and other celebrations related to this season. The colors are diverse, from lively yellows and greens to beautiful pinks and purples.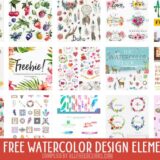 Watercolor design remains the most popular trend to date. Here are 500+ free watercolor design elements for creating trendy web and print graphics.
Background patterns that are seamless and scalable are very useful and a great time-saver for designers in creating backgrounds for website, fashion and textile design, graphic design, package design, web design, and many other design projects. Since these are in Illustrator or EPS format, the patterns can be opened and edited in Adobe Illustrator program.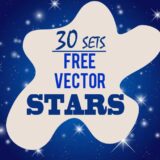 Stars are among the most common shapes. In graphic design, stars are popular for logos, for backgrounds as patterns, and for designs about happiness and celebrations. Stars are particularly popular for Christmas and Winter holiday-themed designs. A roundup of 30 sets of stars clip art in vector graphics format you can use in your designs for Christmas and winter holidays and for other purposes.
Christmas trees are among the most popular symbols of holiday season. Here are 30 sets of Christmas tree clip art as vector graphics. These vector graphics are free to download and use in your work, including commercial uses for some. Since these are vectors, you can therefore use them for both web and print without worrying about resolution or crispness of the graphics in any format or size.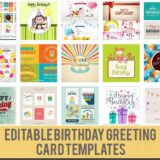 There is nothing sweeter and thoughtful than giving your loved ones a personalized birthday greeting card on their special day. In the era of Internet and mobile phones, getting a personalized birthday card sent to your home or office could mean a lot. If you need a personalized birthday card to give your loved ones, then here are some free editable birthday card template files you can download for free.