Free Business Card Templates for Making Your Own
Business cards are among the most inexpensive yet very powerful marketing tools you can use to promote yourself or your business. Most important to remember in designing your business cards, according to experts, is to make sure that the design you create for your cards reflects the image that you wish to convey.  Remember,  that every time you give someone your business card, you do not only provide them with your name and contact details. That same card also create an impression or image about the quality of your products or services.
Business cards come in different, colors, shapes and sizes. To determine the style that fits your requirements, it is best to think first about your "customers or clients" and how they will use and store your card.
So, here, I will share with you some of my great finds–free or royalty free business card templates that you could use in designing your own business cards. You can open these free templates file in Photoshop. However, to edit the EPS or Illustrator files, you need to open them in Illustrator. I hope you will also like them! Enjoy!
I do not host these templates in my own server because obviously these are not my creations. If you find a dead link or if a certain file does not exist, please let me know so I could update or remove it.
---
If you happen to like this post, we recommend that you also check out some of our related posts about business card designs:
---
I. FREE BUSINESS CARD TEMPLATES IN EDITABLE PHOTOSHOP PSD FORMAT
01- Free Ultra Minimalist Business Card Templates
A set of free business card templates in Adobe Photoshop layered file featuring simple and clean style of design. The templates use light earth tones of white and ultra light brown with canvas texture. Except for the logo name, the cards made use of light and sans serif font type.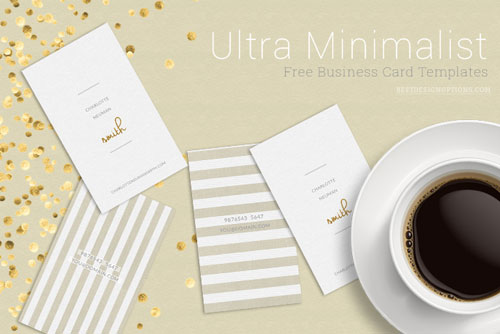 02 – Watercolor + Gold: 4 Free PSD Business Card Templates
The business card design comes in four variations of soft blue, green, pink, and orange watercolor backgrounds. These cards have only one side making them less expensive and less complicated to print. You can print them at home or you can also send it to an offset or commercial printer. The cards are sized 3.5 inches by 2 inches (plus bleed margins of .25 inches in four sides) and in vertical layout orientation.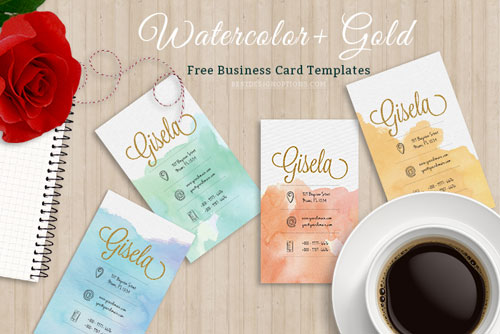 03- Free Minimal Business Card Template
If you prefer the minimalist design style then this free PSD business card template is for you. The clean and simple look of this design is perfect for that professional and elegant look you want for your next business card.
04-Free Corporate Business Card Templates
A set of corporate business card templates in Photoshop format. These are double-sided horizontal business cards with rounded corners. The templates come in 6 bright colors, with each of them having space for a QR code. You need to replace the QR code with your own.
05- Facebook Business Card Template
Here is a double sided business card template featuring your own Facebook profile page. If your business marketing strategy depends a lot on this social media site, then this business card will surely get you more followers. The template is in Photoshop PSD format at dimensions of 3.5×2 inches.
06 – Free Photography Business Card Template
An elegant looking business card template with two sides for photographers. The business cards are in black and white and contains a very witty and attention-grabbing logo and slogan. The template is in Adobe Photoshop format.
07 – Free Corporate Business Card Templates
A set of free corporate business card templates in two styles. They come in the usual business card size of 3.5 x 2 inches and in print-ready format (with bleeds at 3oo DPI and in CMYK color mode). These template are easy to edit in Adobe Photoshop program.
08- Watercolor Business Card Templates
If you want a spanking cards without spending a fortune, then these free business card templates are for you. The layout includes a space for your name and your profession and contact details. They come in one-side horizontal layout and measures 3.5×2 inches at 300 DPI. These creative watercolor business cards are ideal for freelance artists, designers, photographers, stylists, fashion bloggers, and other professions in the creative industry. The templates are available in four different color schemes: orange, green, pink, and purple.
09 –Wedding Business Card Templates in PSD
Here is a set of wedding business card designs created in Adobe Photoshop CS5. You can easily customize these business card templates to create your own. These free business card templates are ideal for any business that has something to do with weddings–from florists to photographers to wedding planners and caterers, among others.
10- Free Creative Business Card Template
A creative business card design in simple and clean layout. The template is in editable Photoshop format and are easily editable. These templates are also print ready at CMYK color mode and 300 DPI image resolution.
11- MODERN BUSINESS CARD TEMPLATES
Here is a set of two business card templates with modern design. These business cards are versatile and may be used for any profession. The templates come in easy-to-edit Photoshop PSD file.
12 –Pantone-Style Business Card PSD Template
A business card template, inspired by the famous Pantone color cards. However, you can change the color of the rectangle to any color you want. Simply add your contact information to use them.
13- Monstera + Rose Pattern Business Card Template
This free business card template is perfect to use for creating your own brand identity. The logo design as well as the floral pattern background have an organic, simple, attractive and refreshing look and feel.
II. I. FREE BUSINESS CARD TEMPLATES IN EDITABLE VECTOR FORMAT
13- Kitchen Business Card Vectors
Are you a kitchen installer or a chef? This set of business card vectors have different color styles and icons with a modern touch. Perfect for the modern kitchen designer.
14- Floral Business Card Templates
A set of two double-sided business card templates in floral theme. The templates come in blue colors with different pattern backgrounds in blue. The file that you may download is in Adobe Illustrator (Ai) and EPS formats.
15- Vector Business Card Templates Set
This set includes a total of 40 business card designs that you can use to create your own business cards. The files that you may download are in Adobe Illustrator (Ai) and EPS formats.
Related Free Design Resources