500+ Christmas Clip Art Photoshop Brushes
Give your Christmas designs this Holiday Season a personal touch by creating your own greeting cards cards and gift tags. If you know how to use Photoshop, the easiest way to create lovely  printables is by using Christmas clip art and Photoshop brushes that you can download and install for free. I know Christmas is still over a month away but designers are already starting to create their designs for the holiday season as early as November. So here, we gathered the 38 best Christmas clip art brush sets that we found online to save you time from searching and hopping from one site to another.
We hope you will find these Christmas clip art brushes useful in creating your very own designs. The collections include most of the popular Christmas clip art and symbols  such as Christmas trees, Santa Claus, Christmas Stars, and even winter-related brushes such as Snowman, pine covered with snow,  snowflakes, and many others. If you like the collection, do not forget to bookmark this page so you can easily go back and access these resources in case you find some good use for them later.
If you decide to use any of these Christmas clip art brushes, please be sure to check first the terms of usage set by their respective author. Also, please credit the author not this blog in your Christmas designs. To download the set of Christmas clip art brushes that you want, just click on the preview image and it will take you to the source or author's page where you can view more details such as sizes, terms of use, and the download link for the brushes. Have fun!
38 SETS OF CHRISTMAS CLIP ART PHOTOSHOP BRUSHES
For easy browsing and convenience, we grouped the brushes below based into four categories. Most popular of course are Christmas trees then snow and snowflakes. We also included a category for stars brushes. The remaining brushes are Holiday and Christmas decorations such as wreaths, balls, glitters, balls, etc.
A. CHRISTMAS TREE BRUSHES
01 – Christmas Tree brushes
There are 8 high-quality images in this set composed of various Christmas trees that you can use for free. These are intended for Photoshop CS and higher.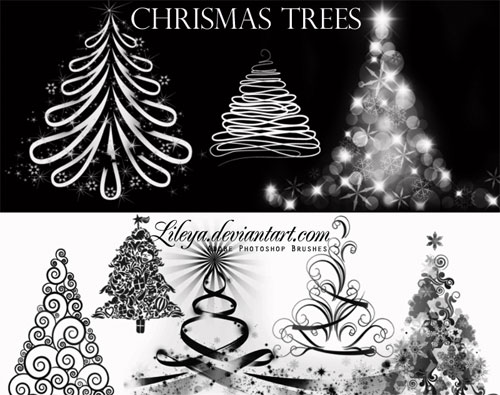 [ DOWNLOAD ]
02 – Christmas Tree Branches
This set contains 10 large Christmas tree/evergreen branches. These brushes were made in Photoshop CS3.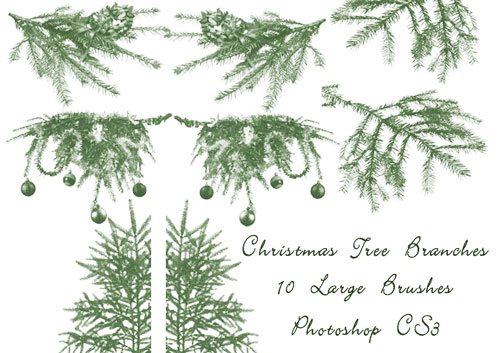 [ DOWNLOAD ]
03 – Pine Brushes Mega Pack
This set contains 16 images and 33 smaller parts of pine leaves and branches for creating your own pine tree.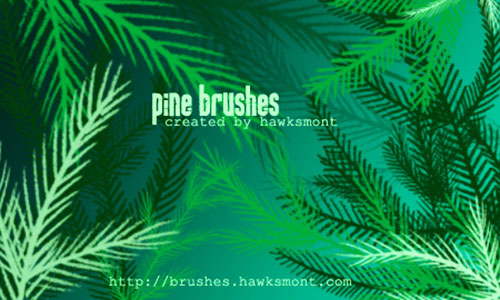 [ DOWNLOAD ]
04 – Christmas Tree Brushes
This set includes images of decorated and not yet decorated Christmas trees. There are also light strings you can use for custom decorating of the trees.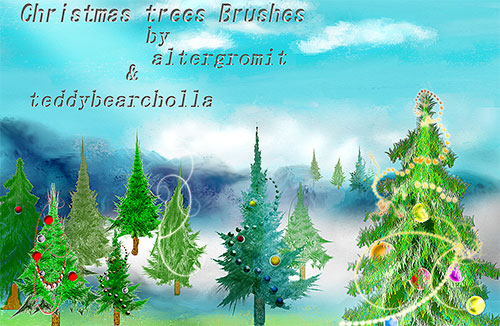 [ DOWNLOAD ]
B. SNOW AND SNOWFLAKES
05 – Christmas Snowflakes Brushes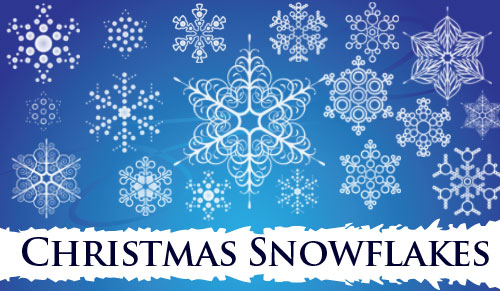 [ DOWNLOAD ]
06 – Snowflake Brushes
This set contains 22 images of snowflakes created in vector program and later converted into brush images. The snowflakes are in different sizes.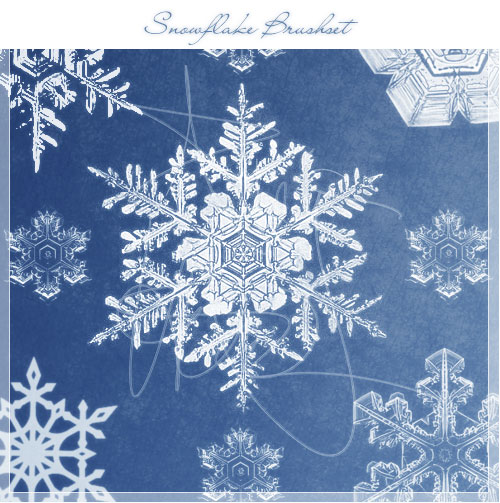 [ DOWNLOAD ]
07 -Snowflake Brushes
This set includes 20 large snowflakes transformed into brushes with Photoshop 7.0.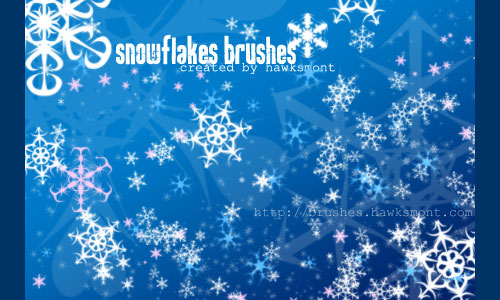 [ DOWNLOAD ]
08 – Realistic Snowflakes Brushes
This set includes realistic snowflake images in repeating and size varying patterns. Useful for creating some realistic snowing effects in your Christmas designs.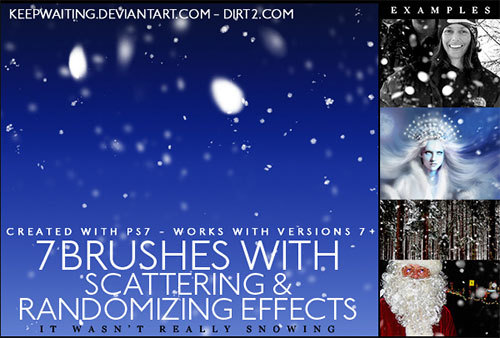 [ DOWNLOAD ]
09– Snowflakes Brushes
Another set composed of images of snowflakes.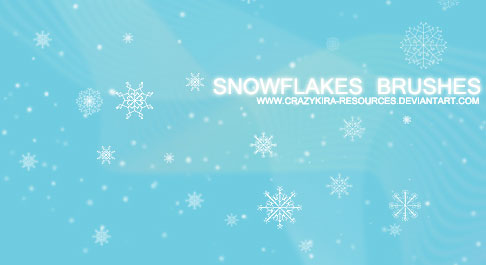 [ DOWNLOAD ]
10 – Snow Plus  Snowflakes Set
This set is made up of various snow and snowflakes images. This includes various flakes in different shapes, with some of them grouped as patterns. There are also some that are crocheted while others are scattered flake shapes made to look like real snow that you can add to any scene.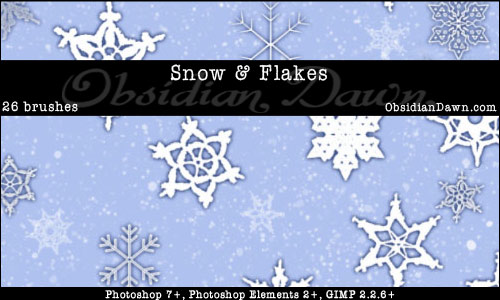 [ DOWNLOAD ]
11 – 96 Snowflakes Brushes
As the title suggest, this pack has 96 wonderfully designed images of snowflakes for your winter-themed designs.
[ DOWNLOAD ]
12 -Snowflake Brush Set
Another useful set featuring illustrated and flower-shaped snowflakes.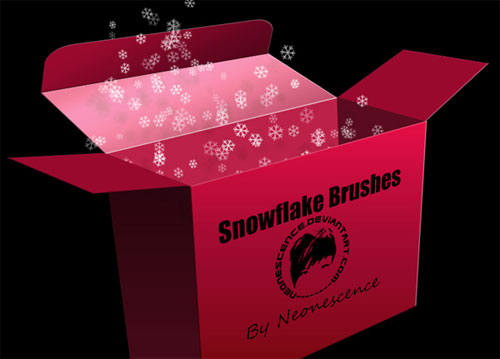 [ DOWNLOAD ]
C. STAR PHOTOSHOP BRUSHES
13– Pixie Dust Trails
Star-like winter snowflakes for creating magical looking designs for Christmas.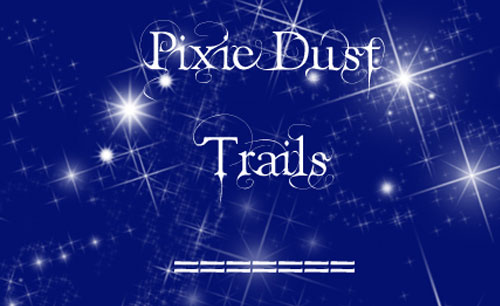 [ DOWNLOAD ]
14 – Glitter Brushes
A set of Photoshop and Gimp brushes composed of various glitter and sparkles of all kinds! Includes  various clusters of glitter and sparkles that can be easily overlapped to create as much glitter as you could ever want or need. There are also several glittery and misty brushes in various designs and shapes and much more!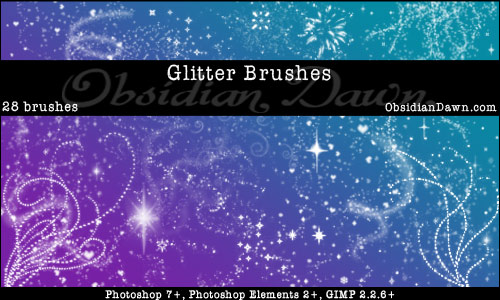 [ DOWNLOAD ]
15 – Star Clip Art Brushes
Because stars are among the common element of a Christmas-themed design, we also included this set composed of high-res star illustrations in various shapes and sizes.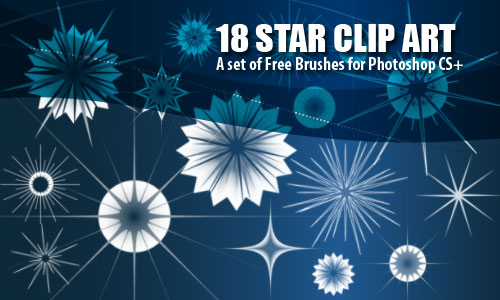 [ DOWNLOAD ]
CHRISTMAS BALLS, LIGHTS, WREATHS and OTHER HOLIDAY DECORATIONS
16 – Holiday Brushes
A set of images composed of various holiday items and symbols. Mostly Christmas stuff, but a few Hanukkah items thrown in, as well! Includes: angel, bells, bows, candy cane, corner and divider pictures, ornamental images, and a lot more!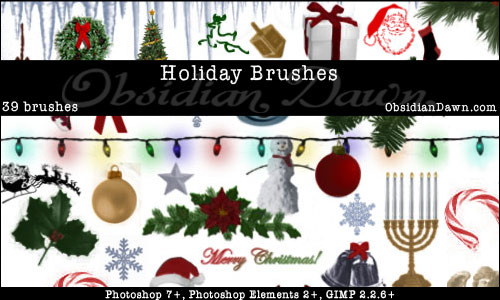 [ DOWNLOAD ]
17 – Christmas Balls
Just in case you want to already start working on Christmas-themed designs, here is a set composed of Christmas balls. Created in Photoshop CS2, each has resolution of around 500 pixels and should work with any CS version of Photoshop.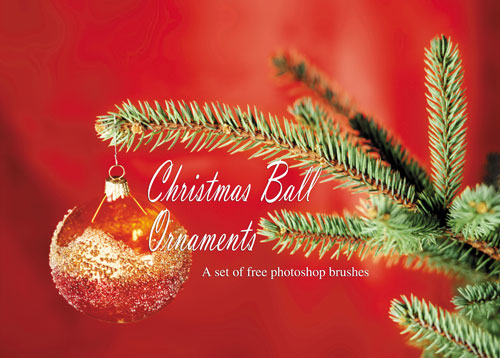 [ DOWNLOAD ]
18 – Vintage Christmas Brushes
If you want a vintage look for your Christmas designs, here are 25 Christmas Photoshop brushes made from old newspaper images that you can use for free.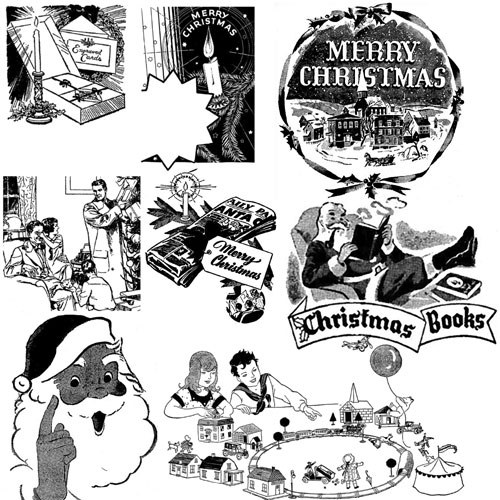 [ DOWNLOAD ]
19 – Christmas Brushes Vol. 1
This set of is composed of 24 images featuring high-resolution images of various Christmas clip arts such as images of Santa, Snowman, candles, Christmas bells, cane candies, stars, etc. Each brush has a resolution of around 1700 to 1900 pixels. Created in Adobe Photoshop CS3, these should work with any CS version of Photoshop.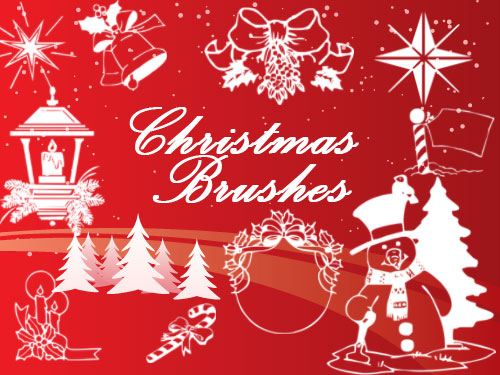 [ DOWNLOAD ]
20 – Mirror Image Stock Christmas  Brushes
Deck the halls with these lovely Christmas ornaments for Photoshop.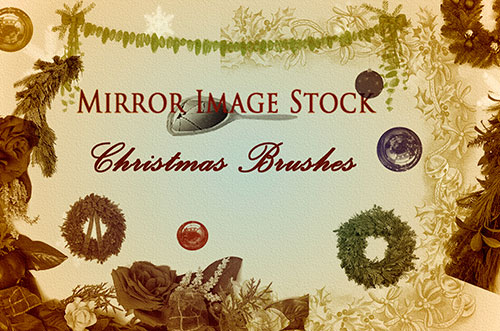 [ DOWNLOAD ]
21 – Christmas Songs
This is a set of medium size text brushes composed of popular Christmas songs. Created in Photoshop CS, thus it should work with any CS and above versions of Photoshop.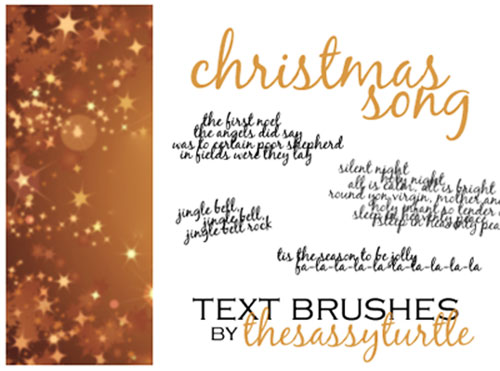 [ DOWNLOAD ]
22 -Christmas Brushes
This is a set of 7 or 8 Christmas images that you can use for designing cards, gift tags, etc.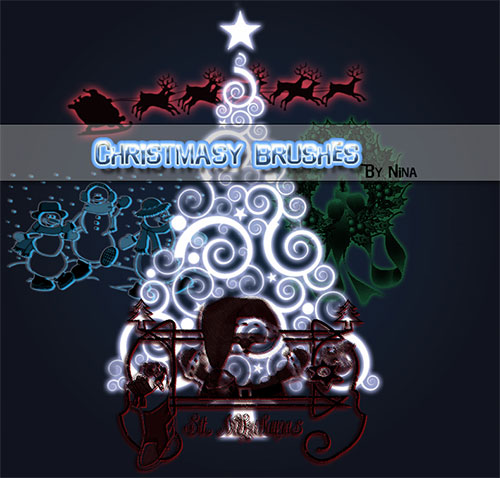 [ DOWNLOAD ]
23 – Christmas Ornament Brushes
Rendered in Bryce for a unique touch, these images are useful for adding some nice ornaments to dress up your holiday projects. Compatible with Photoshop 7 and higher versions (CS, CS2).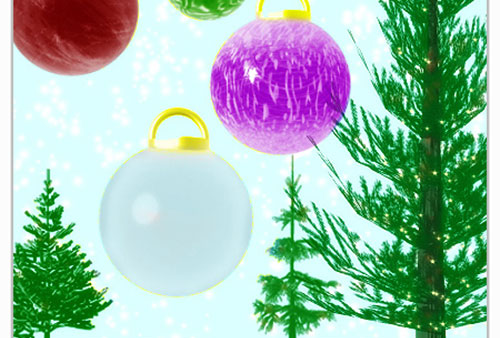 [ DOWNLOAD ]
24 – Large Christmas Themed Brushes
Here are 12 rather large Christmas themed images for Photoshop. They were made using CS3 from stock photos. Please do not redistribute or claim as your own. Other than that use them as you wish.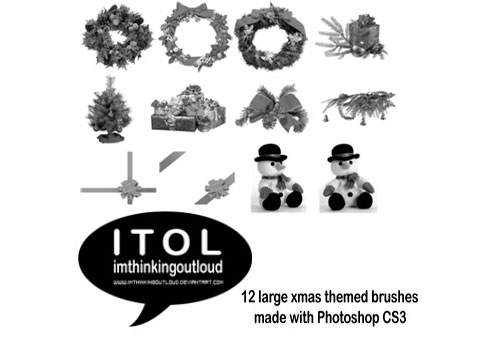 [ DOWNLOAD ]
25 -Various Christmas Brushes
This set was created in Adobe Photoshop CS2 and should work with the CS and later versions. A total of 15 images related to the Holidays and Christmas make up this set such as candles, stars, snowflakes, bells, wreaths, gifts and many more. These are useful for creating gift tags, Christmas greeting cards, wallpapers, posters, etc.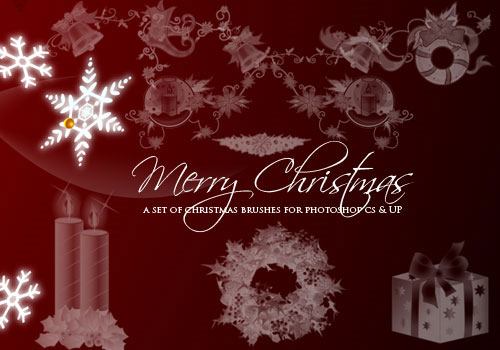 [ DOWNLOAD ]
26– Mediaslap Holiday Set
This set is composed of 25 high-resolution images that you can use for personal Christmas design projects.
[ DOWNLOAD ]
27 – MDS Christmas Ornaments
A set composed of various ornaments you can use in any way you want.
[ DOWNLOAD ]
28 – Christmas Cheer Brushes
A collection of large images for Photoshop CS. All images were taken from a very old piece of clip art software owned by the author.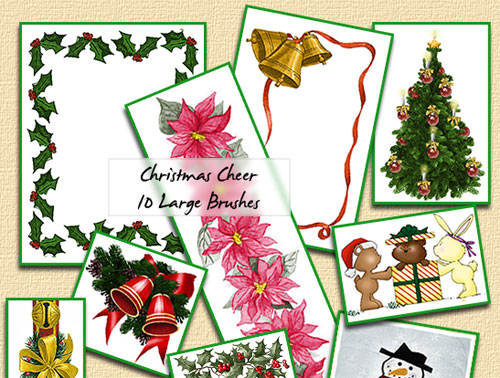 [ DOWNLOAD ]
29 – Christmas Doodles Brushes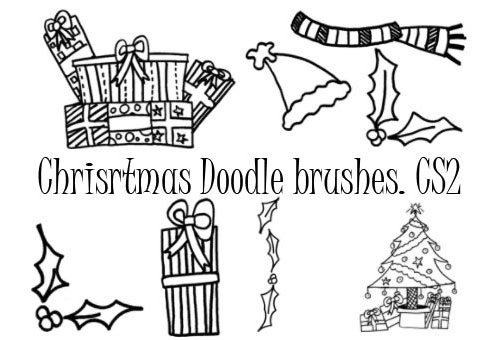 [ DOWNLOAD ]
30 – Coolwing's Christmas Brushes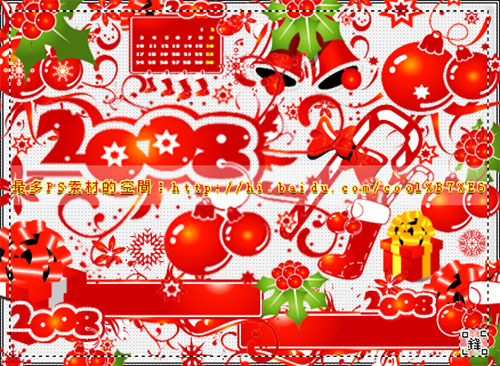 [ DOWNLOAD ]
31 – Crystal Christmas Miniatures
This set contains 15 crystal Christmas miniatures made of Swarovski crystals.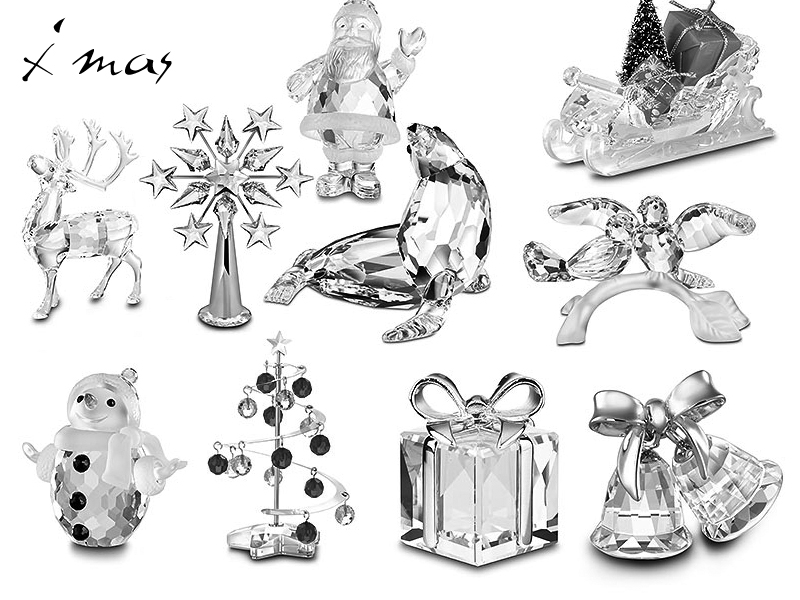 [ DOWNLOAD ]
32 – Christmas Decorations
This set contains 9 images compatible with Photoshop CS3 and composed of different Christmas decorations.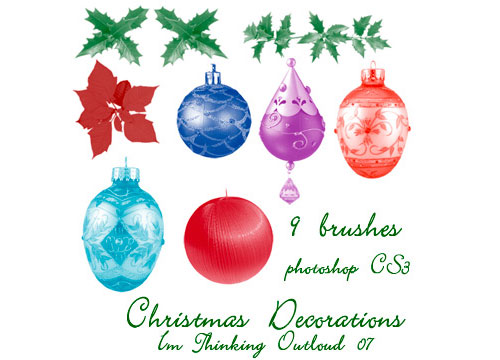 [ DOWNLOAD ]
33 – PS Christmas Brushes
A total of 45 Photoshop Christmas brushes you can use freely.
[ DOWNLOAD ]
34 – Christmas Ornaments Brushes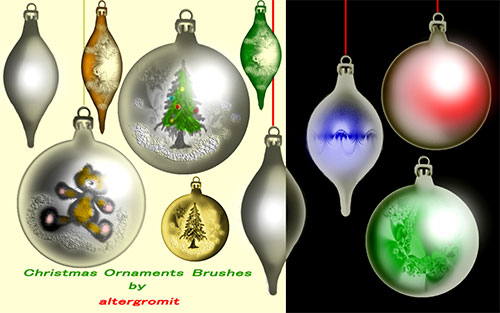 [ DOWNLOAD ]
35- Gift Boxes – PS Brushes
This set is composed of different illustrations of gift boxes that you can use for free in your designs. Ideal to use for making birthday, anniversary or even Christmas cards and gift tags. There are a total of 24 brushes in this set with resolution of each brush set at around 1900-2000 pixels. Created in Adobe Photoshop CS3, these brushes should work with any CS version of Photoshop.
[ DOWNLOAD ]
36 – Christmas Brushes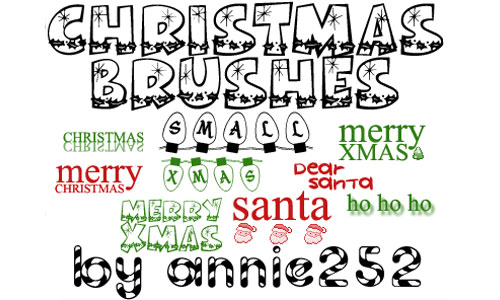 [ DOWNLOAD ]
37 – Christmas Set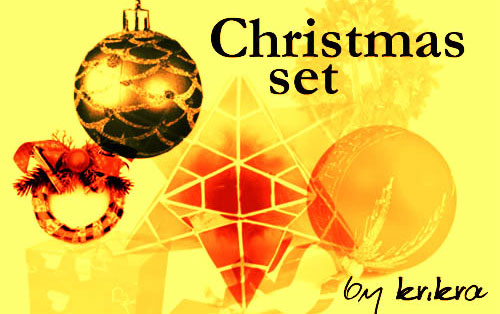 [ DOWNLOAD ]
38 – Christmas Accents Brushes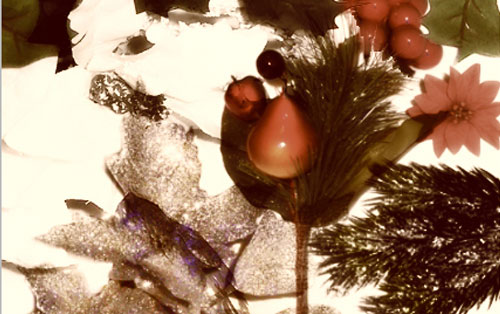 [ DOWNLOAD ]
Related Free Design Resources