12 Printable Note Cards with Motivational Quotes
Today, we are giving away a set of printable note cards with motivational quotes. These note cards come in six unique designs in two sizes. The first size is a mini card size at 3×4 inches. On the other hand, the bigger-sized cards are in 6×4 inches. Also, in order to complete the package, we also designed a matching gift tags as well as  labels and ribbons.
The printable note cards sport interesting colors and floral watercolor designs. Each also has an inspiring motivational quote on it. To use these cards, simply download the file, which is in ready-to-print portable document format. Then, you need to unzip the file, open in Adobe Reader and print. For best results, print these cards on thick board paper stock (250 GSM) or on sticker paper so you can stick them on your notebooks or anywhere you need some inspiration at work or at home.
3×4″ NOTE CARDS PREVIEW
The design of these note cards is based on our free printable mini calendar for 2017, which feature floral watercolor background. We have been receiving positive feedback for that particular post. So, here, we come up with another set of printables using  this design style. Below is a preview of the note cards in this set: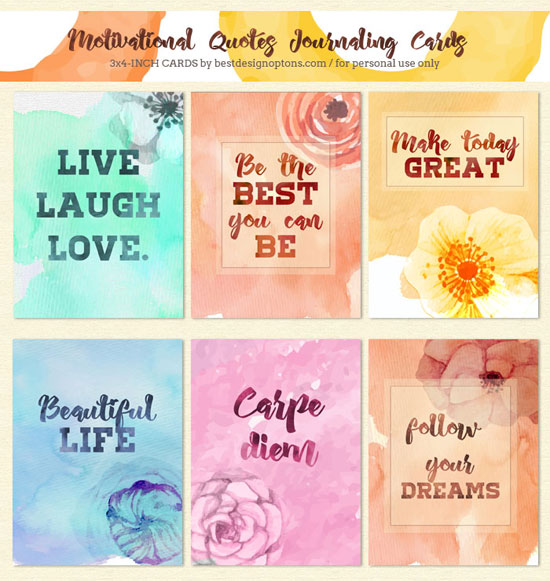 The note cards are contained in a five-page Adobe PDF file. All you need to do is to download the file (link below the preview image), extract the PDF file from the RAR file, open in your computer, print, and then cut. The layout comes in 8.5 x 11 inches letter size, thus, it is best to print them on letter or A4 size paper. It will also fit on A4 size paper without a problem. These note cards with floral watercolor design with motivational quotes are great for making scrapbook or journal entries, especially as cover or title cards. You can also use the bigger cards as greeting cards or as post cards you can send to friends and loved ones. The image above shows the 3×4 note cards. Below, meanwhile, are the 6×4 note cards.
6×4″ NOTE CARDS PREVIEW

---
GIFT TAG PREVIEW
We are also giving away a total of nine gift tags sporting the floral watercolor backgrounds in soft pastel colors. Like the note cards, these thank you gift tags come as a one-page PDF file. Simply download, print and cut. These would look great as tags for party favors, for party giveaways, etc.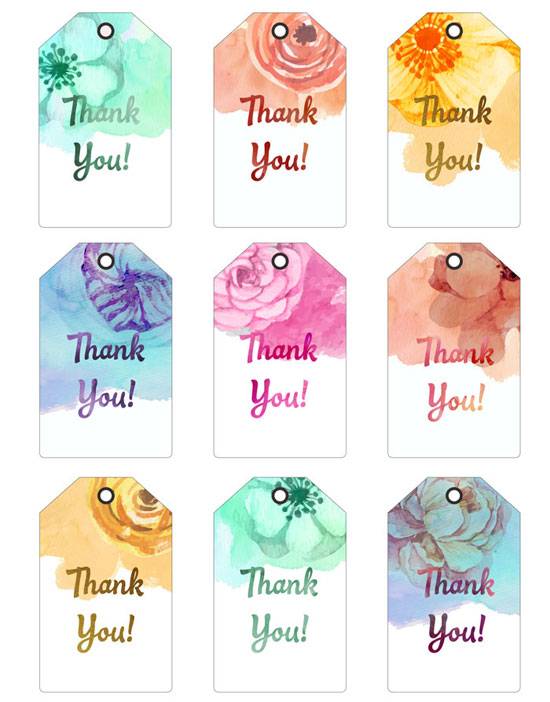 ---
TERMS OF USE:
These note cards are free for personal projects only. Please link back to this post if you use them. Also, please refrain from making them available for download outside of this site. If you want other people to know about our freebies, please refer them to this post.
IMPORTANT!
The download file is password-protected to prevent hotlinking and discourage people from violating terms of use of our brushes. When prompted for a password, just key in "bdo".
---
Earlier this year, we also released a set of free printable mini calendar sporting this floral watercolor background. The mini calendar also come in 3×4-inch size. If you want to download this calendar, visit the page by clicking on the preview image below.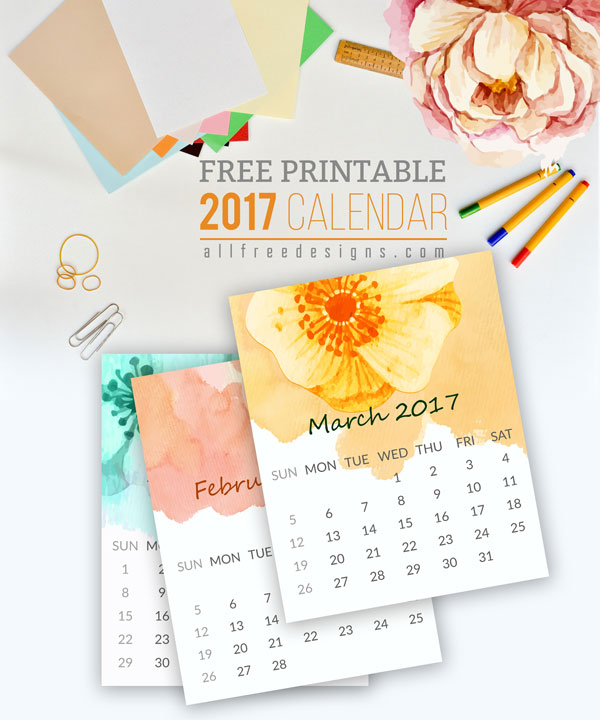 Related Free Design Resources