4 Photographer Business Cards With Tropical Vibe
Photographers need a nice set of business cards in order to get more clients. So, today, we are giving away a set of five photographer business card templates that are editable in Photoshop. These business card templates feature colorful tropical designs. The designs include palm trees, hibiscus, flamingo, toucan, among others. You may use templates to add a summer vibe to your business cards, or if you simply want colorful branding of your photography business.Colorful business cards can easily catch attention and are therefore memorable.
These photographer business card templates have front and back designs and come in five variations. The front design features the name and the con tact details as well as links to social media pages. All the icons are included in the design. You can edit them easily, put your personal details, and print at home using ink jet printer. Or, you can also send it to an offset or commercial printer if you want to have your cards done professionally. These cards come in regular North American business card size of 3.5 inches by 2 inches (plus bleed margins of .25 inches in four sides). They are also in vertical layout orientation.
ABOUT OUR PHOTOGRAPHER BUSINESS CARD TEMPLATES
We decided to do away with the traditional contact business cards by including social media links. Here, you can include your FB page or profile, Twitter account, or your Pinterest page. These photographer business card templates were created in Adobe Photoshop CS6 but these should be compatible with other CS versions of the program as well. In other words, you need a Photoshop program to be able to use these templates. Upon opening the files in Photoshop, simply locate the layers that need customizing such as the logo/name, addresses, contact numbers, etc. We organized all the layers in folders and labeled them properly so that you can edit the files easily.
These photographer business card templates are ideal for freelance photographers. However, you may also use these templates for other professions or businesses as well such as graphic artists, designers, photographers, stylists, fashion bloggers, or any other professions in creative industry. All the elements in these templates are editable. For example, if you have your own logo, simply replace the camera icon that we used as logo here. However, if you wish to retain the look of these business cards, then that is also very possible since all the fonts used in the layout are free fonts that you can download.
PREVIEWS OF PHOTOGRAPHER BUSINESS CARD TEMPLATES
Below are the previews for these photographer business card templates. The download link is below the preview images. I hope you like them as well.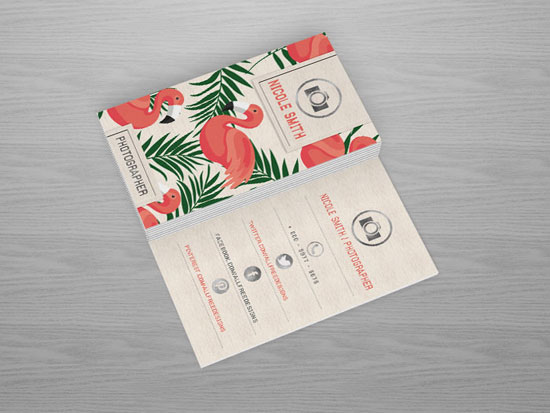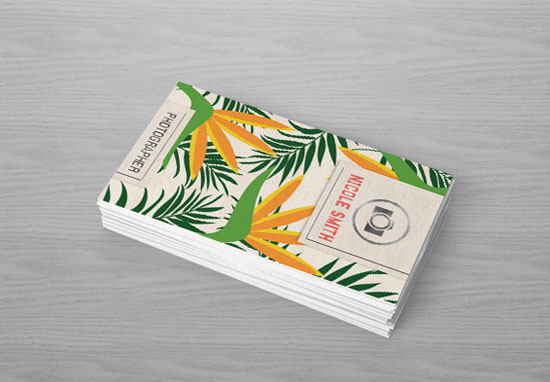 ---
If you want to use these templates but do not know how to customize them, simply send us a message and we will customize them for you for a minimal design fee.
TECHNICAL DETAILS
Templates created in

Adobe

Photoshop CS6
Size: 3.5×2 inches, Vertical layout
CMYK color space, 300 DPI with bleeds (.125 inch) on all sides
Easy-to-edit folders and layers
One side printing only
Fonts used: Rodus.
You may

download

this font by clicking on the name of the font above.
TERMS OF USE
You may use these business card templates for personal use only. Please do not sell them. Also, please do not make them available for download outside of this site nor claim it as your own designs. We hope you will find them useful.
IMPORTANT! The download file is password-protected to prevent hotlinking and discourage people from violating terms of use of our templates. We have been seeing our templates being distributed by other sites without our permission. PASSWORD for these templates is: "bdo".  Please note that the templates are contained in an archived file format (RAR) so you need to have a program like WinRAR to open it.