Summer Colors: Cool Palettes for Summer Designs
As the season's change, so should your color options. Maybe you are thinking of changing the color scheme of your living room, bedroom and other areas in your house to bring in summer in. These summer colors and palettes would be really useful in deciding paint color for your walls, furniture and accents in you home decors. You may also use these colors for planning a Summer wedding or a simple Summer party. The bright hues of summer will surely brighten your special events. Also, these color schemes are useful for websites, posters, party invites related to this colorful and lively season. For more color inspiration, visit also our more recent roundup of summer color palettes.
---
REFRESHING SUMMER COLORS FOR YOUR DESIGNS
The hexadecimal equivalent of each color is indicated in the preview image. Simply copy the code in your image editing program or WYSIWYG website builder.
01: Into the Blues
Dive into a sea of blues with this very cool color palette directly stripped from the sea and sky. This combination represents a breezy summer retreat with white sands and windswept beaches.These colors also have a calming effect and give new life to any design. I would use this palette for a website or for the interiors of a summer retreat house by the beach. These hues reminds me of Santorini.
02: Refreshing Pink
The colors of the tropical sunset creates a beautiful pink and purple combinations you can use for weddings and interior designs. I would love to color my bedroom with these hues for a romantic feel.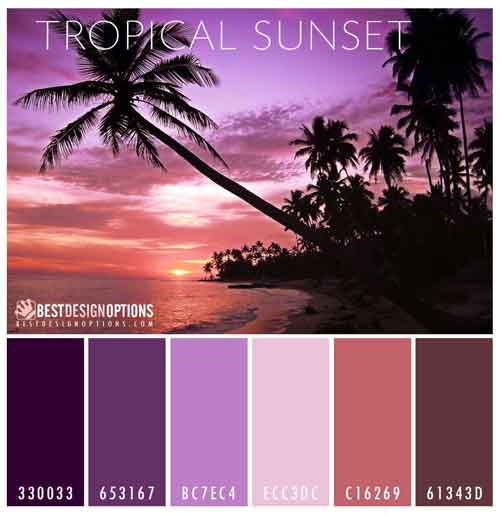 03: Starfish Summer Colors
The high-contrasting combination of blue and yellow creates a very attractive and happy palette.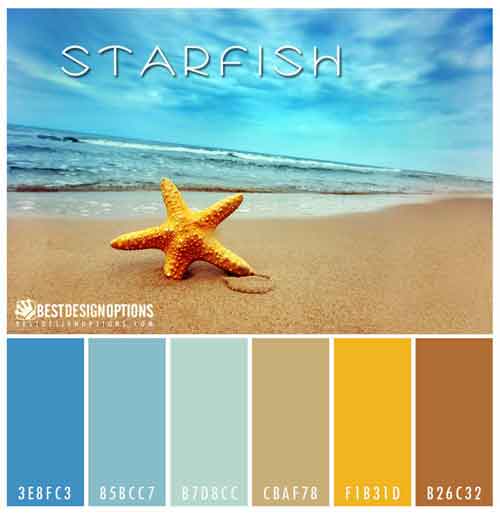 04: Sunset in Paradise
Another sunset tones, this time with blue tones added.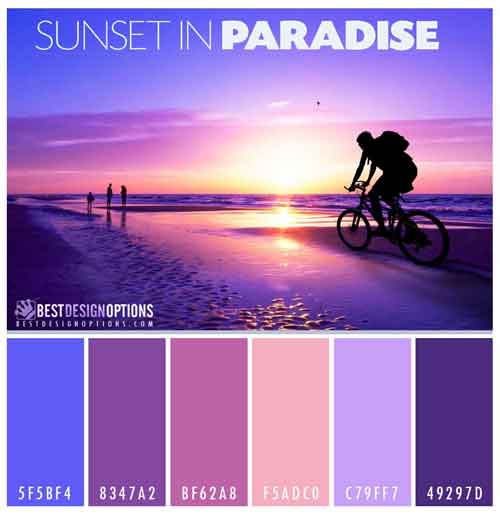 05: Beach Umbrella Summer Colors
If you want a serene color for your palette, try something in monochrome. This almost monochromatic blue tones creates a very calming affect. I would use this for the interiors of a beach house or for a travel website.
---
4 MORE COOL SUMMER COLORS: PALETTES AND COMBINATIONS
For more details about each palette, simply click on the link below each preview image.
01: Refreshing Pink
Just looking at these colors makes one think of sweet refreshing drink. This combination would look good for a teenage girl's bedroom or maybe a nursery room for a baby girl.

[ SOURCE ]
02: Amazing Aloha
Using this color palette will sure bring your designs to life. Yellow is a bright color, thus, it is often described as cheery and warm.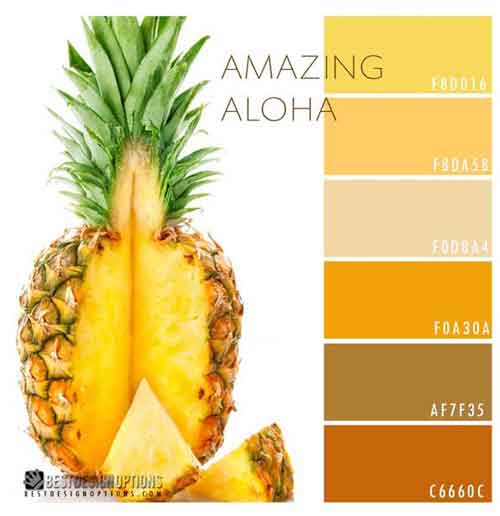 [ SOURCE ]
03: Red Hibiscus Flower Palette
The deep reds and pinks will surely liven any space or design. You may combine these deep colors with white or cream to create beautiful designs. Use it for interior decorating, designing websites or as color scheme for a wedding or debut.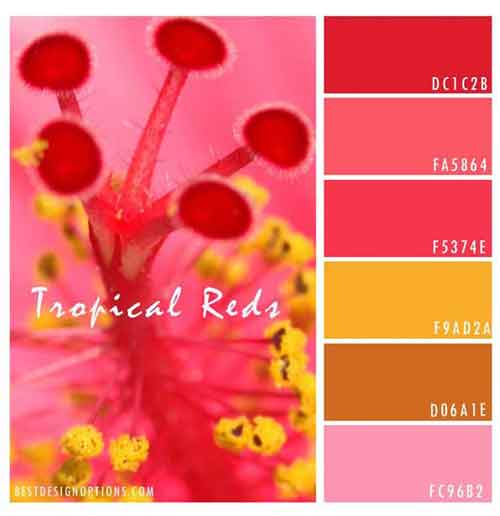 [ SOURCE ]
04: Citrus Hues
Yellows and greens make a lively and full of life palette–a perfect color to bring more life to a family room during summer days.

[ SOURCE ]