80+ Free Valentine Printables for Your DIY Projects
Have you started your Valentine's Day DIY projects? With just one week before Valentine's Day, I am sure most of us are feeling totally short on time. But don't worry because raided the entire web for the best but free Valentine printables. Just download them to pull off a super Valentine's Day for your family, friends, classmates and everyone else.
So what are you waiting for? Start downloading and printing the cutest, most stylish Valentine printables right from the comforts of your home. Whether your child needs cards for their entire class or just a few for family and friends, you can save time and money by printing your own cards.
---
FREE VALENTINE PRINTABLES TO DOWNLOAD
The first 15 entries are printable gift tags, stickers, greeting cards and post cards while the last five entries are subway art to decorate your home. Subway art is a fun way to add a little pizazz to your home. Just get a frame you love, and switch out the picture every season or holiday. It is so simple yet it adds so much flair to your home decor.
Free Valentine Printables  (10 Designs)
A set of lovely designs for your Valentine's Day projects. They come in different sizes (4×6, 5×7, 8×10).Just print, put in frames and bingo! you already have something to decorate your home this love day. You can also print these Valentine printables in smaller sizes and use them as stickers or gift tags.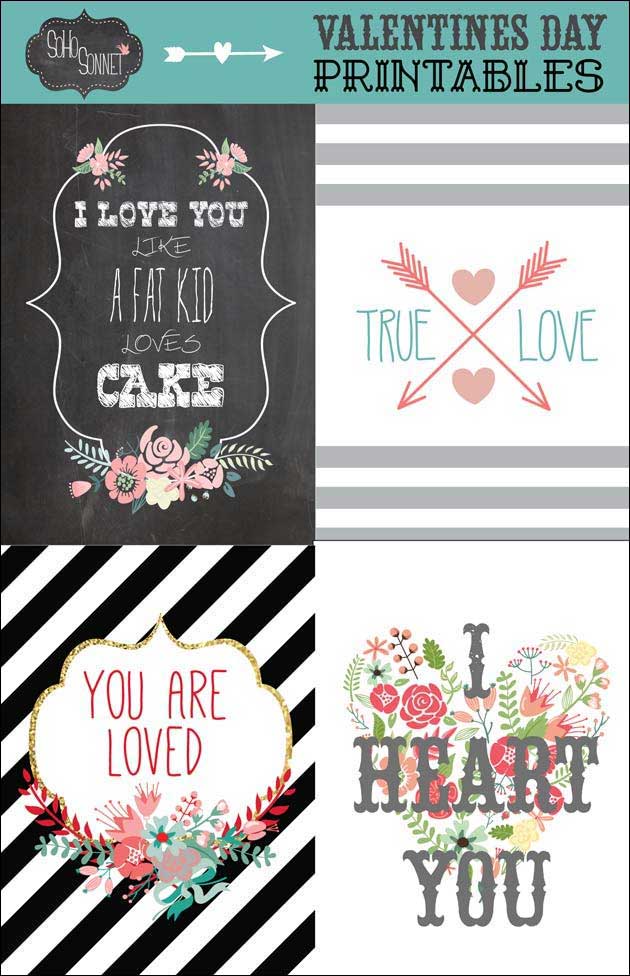 [ DOWNLOAD ]
Valentine Gift Tag Printables (15 Designs)
Another set of beautiful gift tag printables from Sohonnet. These are prefect for giveaways and presents. Simply print on cardboard, cut, put some ribbons to adorn your gifts. You can also print them on Sticker paper and stick them as label for boxed gifts. These Valentine printables are also free to download in ready-to-print PDF file.
[ DOWNLOAD ]
Valentines Day Wine and Beer Gift Labels (8 Designs)
Turn a not-so-expensive bottle of wine into a beautiful thoughtful gift this Valentine using these intricately made free printable labels. Just print, cut and stick to wine or beer bottle.
[ DOWNLOAD ]
Free Printable Video Game Valentines (2 Designs)
For all of the video game lovers out there, here is a set of fun printable Valentine's Day gift tags and bookmarks.
[ DOWNLOAD ]
Free Valentine Printables – Donut Forget (4 Designs)
This sweet idea is perfect for classmates, co-workers and even for Valentine's Day Breakfast. All you need to do is print the free tags, cut them, and use bakers twine or yarn to tie the tags around each bag.
[ DOWNLOAD ]
Valentine's Day Cards -Free Valentine Printables (5 Designs)
Here are 5 ready-to-print Valentine's Day card designs. All of the cards fit into a 5.5 bar envelope which is 5 3/4 x 4 3/8 inches.
[ DOWNLOAD ]
Free Printable Valentine Treat Box and Gift Tags (4 Designs)
Make your own free gift boxes to give to friends, family, teachers, co-workers or anyone else you want to wish a happy Valentine's Day with these freebies.
[ DOWNLOAD ]
Sweet Valentine Printables (3 Designs)
Print the tags out onto some white card stock, cut them out and attach them to whatever sweet treat you prefer. The tags come in three variations: for teacher, neighbor and friend.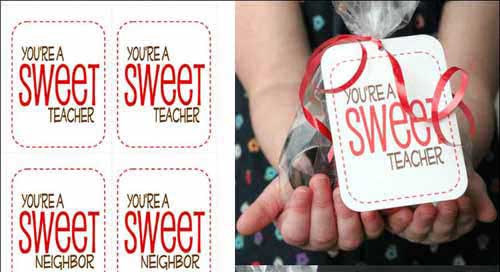 [ DOWNLOAD ]
Free Printable Valentine Coffee Cup Wrap (2 designs)
Gift your coworkers, family and friends on Valentine's Day with their favorite latté or mocha wrapped with a pretty and personalized sleeve. Perfect for the non-romantic people with whom you want to share a little love.
[ DOWNLOAD ]
Valentine Printables: Postcards (2 Designs)
Here are two fun printable Valentine Postcards that you can print and mail to your loved ones. Print them out onto white card stock and then fill out the back with a cute little message, a mailing address and stamp and you're ready to go!
[ DOWNLOAD ]
Valentines Day Coupons
This Valentine Day Coupon with matching card is a great way to impress someone special. There is still some time left so start thinking about your coupon ideas. We designed these so you can fill them out yourself. Simply print, cut and fold your cards and coupons together. For your envelope liners use some glue. The pattern can be printed on the backside of the coupons or as an envelope liner.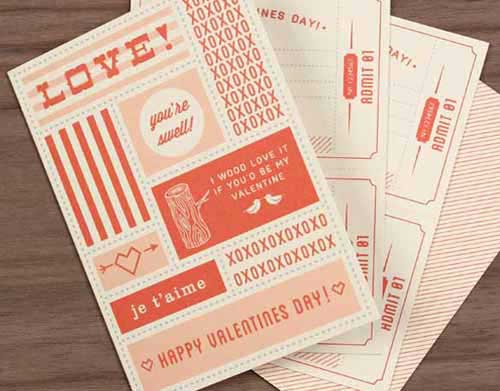 [ DOWNLOAD ]
Printable Thumbprint Cards
Show "thumbody" your love with these Valentine printables. Since every thumbprint is unique, you know you'll be giving a one-of-a-kind card.
[ DOWNLOAD ]
Mustache and Lip Sucker Valentines (4 Designs)
These Valentine printables would certainly make kids and kids-at-heart excited for Valentine's Day. Also great for a Valentine's Day photo booth!
[ DOWNLOAD ]
Printable Valentine's Day Stickers (10 Designs)
Here are printable stickers for your Valentine's Day gifts. Simply print on paper stickers (12 stickers per page) and cut.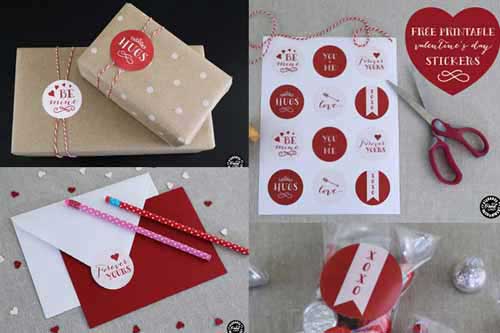 [ DOWNLOAD ]
Free Printable Valentine's Day School Lunch Box Jokes (5 designs)
Some fun and silly Valentine's Day school lunch jokes you can print and give to friends this Valentine's Day.
[ DOWNLOAD ]
Valentine Subway Art Free Valentine Printable
The text on the Valentine subway art is from 1 Corinthians 13, the love chapter.
[ DOWNLOAD ]
Love Bug Valentine Subway Art
This beautiful subway art comes in different color schemes and sizes. They are free to download. Simply choose the size you prefer, print and frame or post to decorate your walls this Love Day.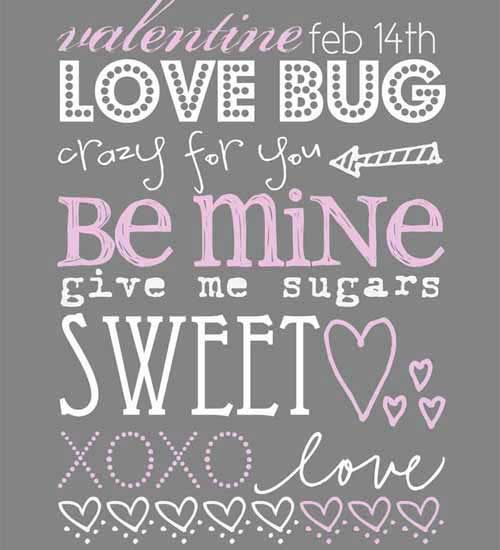 [ DOWNLOAD ]
Free Printable Valentine Subway Art
A free printable for Valentine's Day, this is sized for an 8 1/2 X 11″ print (the grey will NOT print out but serves as a frame for this blog post), but you can print it at any size you prefer to fit the frame or card you'd like it to fit upon.
[ DOWNLOAD ]
Valentine Subway Art
A beautiful subway art made using cute fonts with a hint of modern style in gray, white and red color palette.
[ DOWNLOAD ]
Free Valentine's Day Subway Art
This free printable Valentine subway art comes in two sizes, 8×10, and 16×20, and is at 300 DPI so that your print won't be grainy.
[ DOWNLOAD ]
Related Free Design Resources