45 Sleek White Letterpress Business Cards
We created this post for people who are looking for inspiration for minimal business card design. Letterpress, we believe, is the best way to create white business cards that are simple in design but still attractive. Through the use of luxurious and high quality paper combined with other specialized technique like embossing and de-bossing, a simple design could surely be transformed into something unique and interesting.
In this post, we compiled only white business cards. Just by looking at them, you will surely marvel at how a plain white paper combined with a few text could look very nice and attractive. These white business cards mainly use thick paper or board, with some using edge painting and spot colors. You can see from the examples below that letterpress business cards are being used across industries and professions. From photographers to digital graphic artists, to real estate agents and medical practitioners, letterpress business cards are a sure way to capture the interest of your friends and clients.
For easy browsing, we grouped these white business cards in this roundup based on their designs and technique used for printing.
The images below are just low-resolution previews of the business cards. To know more and view more photos about each card, simply click on the preview image and it will take you to the source page. We hope you will find something inspiring from this set of white letterpress business cards. Have a great day ahead!
---
I. Purely White Business Card Designs with Embossing or De-bossing
These white business cards are devoid of any color. The text and logo are either embossed or de-bossed, adding a three-dimensional effect to the design. These white business cards look heavenly clean, perfect for that minimal look you want for your own business card.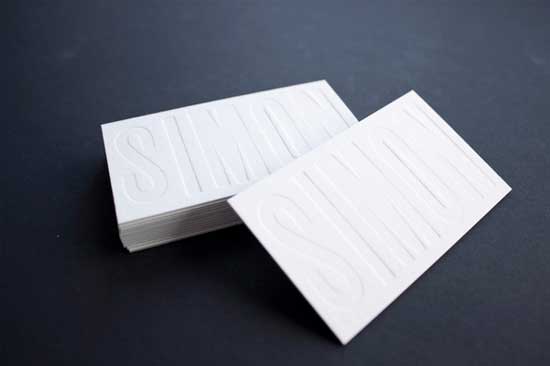 [ SOURCE ]
[ SOURCE ]
[ SOURCE ]
[ SOURCE ]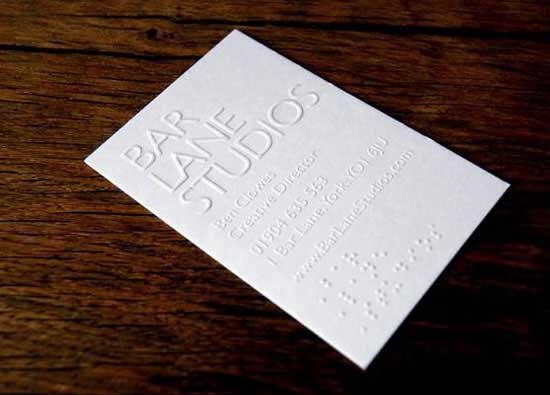 [ SOURCE ]
[ SOURCE ]
[ SOURCE ]
[ SOURCE ]
II. Black and White Business Cards
This second set are letterpress printed businesses have black texts and logo printed on thick white paper and have either de-bossing or embossing.
[ SOURCE ]
[ SOURCE ]
[ SOURCE ]
[ SOURCE ]
[ SOURCE ]
[ SOURCE ]
[ SOURCE ]
[ SOURCE ]
[ SOURCE ]
[ SOURCE ]
[ SOURCE ]
[ SOURCE ]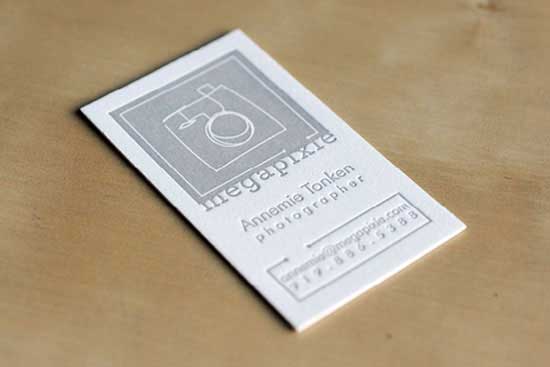 [ SOURCE ]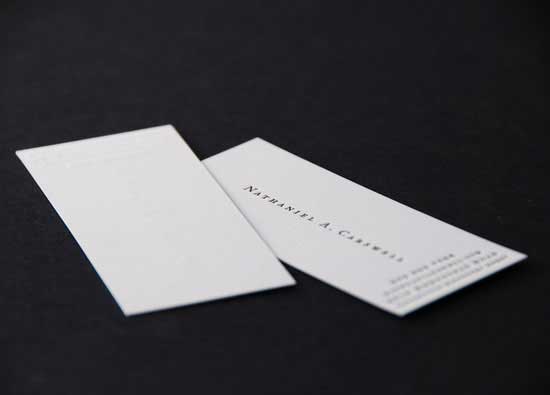 [ SOURCE ]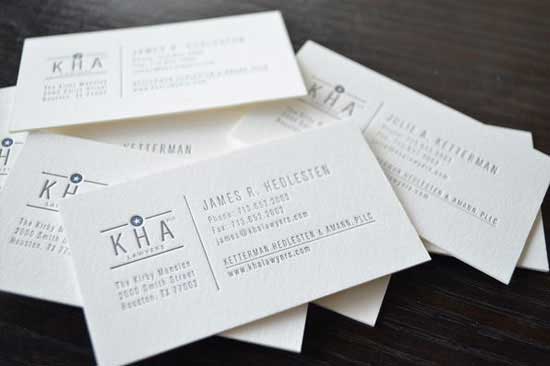 [ SOURCE ]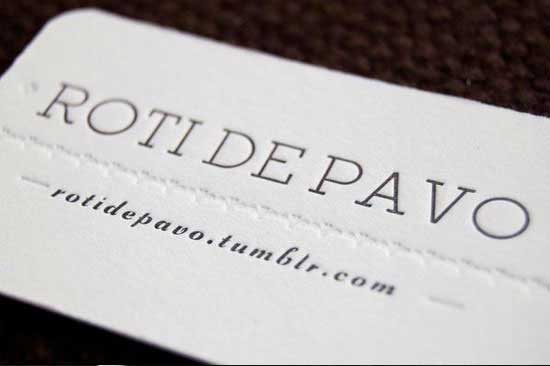 [ SOURCE ]
[ SOURCE ]
[ SOURCE ]
III. White Business Cards With Spot Colors and Edge painting
This third and final set of white business cards have spot colors used for the texts, logo and other graphic elements. Some of them also have de-bossing or embossing done for 3D effect.
[ SOURCE ]
[ SOURCE ]
[ SOURCE ]
[ SOURCE ]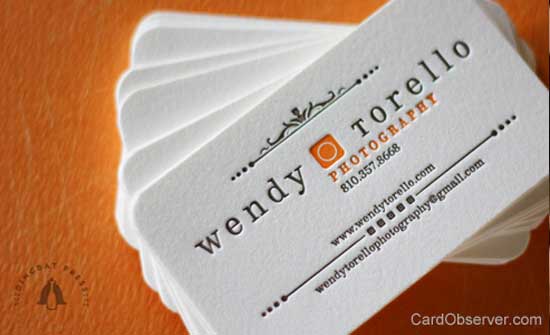 [ SOURCE ]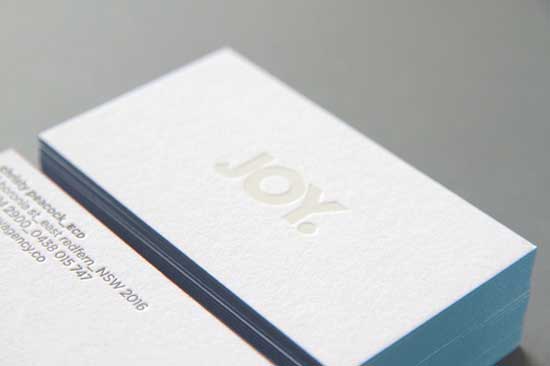 [ SOURCE ]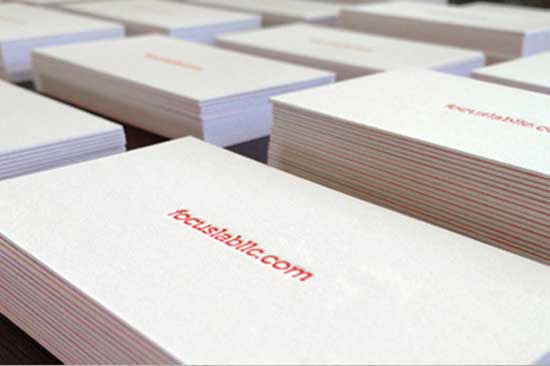 [ SOURCE ]
[ SOURCE ]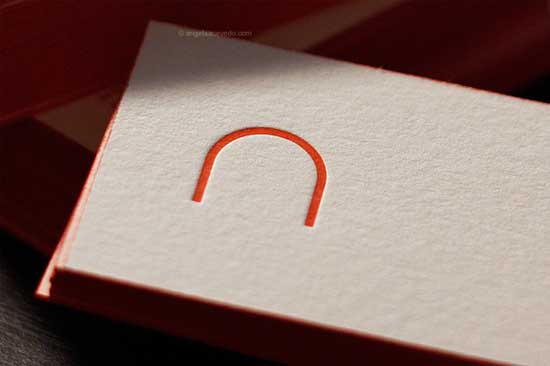 [ SOURCE ]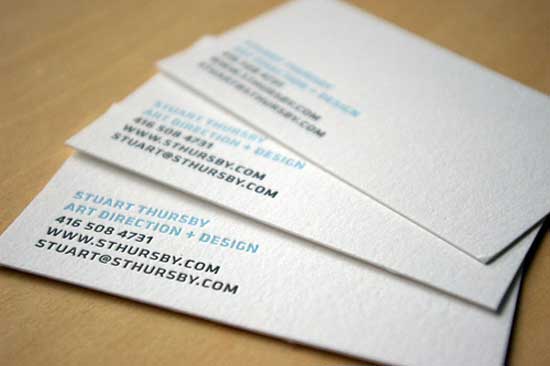 [ SOURCE ]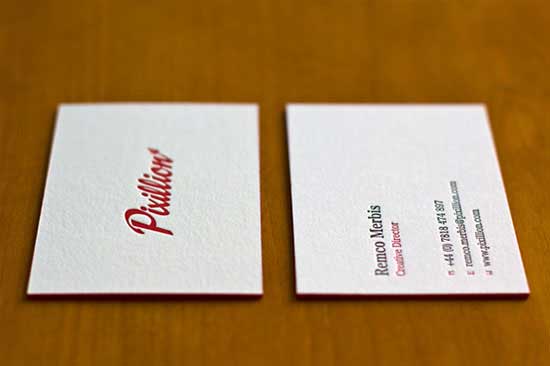 [ SOURCE ]
[ SOURCE ]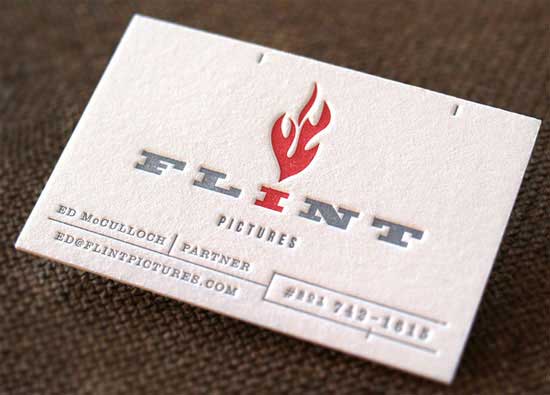 [ SOURCE ]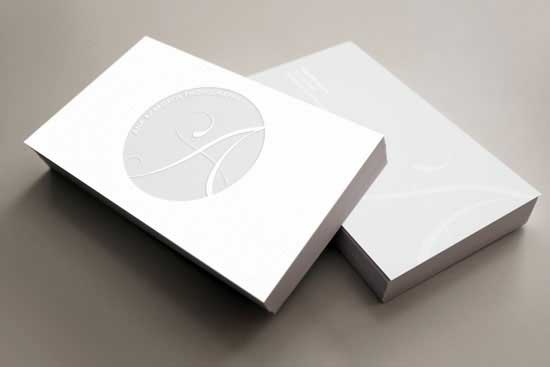 [ SOURCE ]
[ SOURCE ]
[ SOURCE ]
Related Free Design Resources