1K+ Free Transparent Flower PNG Files for Spring
Spring is just around the corner and I'm sure most of you have started working on your paper crafts and other projects for this exciting season. Among the design elements for Spring-themed designs, flowers are the most popular. You see flowers anywhere–from ads to post cards to invitation cards, among many other things. In this post, we put together a massive roundup of over a thousand free flower PNG images that you can download for free.
PNG images are versatile and may be used with most common image editing programs. Since PNG images have transparent backgrounds, you can instantly use them in any layout. Some of these images may be used as the main element in your design. Just choose a nice background such as a watercolor texture and drop one of the flower PNG image on it. The flower PNG images that you will find here are mostly vintage looking flowers, mostly roses and other garden flowers. There are also tropical flowers, lavender, daisies, sunflowers, hibiscus, and many more!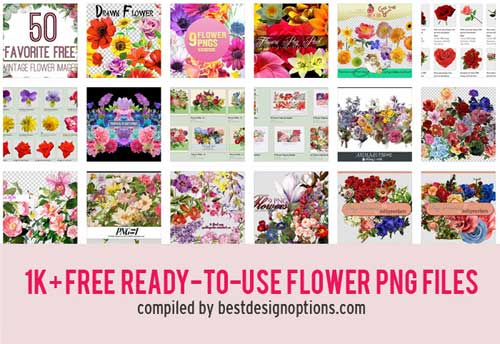 I hope you will enjoy browsing through these flower PNG images. These are great for paper crafts, card making, transfers, and just about any other craft you can think of.  Enjoy! If you need vector flower files for your design, then visit our earlier post on free vector flowers.
---
1,000+ FREE FLOWER PNG IMAGES TO DOWNLOAD
To download the set of transparent flowers that you want, simply click on the title for each enetry (in blue text) and it will take you to the source page where you can get them.
Rose Flower PNGs
Of course, the first entry on this list is our own set of rose PNG images with transparent backgrounds. There are 23 images of watercolor textured roses in this set in various colors and blooms. These are high-resolution rose PNG images at 1000 pixels wide.
Transparent Flower Packs
This gallery features hundreds of flower PNG files contained in around 10 sets. Most of the flowers look vintage and hand drawn. These are great for making greeting cards, flyers, brochures, etc. To download the set that you want, simply click on the preview image in the gallery.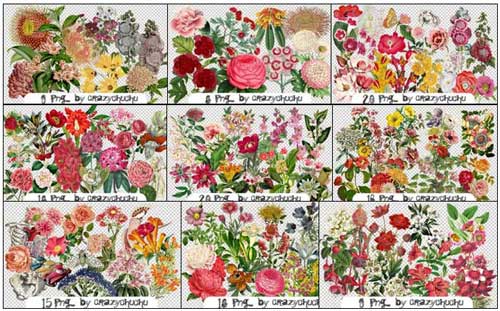 PNG FLOWERS I
The first in three sets, this pack consists of more than 10 flower PNG files of realistic images of single roses, bouquet of roses, pink and white roses, forget me not, etc.
PNG FLOWERS II
In this second set, flowers  include red, yellow, and blue roses in vintage style.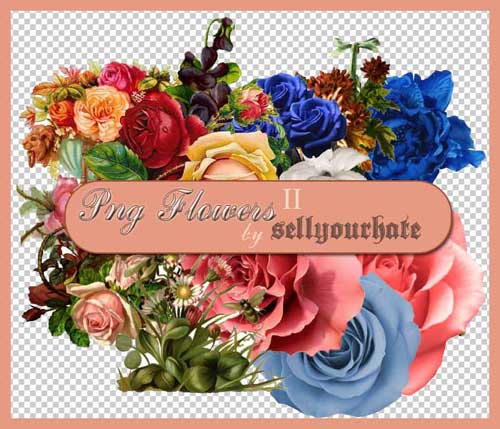 PNG Flowers III
The third set consists mostly of red roses leaves, stems and other blooms. It also include a bouquet of roses arranged into heart shape.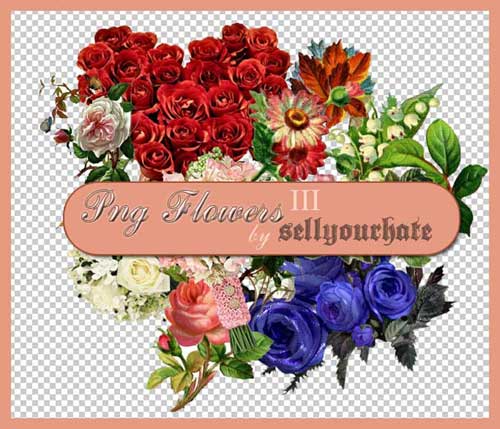 9 PNG Flowers
There are 9 different flowers with transparent background in this set consisting of wild and vine flowers.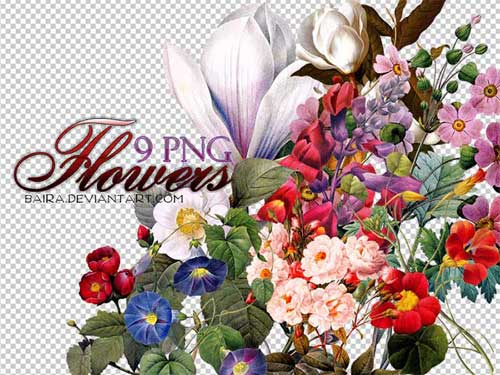 Floral PNG Pack
There are 16 different flowers in pink, yellow, red and violet. These are perfect for making Spring cards and other printables.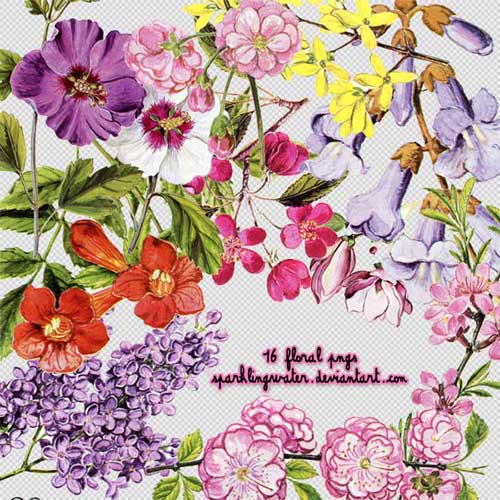 33 PNG Files: Transparent Flowers
Here is another set of flower images consisting 33 different flowers with transparent background. The flowers are in white, pink, and yellow. All of them have stems and leaves.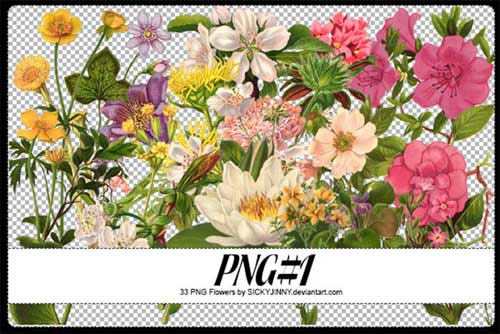 Pink Flower Pack in Transparent PNG
A set of transparent flowers in lovely pink colors.  The pack includes variety of flowers in soft pink hues.
Vintage Roses Flower Pack
This image pack consists mainly of roses in different colors: red, pink, blue, purple, and yellow.
Isolated Wild Flower Bouquets
This set includes vintage looking flowers with stems and leaves perfect for card making and other paper crafts.
Gallery of Isolated Flower PNGs
This Deviantart gallery features 17 packs of free-to-download flower PNG files, consisting of around 100 different flowers.
Flower PNGs
There are hundreds of free PNG flower images in you can download from this gallery. Includes 13 packs of flower PNG files. The preview below shows only some of the images you may download from this gallery at Deviantart.
Tropical Plants PNGs
A fresh looking set of flowers in PNG format that you can use to design cards, journaling cards, seamless patterns for backgrounds, your own ad, among other things.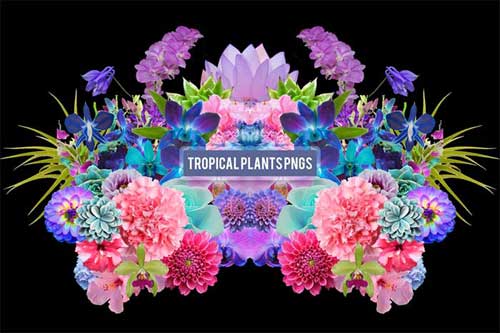 Single Flower PNGs: Roses, Daises, etc.
Here is another gallery with single flower PNG files. The images are transparent single images of flowers such as red roses, yellow daisies and mums, purple wild orchids, etc.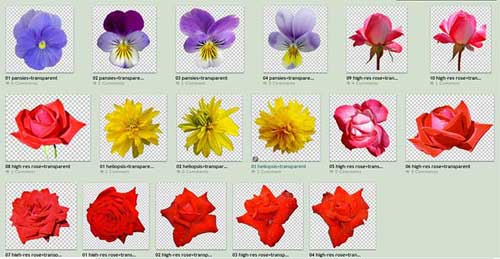 Rose PNG Files
This gallery features images of roses in PNG format. The gallery contains a total of 23 high-res roses.
Various Isolated Flower Files
There are 20 different flowers with transparent background in this set consisting of various flowers such pink roses, yellow roses, sunflowers, violet flowers, etc.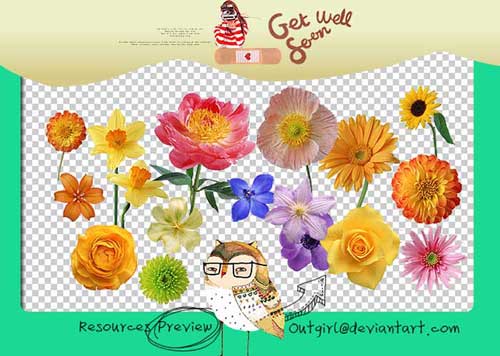 Free Various Flower PNGs
There are 15 different flowers with transparent background in this set. The flowers were cropped from real photos of flowers.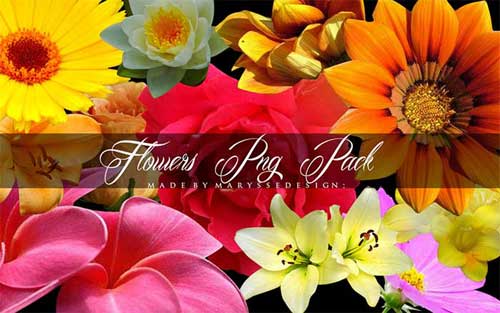 Hand Drawn Spring Flower PNGs
Another set, this time, featuring Spring flowers.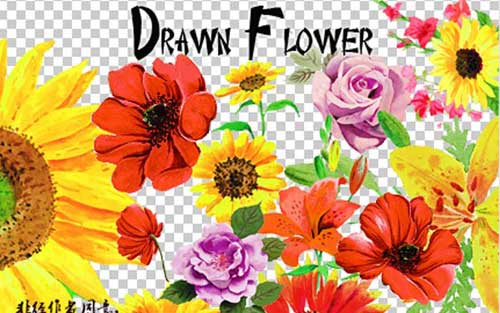 Free Flower Files in PNG Format
There are 50 PNG images of vintage flowers in this page that you may download and use for free in your designs. These flower PNG files carry a public domain license, thus, free for both commercial and personal projects without the need to attribute the source.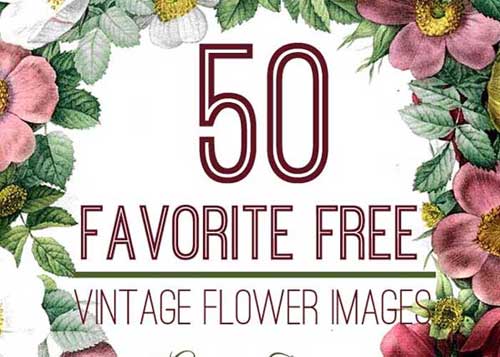 Related Free Design Resources